We leave Jaisalmer in a beat-up 4×4 and head out to the Thar Desert.
Over the last few days, I'd come to love the sandcastle streets of Jaisalmer, but you don't come to this part of India to stay in the city. You come to discover the deserts, the curving sand dunes and the nomadic cultures who live near the border of Pakistan and call these dustbowl villages on the edges of India their home. We stop off in such a village, made up of a disorganised array of concrete houses, but splattered with the colourful dress of its inhabitants. My guide tells me to wait here until the camels arrive. It's India, so I expect it might take a while.
It's not long before a group of women, in vibrant saris and knotted hair take a liking to me – a solo blonde woman with a giant camera and an open curiosity. They ask me my name, and the classic questions of why I'm not married, before one of the young children begins to paint henna patterns on my arm.
We share stories over chai, as is always done in India. The younger women relish in having their photo taken, and as I show them their snaps on the back screen of my camera, they burst into beautiful smiles. An hour passes and I almost forget I'm waiting for a camel train to take me into the cascading dunes, as I wrap myself up in the warmth of these women – bright, vibrant, laughing Indian women.
DISCOVER INDIA ON OUR 15-DAY CLASSIC RAJASTHAN TOUR 
 I'd been travelling solo in India for a few weeks. I'd arrived in Delhi as night fell and after a tuk-tuk ride through the city, arrived at a ramshackle train station and waited for the sun to rise over the tracks. I scoffed down my first cup of sweet chai and pulled apart round Medu Veda bread, dipping each piece into a perfectly spiced daal, before hopping onto the 6:35am train to Jaipur. As we rolled out of Delhi and into the deserts of Rajasthan, I took a deep breath and settled into the fact that I was back in India. Back in the land of one thousand feelings and sensory pleasures, back in my favourite place in the world.
Once again, I was ready to sink my feet into the depths of the country, once again I was preparing to photograph every corner of the colourful city streets, and to capture every face I could. And once again, I was solo.
RELATED: WHAT TRAVELING THE WORLD SOLO HAS TAUGHT ME ABOUT LIFE
I've travelled solo to many countries around the world, yet none have held quite the reaction that I get when I say I'm going to India alone. It didn't seem to matter that I'd done it before, or that most of the people that raise concern have never actually stepped foot into India themselves.
I've heard it all; 'India is a dangerous place', or 'It's no place for a woman alone'. Most of these perceptions are based around the press following the highly publicised Delhi rape case. While this was a horrific event, it shouldn't shape perceptions of the whole country, a country of a billion people and many different cultures and religions.
So what is it really like? The truth is that each person that travels to India – woman or man, solo or not – is going to have a completely different experience. India is a vast place, and experiences are going to be vast too. But I think every woman who has ever ventured into this country agrees that travelling in India as a solo woman is definitely challenging, but also endlessly rewarding.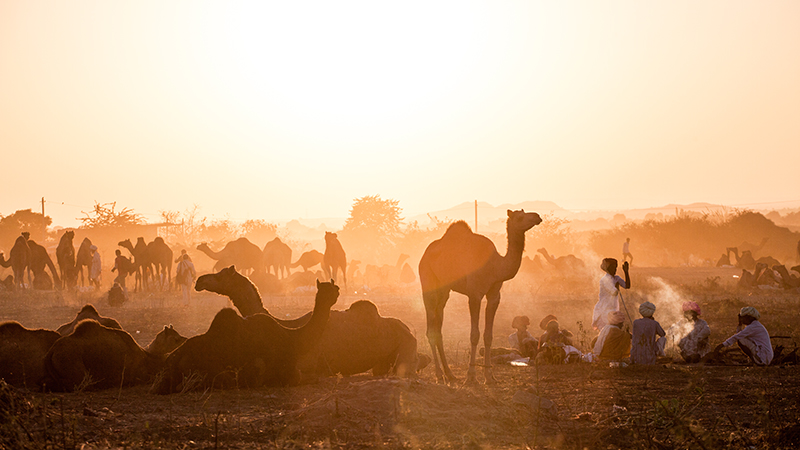 You can't deny there is a significant gender gap in India. It's very unusual to see a woman travelling alone, and so it's often met with much curiosity, as well as the occasional slightly intrusive questions into my love life. Although times are changing, India is still very much a man's world, and for a woman travelling from a country where gender roles are much more equal and women have a lot of independence, this can be a bit of a shock.
RELATED: MEET SANA, THE INTREPID LEADER DEFYING GENDER STEREOTYPES IN INDIA
But India is not a scary place, I promise. It's colourful, full of intense spirituality, and some of the friendliest people on earth. You will be approached for photographs again and again, and walk down any street someone is bound to shout 'Namaste! Welcome to India'.
As my trip continues, I watch camel trading in the deserts around Pushkar, before heading into the mountains where I see the start of the mighty Ganges river in a turquoise blue, tumbling from the Himalayas and into Rishikesh. I meet babas and watch pujas on the banks of the great holy river.
I trek through ice up to over 4000m and watch one of the most spectacular sunrises I've ever seen around the world. But finally, I get tired of the cold and fly down South to the warm beaches of Goa. I hire a motorbike for a few weeks and drive through palm-lined roads as mist rises over farm fields and a gentle ocean breeze caresses my ears.
Everywhere I go, I find ways to make myself feel comfortable. When I travel on trains, I make sure to choose the carriages which are full of families, women and children and always ensure that I don't arrive in a new place late at night. I stay in family-run guesthouses and eat at busy, bustling restaurants.
I look to Indian women to make sure my dress sense is in line with the culture. In the North this means loose, long clothing and a scarf around my shoulders. While India can be a bit of a slap in the face at first – its busy, bustling and the culture can be intense – I settle into life as a traveller here, and slowly, I love it all. From the Himalayas, to the banks of Varanasi, to canoeing through Kerela's backwaters and visiting Tibetan refugee camps.
It's not that I don't come across hassle – it's an inevitable part of travelling in India, but I learn how to deal with it, and that is with an open mind and a smile. I find that India gives back to you what you give to it. If you approach the country with a closed mind, you are likely to have a negative experience. But if you approach the country with confidence and grace, then you will endlessly reap the rewards of this land. As the Indians say, 'Shanti Shanti' or relax and take it slow.
Back in the desert, we camel train into the dunes before sitting around a roaring fire to enjoy yet more chai and Rajasthani rhythms as the sky erupts into billions of stars. I show one of our guides my henna, and he points out a word written in Urdu which has been drawn around the Henna patterns by one of the women. 'Love' he translates, and for the next few weeks, I have this word engraved into my skin. Despite all the ups and downs of travelling in India as a solo woman, it's this one word which defines my visit, and the people of this land which really make it one of the most incredible places.
Ready to have your own solo experience in India? Check out our brand new Classic Rajasthan solo trip in India!
Words and images by Annapurna Mellor– check out her Instagram for some serious wanderlust inspo.
Feeling inspired?