What all do you know about Greenland? Probably that it's pretty big, way up north and, due to an alleged Viking bait-and-switch naming scheme, is mostly covered in ice while Iceland is mostly green.
But as spectacular as that twice-the-size-of-Texas ice sheet is, Greenland is so much more.
There are some similarities to its better-known North Atlantic neighbour, but the most important difference is that Greenland is no Nordic nation. It is, and has been for nearly 5000 years, Inuit country. Known locally as Kalaallit Nunaat, it's 90 per cent Indigenous population of 56,000 inhabits the ice-free edges of the world's biggest island. Also, while Iceland attracts over two million tourists a year, Greenland only sees about 33,000, making it one of the planet's least visited places.
The closest country comparison I could think of during Intrepid's Northwest Passage trip was the fictional nation of Wakanda from the film Black Panther, a never-colonised African paradise merging ancient culture with futuristic technology. Greenland, of course, was colonised by Denmark, and remains a distant part of its kingdom while progressing toward independence. But the combination of Inuit self-government and Danish financial support – perhaps making amends while maintaining resource access – has made Greenland also both future-forward and tied to tradition.
SUBSCRIBE TO INTREPID'S NEWSLETTER FOR TRAVEL DEALS, GIVEAWAYS, STORIES, TIPS AND MORE
"We are the exceptional case because we are the majority in our own country where all the other Indigenous are the minority in their own countries," explains Tukumminnguaq Olsen, a university student and member of the Inuit Circumpolar Council. "We are lucky we have our own island, and that's why we are the majority. We can be the role models for other Inuit communities and Indigenous peoples in the world."
Tuku tells me this after an educational talk and Q&A session aboard our expedition ship, in the harbour of the capital Nuuk. Hailing from the 630-person village of Qaanaaq, the northernmost settlement in Greenland, she's here studying in the city. And while Nuuk only houses about 17,000 people – compared to my Toronto hometown's 4 million – it does feel like a city.
CONSIDERING AN ARCTIC ADVENTURE? HERE'S WHY FLEXIBILITY IS SO IMPORTANT
Nuuk is well-developed and well-off with a mix of modern Scandinavian, colonial and Inuit influence. The beautiful houses built from imported wood are rainbow bright to splash colour when the snow paints everything else white. Fashionable young folks stroll down the Imaneq pedestrian boulevard dotted with stores, restaurants, and cafes. Locals chat away on smartphones, mind children as they climb sculptures, or duck into the Nuuk Centre mall to peruse brand-name clothes, toys, and a grocery store to die for.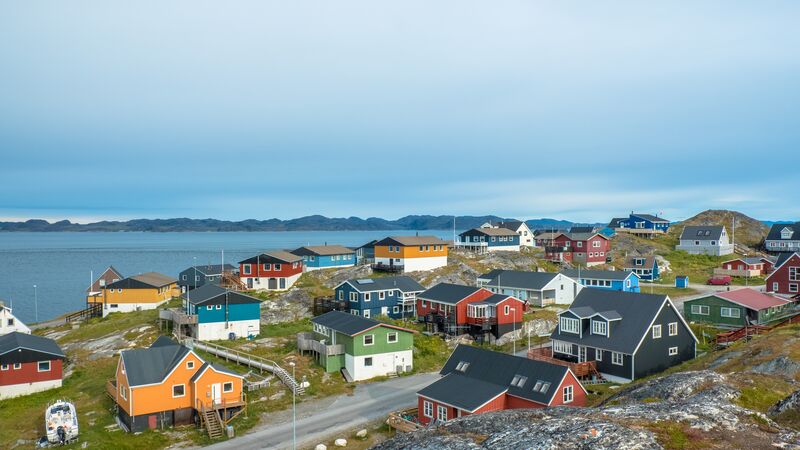 Nuuk also seems timeless, as befits a settlement that's been inhabited off-and-on for 4500 years. Shoppers alerted by text and social media line up at a fish market to buy hunks of fin whale caught by a local hunter. Down the hillside at an open-air meat market by the harbour, butchers prepare reindeer and porpoises for sale.
Speaking of food, I enjoyed a Greenlandic tapas feast at the Katuac cultural centre restaurant that took a foodie approach to country food with a plate of smoked reindeer, two types of musk ox, sea scallops, and Greenlandic cod. You can also grab musk-ox burgers at various restaurants, though most locals hunt their own so go out for pizza and wings.
"A lot of people are like, 'Oh, you speak English? You have mobile phone?' They don't think we have that. We are still a part of the world. But we have our traditions," explains Zandra, our local city guide. Though all settlements have a helipad or airport, and internet is everywhere people are, she says life outside Nuuk is even more traditional. "The smaller villages still live the old way. It's like visiting the original Greenland."
VISIT EPIC GREENLAND WITH INTREPID TRAVEL
To be honest, everything outside Nuuk felt like visiting the original Greenland. After arriving at Kangerlussuaq Airport, a WWII relic located 300 km from the capital, we headed down to the same-named fjord to board our ship, the Ocean Adventurer. As we sailed 190 kilometres down to Davis Straight, the skies soon welcomed us with a jaw-dropping Aurora Borealis of dancing greens, purples and pinks across the Arctic sky for an hour.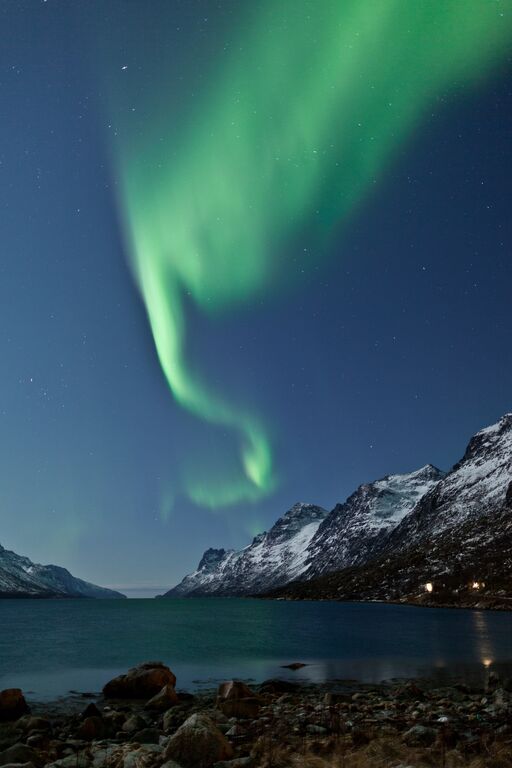 The next day we headed back inland, sailing up the dog leg-shaped Kangerlussuatsiaq fjord, also known as Eternity Fjord, where the Maniitsoq ice cap meets the sea. We hiked around a rivermouth, climbing rocks and and watching glacial meltwater course off the edge in dramatic waterfalls. You could also see where ice had calved off into the grey-green silt-coloured waters, floating away as icebergs with just a few blue-tinged baby bergs left behind.
READ MORE: WHAT TO EXPECT ON AN ARCTIC EXPEDITION
The surrounding landscape was rock outcroppings and 2000-metre mountains, all striated greys with some green mosses and orange lichen for contrast, and glaciers filling gaps in between. It felt like high altitude despite being at sea level, and the wilderness was unending.
No wonder Zandra said "the space" when I asked her favourite thing about living in Greenland. "Everything is kind of big, and open. There's no limit. You can travel hundreds of kilometres and feel like you are in a different country with other people, other traditions, other languages. That's the magical part of Greenland – when you go out in the nature, I still can't gather my mind of how big everything is."
Tuku and Zandra also told me how important they think visitors are, both to boost the local economy and to teach outsiders who don't really know a lot about Greenland.
"We hope that when tourists get here, they learn as much as they can about our culture, and advocate for the Inuit in the world. We've been fighting that our own ways should be acknowledged – the European way is not the way for the Arctic people here. It's a different culture, a different society, a different system. We need our own ways to achieve success," Tuku says. "Tourists can help us fight the ignorance."
Zandra also said that tourists should be open-minded about their traditions and way of doing things, and also to be kind. "Because Greenlandic people are very kind," she says. "Sometimes if they get a smile, they will stop and talk to you, and that will open possibilities for you. Maybe they will take you home, and make dinner for you. So be open and smile."
Ready to take on the stunning beauty of Greenland for yourself? Check out Intrepid's adventures there.
(Food photo courtesy of Josh Ostroff. All other photos courtesy of Intrepid Travel.)
Feeling inspired?