Australia's traditional landowners, the Aboriginal and Torres Strait Islander people, have a connection with the Australian land that is humbling to witness, whether you're a local or traveller from overseas.
There were originally over 500 different nations in Australia, and all of the nations nurtured their own unique landscapes for nearly 70,000 years, before their forcible removal by the colonial settlers. Nowadays, what is left of that long history and the knowledge the First Nations people cultivated over those centuries is slowly being pieced back together and carefully preserved and shared. I was lucky enough to learn about the culture of one of those nations – the Kuku Yalanji – and their homeland in Far North Queensland on Intrepid's 5-day Daintree Retreat.
LEARN MORE ABOUT OUR NEW INTREPID RETREATS
We first met Linc Walker, a Kuku Yalanji Traditional Custodian, at Kuyu Kuyu (Cooya) Beach, just over an hours' drive from Cairns. As we pulled up next to a row of towering mango trees, he was standing casually on the side of the quiet road, holding a long, thin spear and wearing a relaxed grin. We piled out of the van and introduced ourselves, while Linc explained that over the next couple of hours he'd be teaching us about the flora and fauna of his homeland and the aspects of traditional life he and his family still maintain. Along the beachfront street, each house is filled with a branch of Linc's extended family, so we could barely walk a few paces without him waving to someone in their front yard or him naming the various family members who live in each home.
"There's a lot more houses in the area now than when I was growing up," says Linc.
"There is a little bit of property down the other end of the beach that is freehold, but this end where I live is all Aboriginal landlocked away."
As we walked inland slightly, away from the road and beach, Linc let us in on the traditional uses of the native plants we passed – both medicinal and edible.
"In terms of what we eat from here, we just follow the native fruits as they ripen and eat them, for example Davidson Plums have just finished, and there are mangoes everywhere at the moment, so we just grab them off the trees."
He pauses, then points out an unassuming green tree, hung with small, oval-shaped casings.
"This is an almond tree, beach almonds," says Linc, plucking a brown shell off the tree.
"If you're a bad fisherman this is your backup plan for dinner!", he smirks as he uses a small, sharp blade to prise open the outer casing. The nut it reveals looks almost exactly like a normal almond, which he drops into the palm of my hand. I pop it in my mouth and its nutty flavor and almost creamy texture are a pleasant surprise.
READ MORE: THE HEART OF THE DAINTREE: ECO-TOURISM IN THE WORLD'S OLDEST RAINFOREST
Next, Linc gestures to a tree covered in bright, green native ants and tells me to pick one up and 'lick it's butt'. Slightly confused, but not wanting to look like a precious city slicker, I do as he instructs and am shocked by the strong, citrus flavour on the end of my tongue. I carefully put the ant back on the leaf I got him from and he scurries off, seemingly unfazed.
"We eat green ants to combat colds and that sort of stuff, they're full of Vitamin C," he explains as we continue on our way.
"This is one of our camp sites where we keep all the different artefacts that we use around here for hunting and fishing, such as spears, woomeras, boomerangs and turtle shells. There are turtles here and dugongs, and mussels for fishing – often the kids will come down and fish for mussels. We still do fishing and hunting and when the ocean tide is in, we fish in the rivers and creeks. We get a lot of our shellfish and stuff from the mangroves. Rehabilitation of the land, fishing, hunting and gathering is a normal day for us."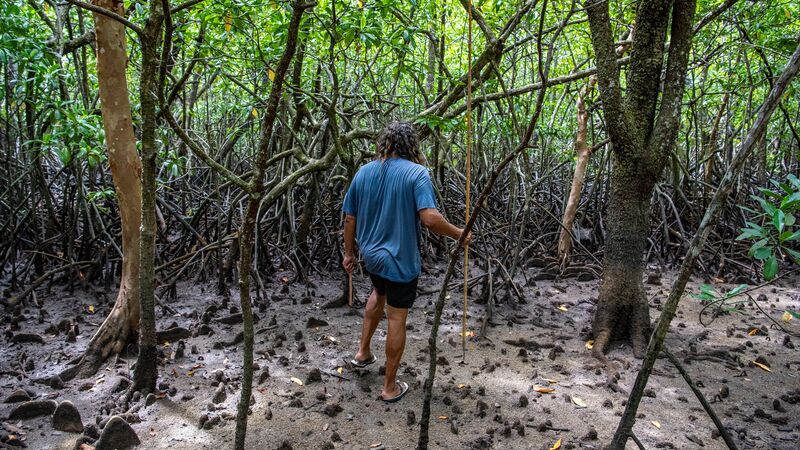 We keep walking until we reach the aforementioned mangroves, all gloomy, steamy and muddy. Linc asks if I'd like to check them out for myself, so I slip off my sandals and follow him barefoot into the dimly-lit thicket, amazed at how quickly you can disappear from sight.
READ MORE: 5 PLACES YOU DON'T WANT TO MISS IN FAR NORTH QUEENSLAND
"The crocodiles around here are very well fed, so we don't need to worry too much about them," Linc jokes.
As we re-emerge from the darkness, the bright Queensland sun hits me in the face. Squinting, I cast my eyes over to where Linc is pointing; to what looks like a professional horticulture program.
"A lot of the elders are doing re-vegetation of our land," says Linc.
"That area there was all weed and grass and then about 20 years ago we started clearing it and getting all the rubbish off and putting all the native trees back in. Each year, as the tide comes further and further up, we notice trees on the edge of the beach are just falling in, so we're replanting them – especially the ones we use as medicine plants.
"Every year we also do cultural burning to try and get the land fixed up again, from all the weeds and guinea grass that was brought in for the imported cattle years ago."
Next, the moment we've all been waiting for. We get to not only see in action the long spear that Linc has been carrying with him this entire time, but he takes it in turns to teach us all the correct throwing technique. Pretty soon, thanks to Linc's patient guidance, the spear can be seen repeatedly careering through the air – we were pretty impressed with our efforts, until Linc reclaimed his weapon and casually lobbed it at least double the distance of our best attempt.
As we finished our lesson, Linc asked if we'd like to see a traditional smoking ceremony. After a resounding yes, Linc quickly located a handful of rolled bark, that he set alight, carefully blowing the smoke into the warm air.
"We light up the smoke and then we speak our language," explained Linc, before uttering a few short sentences in the traditional language of the Kuku Yalanji.
"What did you say?" we asked, in hushed voices.
"I let the elders and the spirits of the land know that we're coming through and that our friends are coming through with us," said Linc quietly, as the smoke lazily unfurled around him.
Learn about the unique history of the Kuku Yulanji people and their land, on our 5-day Daintree Retreat.
As an Australian-owned business, we acknowledge the Traditional Owners of Country throughout Australia and their continuing connection to land, waters and community. We pay our respects to them and their cultures, and to their Elders past, present and future.
All images by Patrick O'Neill.
Feeling inspired?