If Egypt has ever been on your travel wish list (and it should be), there's never been a better time to explore this amazing country.
Offering so much more than ancient pyramids in the desert, Egypt is a culinary traveller's dream destination, with amazing food, welcoming hospitality and unforgettable experiences. Need some itinerary inspiration? Make sure to add these experiences to your 'to-do' list.
1. Indulge in the food
Egyptian cuisine is, quite simply, delicious. It's hearty and full of flavourful spices and you'll always find tasty options, even if you're vegetarian or vegan. Spend your days sipping lemon and mint teas as you weigh up so many amazing food options. Try a traditional dish called koshari (also called/spelled kushary); this plate of heaven is a mix of rice, pasta, tomato, onion, lentils, chickpeas and garlic all served together. This cheap eat is found all over Egypt from restaurants to street vendors. Rumour has it, the dish comes from a time when the British army invaded, bringing with them ingredients like tomato, pasta and rice, but the Egyptians have put their own tasty spin on it.
RELATED: A QUICK GUIDE TO EGYPT'S UNDERRATED FOOD SCENE (AND 6 MUST-TRY DISHES)
2. Slumber on the Nile
It's the longest river in the world and is the central focus of many myths and legends, which is why spending your time on the Nile River is a must. You'll get to travel the river in the same way the people of Egypt did so long ago on an open-decked boat called a felucca. These boats offer canvas shelters to provide sun shade and cushions to lie back, relax and enjoy the views along the river. Trips are typically multi-day so passengers sleep under the open skies. While these boats aren't luxury yacht calibre, the experience of sleeping under the stars on the River Nile is an incredible experience.
WANT TO SPEND THE NIGHT ABOARD A FELUCCA? JOIN OUR 9-DAY ESSENTIAL EGYPT ADVENTURE NOW
3. Navigate like a local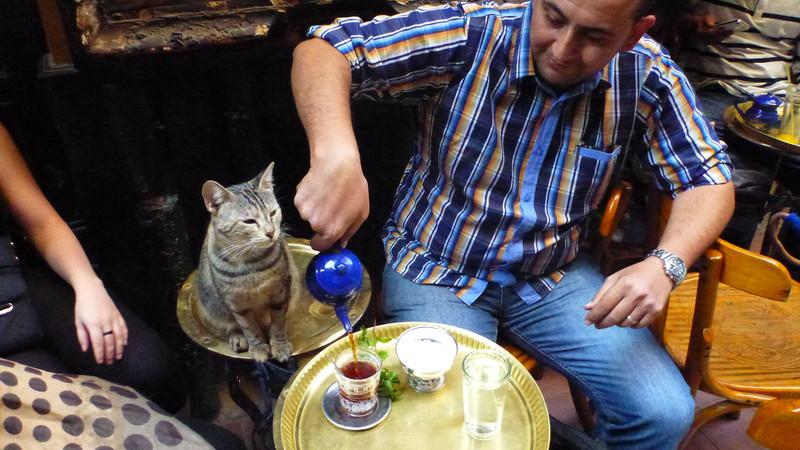 If you have the time in your travel schedule, spend a day living like a local and check out local markets and eateries. Before you do, it's important to remember that there are little to none traffic signals (particularly in Cairo). This makes crossing the street a little like playing a live version of the arcade game of Frogger. Since you're inevitably going to cross a street at some point, here's the best way to be safe about it. Without many crosswalks or lights, jaywalking is the norm and cars will not stop for you. It might look dangerous (and it can be) but there's a way to negotiate it like a local.
You won't likely get across in one go, so navigate each lane independently. Use the lane markers (they're like little safety islands for pedestrians) to get in between lanes and if you hop (like Frogger) from one to another, you'll get there. Crossing in groups is also safer, as cars can see you and get around you easier. Be extra careful at night as, even though streets are mostly well-lit, sometimes locals drive with their lights off. The most important thing is be alert, confident and don't stop-start or hesitate halfway across a street. That's how you lose at Frogger.
RELATED: EVERYTHING YOU NEED TO KNOW ABOUT TRAVELLING IN EGYPT
4. Visit the Pyramids of Giza
You can't go to Egypt without checking out the Pyramids. It's a full day's worth of sight-seeing but worth it. Journey in by camel and soak up the views of the Sphinx, the rolling sand dunes and of course, the Pyramids. At 4,500 years old (and counting), exploring the narrow pathways of these structures is unforgettable.
RELATED: MEET EMAN, THE INTREPID LEADER WHO WANTS YOU TO VISIT EGYPT NOW
5. Take an overnight train
It's common for travellers to catch an overnight train from Giza Station to Aswan, or from Luxor to Cairo. It's comfortable, affordable and safe, and takes roughly 10-13 hours of travel time (depending on the destination). Settle in, grab dinner on board, and enjoy the adventure of train travel while enjoying the views as they pass. It's the perfect way to get a little downtime, and the thrill of waking in a new city is a pretty special way to start the day.
CHECK OUT OUR RANGE OF ADVENTURES AROUND EGYPT NOW
6. Check out King Tut's body and get a cartouche
Visit Luxor where you can check out King Tutankhamun's mummified remains still resting in his tomb in the Valley of the Kings. On the 85th anniversary of their discovery, the teenaged linen-wrapped pharaoh went on display in an underground tomb in Luxor. While you're in Luxor, why not mark the occasion with a souvenir cartouche. It's an oval-shaped necklace with your name in hieroglyphs. The cost will depend on the material it is made out of – gold, white gold, or silver – and it's best to negotiate price before it's made. The general consensus is Luxor is the most reasonable place to buy quality ones.
SUBSCRIBE TO INTREPID'S NEWSLETTER FOR TRAVEL STORIES, COMPETITIONS, GIVEAWAYS & MORE
7. Visit Abu Simbel
It's located at the very southern part of Egypt and is accessible by a short flight from Aswan but this out-of-the-way tomb is so impressive. Rising water levels meant this temple of the sun – built by Ramses II in 1264 BC – needed to be relocated. With guidance from UNESCO, it was cut into huge 20-30 tonne blocks and moved 65 metres higher and roughly 200 metres back at a hefty price tag of $40 million. The relocation was so precise that, even today, the rising sun penetrates into the temple's interior, illuminating it in tribute to the Sun God in the same way it was always meant to. To say it's a mammoth attraction is an understatement, but it's certainly not to be missed.
Ready to explore Egypt's many wonders? Do it now on an Intrepid small group adventure. 
Feeling inspired?