Note: Republished with up-to-date information as of July 2018.
Whether you take the challenging Inca Trail or the scenic train ride to Machu Picchu, your time in "The Lost City Of The Incas" is precious.
For most travelers, myself included, it's the highlight of visiting Peru. This ancient Wonder of the World exceeded all my expectations, mostly because I got to do and see everything I'd hoped.
Our Intrepid group got incredibly lucky after we took the train in from Ollantaytambo to Aguas Calientes, the closest town. The next morning when we arrived at the buses to take us to Machu Picchu, there was no line. Our Intrepid leader Daniel was shocked. He said he's never seen this empty after more 20 years of taking tours there. (We were there in November, just in case you want to book a trip then!)
Granted, the Andean gods has looked down upon us, but we still had to use our allotted half-day at the site wisely (the two allotted times to visit are 6am-12pm and 12pm-4:30pm). These tips will help you make the most out of your time at this bucket-list destination:
Drop your stuff off first
Once you've trekked in from above or snaked through the clouds via bus, you end up at the main entrance. Here there are bathrooms and a place to check your coats and bags for a few dollars. With the wind and rain being so unpredictable up top, having a bag check was a pleasant surprise. I brought way more clothes than I needed to and I didn't want them to weigh me down during my half day of exploring.
Before you enter, make sure you go to the bathroom, because you're only allowed admission once and you don't want to waste even a second of it! 
READ MORE: 8 THINGS I WISH I KNEW BEFORE MY INTREPID TRIP TO PERU
Get a local guide
This is crucial 'cos a guide is mandatory. You can arrange an official guide yourself or let Intrepid handle it. During our 9-day Classic Peru tour everything was arranged for us and we met our local specialist Rodrigo at the entrance. Having a guide is the best way to know exactly what you're looking at while at Machu Picchu. It may just seem like a pile of rocks, or a few thatched houses, but Rodrigo had an explanation for it all.
He showed us the main temple and how at one point the walls were perfectly aligned and objects were hung inside. Then, he made his way next to an open area of grass and spoke softly as it bounced off the walls back at us. He explained this was the amphitheater where they had meetings or games, and how the Incas mastered the art of acoustics.
He also took us to a rock overlooking the valley that resembled a condor. He explained that this was a spiritual site for the Incas and the condor remains a sacred creature in the Andean region today. Our local guide was also able to give us tips on how we should spend the rest of our time at the site. (We took his advice, obviously). 
CHECK OUT INTREPID'S RANGE OF TOURS TO MAGICAL MACHU PICCHU
Rest and reapply
Okay, time to get serious. As of July 1st 2018, the Peruvian authorities released a new set of regulations for visiting Machu Picchu. Tickets used to be valid for two entries (so you could leave the site and re-enter), but now they're valid for just one. Because of this – and the fact you have to stick to one of three circuits around the site – being strategic is a must. Your guide will explain everything but the smartest thing to do is explore the upper part (Sun Gate & Inca Bridge) first, and then start the official guided tour after. 
On your way out you can get your passport stamped with the official Machu Picchu image (which is free!). This is also a great time to reapply sunscreen or bug spray, as you'll want plenty of both during your time there.
Be sure to also make use of the (admittedly overpriced) cafe overlooking the valley and buy some water, a local beer or a sandwich. It's not only a great place to relax for a minute, but it allows you to the time to take in the stunning surroundings. If you're lucky enough you can get a bar stool with a view of Wayna Picchu.
Snap some shots
There are so many excellent opportunities for pictures at Machu Picchu. Arguably the best place for those iconic views is at the Watchman's House perched high above the ruins. From there you can get the iconic postcard shot you see all over Instagram. On the way up there are also plenty of opportunities for llama selfies, if you can get them to stay still.
Many people boast that views from the Sun Gate are unbeatable, but with half a day to spend at the site, making the several hour round-trip hike might not prove the best use of your time. And the view from Watchman's House will give all your friends FOMO, trust me.
SUBSCRIBE TO INTREPID'S NEWSLETTER FOR TRAVEL TIPS, COMPETITIONS, GIVEAWAYS & MORE
Take a hike
Hiking to and from the Sun Gate is one of the most popular options while at Machu Picchu, but our guide suggested something better with the amount of time we had to explore – and our entire group listened. The Inca Bridge is a 30 to 40 minute round-trip and you'll see some stunning vistas along the way.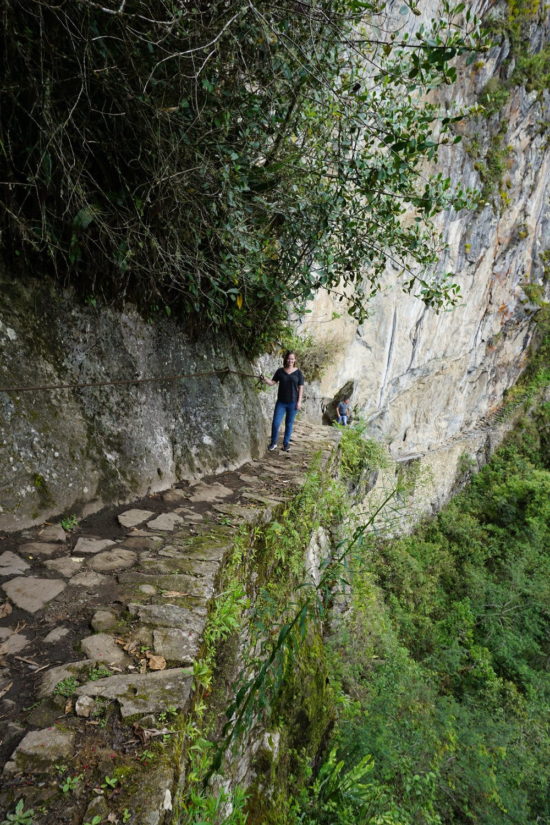 Let this be a warning: if you're afraid of heights you may want to spend more time with the llamas. The trail is narrow with a massive vertical drop on one side and a few handrails throughout. I'm extremely afraid of edges, a strange phobia I know, and this trail certainly tested me. Once you get to the bridge you see it's just a few wooden planks across an impossibly high area, but the views are what you walk for. Plus, with a half a day this may be the only other hike you have time for.
Don't worry, though – the memories and photos will last a lifetime.
Ready to explore magnificent Machu Picchu for yourself? Check out Intrepid's wide range of tours that go there.
—
(Image credits from top to bottom: Intrepid Travel x3, Pat Sgro x3.)
Feeling inspired?