Alice Morrison has been described as the "Indiana Jones for girls" and for good reason. Since moving to Morocco in 2014, she's tackled six marathons in six days across the Saharan desert, become the first woman to walk the Draa River, and lived off the land away from modern civilisation. Her most recent expedition, walking with camels across Morocco, forms the basis of her new book, Walking with Nomads.
We sat down to chat with Alice about her adventures, from the red dunes of the Sahara to the snow-capped Atlas Mountains.
Moroccan hospitality is unmatched
Everywhere you turn in Morocco you're met with dramatic landscapes and rich history, but also generous people.
During her seven-and-a-half-month trek alongside three Amazigh Muslim men and their camels, Alice learned to say "Duyouf Allah" from one of her guides, Brahim, which means guests are from God. She says Moroccans live by this every day.
"People laugh at my jokes and really make an effort to get to know me…I have found them to be the most welcoming, hospitable people I've ever met."
Over the past eight years of living in the country, Alice has been welcomed with affection wherever she goes, and is often invited into somebody's house for tea. She says it's usually the people who have the least to give that try and offer the most – including freshly baked bread, goat's milk, or a tagine from builders on the side of the street (true story).
"It's so much fun if you go to someone's house and get to meet the family," she says. "Moroccans are so hospitable. You'll meet someone for tea and then after that you'll be like their long-lost sister."
Listen to your inner voice
Alice's travels as a woman, and often solo, have allowed her to spend time with other women in traditional communities and document their stories. While walking across Morocco, she learned about the challenges for nomadic women when giving birth and raising children, and how more are now prioritising education.
"Morocco is going through a period of great positive change now as universal education is implemented," Alice says. "In just one generation, the rate of girls' literacy has leapt significantly, and this often means these girls want a different life from that of their mothers and grandmothers."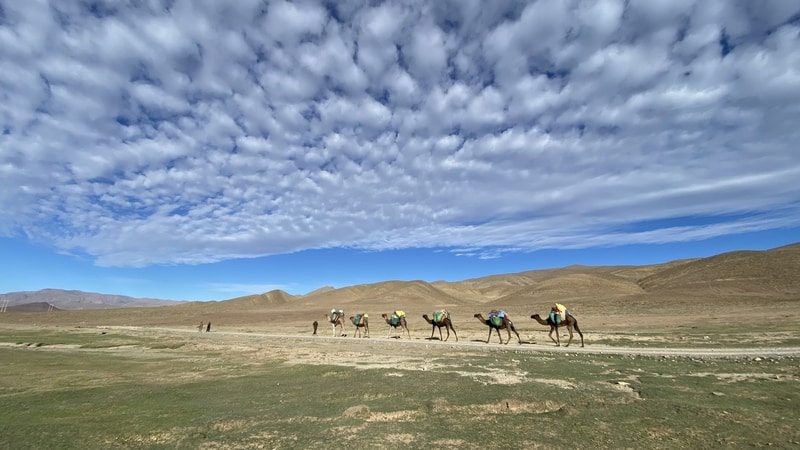 As well as being rewarding, travelling solo can also come with its challenges, and Alice recommends that other solo female travellers always listen to their inner voice. "If you sense any danger or discomfort, you're probably right."
Despite living in Morocco for several years, Alice still follows this rule. If she's trekking a new route in the Atlas Mountains, she'll always take a guide, as the mountain conditions can change quickly.
She says it's also important to respect the culture and religion of wherever you happen to be. "If you want to approach locals and get closer to them, it helps if you consider their feelings. Be respectful to other people's beliefs."
"Don't be frightened to communicate with people. Go to their homes and be with them and enjoy it, but be switched on."
Do your best to travel sustainably
On her expedition through the depths of Morocco, Alice and her guides encountered all sorts of people, but the cloud looming over their journey was climate change. While in the Sahel, the arid area of northern Africa, Alice noticed that it "basically drying out".
Hours were spent wondering where the next source of water was going to come from. A stark contrast for Alice, who comes from Scotland, a country with fresh water running through taps, rivers, and lochs. Now, stuck out in the Sahel, she would spend hours looking into the distance, hoping to spot a well or nomadic tent.
It was a first-hand look into how climate change is altering nomadic life. "The Sahara has always sustained nomadic and camel herding life and now it's starting to get to the stage where it can't," she says. On her journey, she met a family moving their 300 camels by trucks inland, where they heard the grazing was better.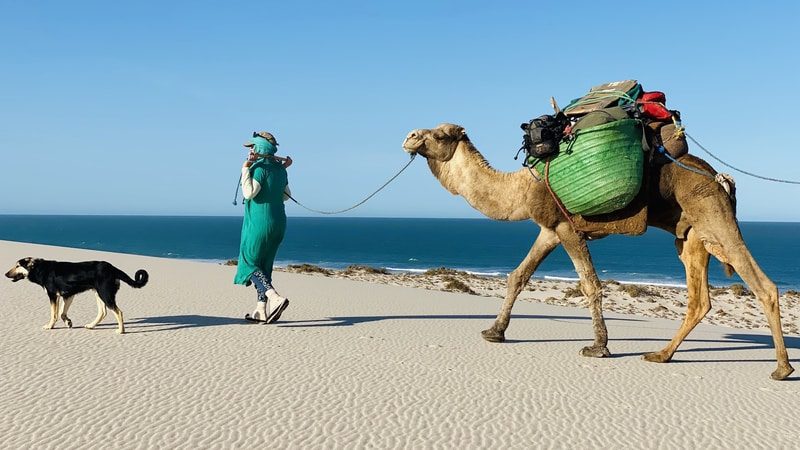 Sustainable travel is a concept Alice thinks everyone should factor into their adventures. It's as easy as planning the length of your holiday, or how you'll travel around the country you're visiting. "You don't have to go to extremes and make it really difficult for yourself, just be more aware and do your best," she says.
Walking is the best way to truly discover a place
While on foot, Alice encountered dinosaur tracks and discovered a lost civilisation, all while dodging landmines and quicksand. For her, walking is fundamental to what it means to be human.
"It's what we used to do," she says. "We became humans when we split up and started walking. I think it's bred into all of us, this feeling of walking and moving and migrating."
She encourages everyone to explore by foot. It's slow and purposeful and something nearly everyone can do with just a pair of shoes. It gives you time to take in your surroundings and switch off your brain.
"You can smell what's in the air, you can feel the weather. It's a feast for all the senses. When I walk, I'm crushing wild thyme under my feet as it grows in the mountains."
Learn more about Alice's book Walking with Nomads and follow Alice on Instagram @aliceoutthere.
Feeling inspired?