Chances are when I say 'Europe', images of lazy strolls through Parisian streets armed with a fresh-baked croissant, sun-soaked days on Greek islands, and indulgent Italian gourmet adventures have already begun flitting through your mind.
There's no denying that travel in these European heavyweights holds a certain allure. They're romantic, cutting-edge, and home to some delicious foods, but when it comes to the riches waiting to be discovered across this vast continent they're only half the picture.
With destinations like Prague and Budapest rapidly growing in popularity, you only need to stray a little further east and into the fringes of Europe to discover a region rich in unique culture and history, equally grand architecture, quirky world-class art scenes, and delicious local fare. The bonus for budget travellers? You can experience all the delights here, for much less cash than you could in their western European neighbours.
Offbeat, cheap, and totally unique, if you're looking for a Euro-trip with a twist, here are the 8 places you didn't even know you need to see…. until now.
8 Must See Places in Eastern Europe
1. Castle of the Teutonic Order in Malbork, Poland
Sure, there's Versailles in France, Neuschwanstein Castle in Germany, and Edinburgh Castle in Scotland, and they're all incredible in their own way. But we're pretty sure that no trip to Europe is complete without checking out the largest castle in the whole of the continent!
Malbork Castle, just a few hours out of Gdansk, claims both the title of largest castle in the world by land mass and the largest red brick fortress in the world.  It was built in the 13th century by the Teutonic Order under the guise of being a monastery. In reality, those sneaky Teutons had built themselves a beautiful palatial home base (with its own heating system!) for the Knights assigned the task of converting the pagans of the east and Baltic areas to Christianity. Heavily bombed during World War Two, the castle has been painstakingly restored to beautiful detail.
Visit this stunning sight on our 11-day trip through Northern Poland and the Baltics.
2. Wolf's Lair, Poland
Deep in the Masurian woods of north-eastern Poland, hidden by fir trees and a thick carpet of moss lies Wolf's Lair: one of Hitler's key military headquarters during WWII.
For three years, Hitler commanded the Third Reich's war efforts from this network of tunnels and bunkers under the forest floor. But it's what didn't happen here that makes the Wolf's Lair a must-see spot.
At this bunker on July 20, 1944, the most elaborate assassination attempt on Hitler's life took place, led by Colonel Claus von Stauffenberg. Had the plot succeeded, it would have changed the history of the Second World War and potentially even the latter half of the 20th century.
SUBSCRIBE TO OUR NEWSLETTER FOR GIVEAWAYS, STORIES, COMPETITIONS, NEWS & MORE
3. Český Krumlov, Czech Republic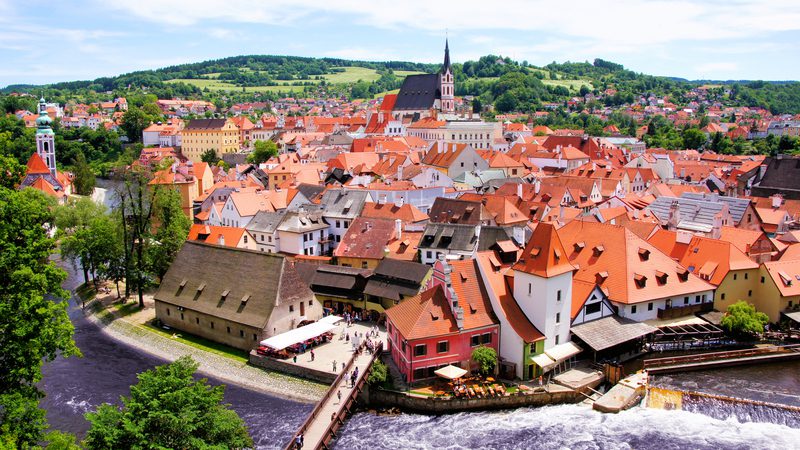 Welcome to one of the most underrated cities in the whole of Europe; Český Krumlov in the Czech Republic's Southern Bohemian region. This UNESCO heritage site has it all: a cute old town square, one of Europe's most stunning castles, views over the Vltava River, and beautiful Renaissance and Baroque architecture with a sprinkling of lively bars and riverside restaurants. The whole area is reminiscent of a miniature version of magical Prague, which basically means it's also a mini town made out of fairy dust and gingerbread.
See this gorgeous town on our 9-day Highlights of Central Europe tour.
4. Peles Castle, Romania
You'll come for Romania's vampire tales, but you'll stay for the beautiful towns, friendly people, and incredible castles. While most people land in Bucharest and head straight out to Dracula's Bran Castle, it's definitely worth making Peles Castle, near the town of Sinaia in the Prahova Valley, your top priority instead.
Surrounded by the towering green pines and wildflowers of the Carpathian Mountains, this 18th-century castle is amongst the most beautiful pieces of architecture (and locations!) in the whole of Europe. Outside, there are beautifully landscaped gardens, fountains, and terraces to explore. Inside, the ornately decorated themed rooms, such as the Oriental room and Turkish Parlour, are the perfect merger of art, culture, and history.
5. Blagaj & the Dervish Monastery, Bosnia & Herzegovina
Standing in the pretty little town of Blagaj, you'll probably spend a good deal of time trying to work out exactly how it took you so long to discover this little European Eden. Hugging the banks of the mineral green Buna River, the area is lush, quiet, and oh so serene. The 600-year-old Blagaj Takija (a Sufi-dervish monastery) is no exception, nestled at the base of the cliff from which the river flows. Explore the monastery, take a boat ride into the cave to see the source of the river, or take in the scenic views while enjoying your Ćevapi.
Be sure to fill up your water bottle before you leave too – the water here is fresh, pure, and even better than what comes out of the tap!
Visit Blagaj and so much more on this 8-day trip through Bosnia and Croatia.
6. Republic of Užupis, Lithuania
A nation within a city, within a country. That's the best way to describe the quirky self-proclaimed 'Republic' of Užupis, in Lithuania's capital city of Vilnius.
It was April Fool's Day in 1997 when a 12-strong 'army' of free-thinking artists, philosophers, and writers declared their independence in the city's bohemian quarter. Along with their own president, anthem, currency, and four national flags (one for each season, of course), the residents also adopted a tongue-in-cheek constitution, promising the right to hot water, to be unique, to love, to be happy… and to be a dog. Today the enclave is a hub for culture and the arts and is definitely worth the trip across the river from the main part of Vilnius. Don't forget to have your Užupis passport stamped at the craft store!
7. Tallinn Kiek in de Kök, Estonia
What do soldiers, punks, and fine art have in common? They've all shared some history with Tallinn's medieval artillery tower. Named Kiek in de Kök (German for "peek in the kitchen"), the tower got its name from a legend about some cheeky soldiers who peeked into the windows of nearby kitchens.
As time passed, the tower was expanded into a fort and a series of tunnels added, which saw various uses over the 20th century: housing prisoners of war in World War One, as air raid shelters in World War Two, a store room for sculptures from the National Art Foundation, and as a refuge for the city's punks and rebels on the run from police (who avoided the tunnels due to rat and flea infestations). In 2005, the tunnels were transformed into a museum and gallery space (free of rats and humans!) where you can now wander through some of Tallinn's most significant history.
Visit Estonia's cool capital on this 11-day trip through Poland and the Baltics.
8. Kemeri National Park, Latvia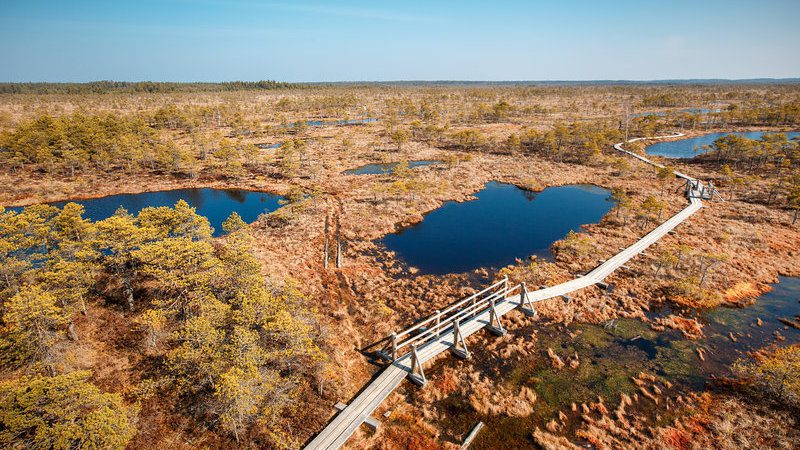 There's plenty to see in Latvia's capital, Riga; the Old Town's quirky Art Noveau architecture, the bustling former Zeppelin hangers that form the Central Market, the Freedom statue affectionately known as Milda. But if you're looking to escape the city for a while, head for the wild outdoors and explore the swampy Kemeri National Park. This delta by the seaside is a haven for photographers and bird-watchers alike, and you can explore the best of it via a network of wooden footbridge trails. If you're after some healing of the natural kind, hike to the sulphuric spring and discover its ancient therapeutic superpowers – the mud is still used in modern medicine today!
Ready to uncover more of Europe for yourself? Check out our range of small group adventures!

Feeling inspired?