This year at Intrepid, we've hit a milestone; the big 3-0.
To celebrate thirty years of adventure, travel mishaps, crazy food experiences and incredible encounters, we've asked our Intrepid staff and leaders around the world to share their most memorable travel moment.
Here's what they had to say.
Tales from the road
1. "The thing I loved about being a leader in the Middle East was observing my group's reactions to their 'first'. Like the first time they saw the Petra. Or better yet, saying 'shukran' (thank you) for the first time to a street vendor and watching the beaming smile they would receive in return." – Tristan, Australia.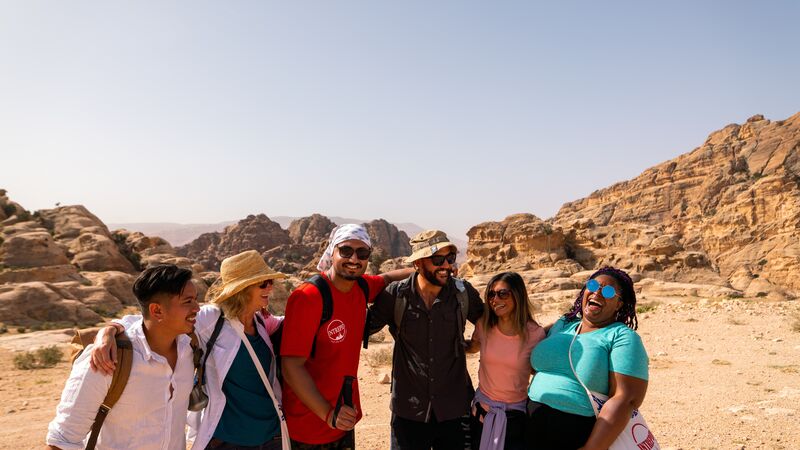 2. "Leading my first trip was the craziest. A volcano erupted in Chile, with the ashes blowing towards Argentina, then a snowstorm and then one of my passengers fell into a ditch in Mendoza – and broke three teeth. All of these at the same time, on my very first trip too, was crazy. I dealt with it the only way you can; changing hotels, tickets, and the itinerary, and then holding the hand of the girl in the hospital." – Nacho, Argentina.
3. "I was a tour leader in Canada and met some incredible people. I had one group who all wanted to get a tattoo of the maple leaf on the last day to remember the trip and everyone (including myself) got the same tattoo. A perfect end to the trip!" – Shayna, Canada.
WANT TO SEE CANADA WITH INTREPID? FIND YOUR TRIP HERE
4. "We had a guest from Australia on my trip in Turkey who was an incredibly talented singer and composer. One day, we had a long drive from Antalya and Konya (about 5.5 hours). During this time, he composed a song for us. It was so special, and it left a huge smile on everyone's faces." – Kubilay, Turkey.
5. "When I was a leader, a passenger fell off a horse in Mongolia and broke their arm. They were in a remote area and going to the hospital would have meant ending their trip. So, they requested to see a shaman instead of modern medicine. The treatment was to pour hot tea over the break and eat a piece of raw marmot liver. They thought it was awesome and the best experience of their trip."  – Tara, Australia.
6. "Whenever we stay at a traditional monastery on the trips I lead in Japan, there are usually a few stories that come out of the onsen (traditional bath house). These are segregated baths where you must take off all your clothes. It's common in these bath houses to wash other people's backs. A girl on our tour didn't know this and was having a bath when an old naked Japanese lady came in and started washing her. She didn't speak any English. I think it was a bit of a shock!" – Silvia, Japan.
7. "As a leader, one of my passions is living the experience with my travellers and seeing how the experience positively changed their life. Something that touched my heart was taking my group to a local restaurant. The owner never expected tourists in his restaurant, and I could see how happy this made him. When I ask how much for the meal, he said, "They are our guest; just tell them welcome to Egypt and thank you." I'll never forget that moment. – Hany, Egypt.
FIND OUT WHAT MAKES EGYPT SO SPECIAL ON A TRIP WITH INTREPID
8. "I was guiding a group in south Morocco; they were inquisitive and wanted to experience all that Morocco had to offer. We passed a traditional wedding ceremony in our minibus; the wedding guests all follow the family of the bride and groom, people are singing, beating drums, dancing and women ululating… I was able to speak to the father of the bride, who insisted that we come and celebrate with his family! When I told the group, they were so surprised and happy to be invited – we ate, drank and danced with the family for several hours and had so much fun!" – Khalid, Morocco.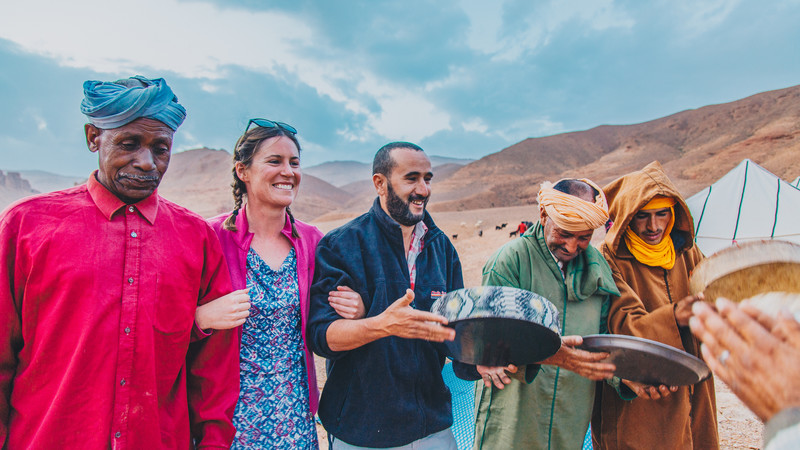 9. "I was leading a trip to Bolivia with just one couple, and we watched a documentary about child labour in Potosi Mines, our next destination. We were in tears by the end of it, and my passengers decided we had to find the boy in the film. I started making phone calls on a pay phone (as it was 2009), but somehow, we found him. Aged 19, we discovered that that the boy now had his sights on becoming a tour guide but couldn't afford to pay for his career. Touched by his story, my two passengers decided to pay for his education through the tourism academy. Nowadays, he still works in the mines but is also a tour guide – and is probably one of the best." – Fernando, Peru.
SEE BOLIVIA WITH INTREPID: TAKE A LOOK AT OUR TRIPS HERE
Foodie adventures
10. "It wasn't the best meal, though the most memorable meal I ever had was in Laos. I'm terrified of moths and not super calm during lightning storms. During a visit to a silk-farm, we were trapped inside a caterpillar shed by a massive storm. After a while, with nowhere to go and nothing to eat the staff offered us moth larvae as a snack. They were gross, but I was super hungry, so I ate them…" – Jake, Australia.

11. "I had an American couple on a trip I was leading, and they were really into food. However, he was a vegetarian. We found this nice place where they do paella classes in Valencia. This guy went there because his wife wanted to do the paella class, which takes an entire day. When I arrived back in the afternoon, he was eating paella – with rabbit and chicken in it! I said, 'but it's not vegetarian', but he said he didn't care, that it was one of the best experiences of his life. He said 'it's once in a lifetime, I don't want to miss it. I prepared it, so I have to enjoy it.' One of my favourite moments." – Dani, Spain.
SUBSCRIBE TO INTREPID'S NEWSLETTER FOR TRAVEL TIPS, COMPETITIONS, GIVEAWAYS & MORE
12. "I was with a group on the Trans-Siberian Railway, travelling from Moscow to Lake Baikal. I bought a kilo of red caviar from the chef in the restaurant carriage – it's a very Russian thing to do, and my group was very keen to try it – as well as some black Russian bread for everyone, and some vodka too. A couple of guys appeared, and they looked like young gangsters from one of the Ural towns – they were very interested in our group, and I thought 'Well, this will be a good conversation'. We ended up having a big party, with the train staff closing the restaurant carriage to everybody else and just leaving it for us. These guys were carrying a disco ball with them, so they pulled it out, and they brought their own music, and we had a private party with dancing and a disco ball, red caviar and vodka." – Anton, Russia.
13. "It was 35 degrees, and I was sweating buckets on an Intrepid Cycling trip. We stopped at a little roadside place that makes its own Buffalo Curd (yoghurt). They even make the earthenware pots that the curd is served in, and later the pots are recycled to build fences. I got so carried away that I ate the entire contents of the clay pot! I only have to look at that picture and my mouth waters with the memory." – Griff, New Zealand.
14. "We spent a weekend in a beautiful French farmhouse in the Dordogne region – but staring at us all weekend was a scruffy note on the fridge. All it had on it was the name of a local restaurant nearby and a number, nothing else. Curiosity won us over, so we called up and booked it. We were greeted by a fairytale-looking stone house and a hilarious Parisian chef. There was no menu, but we were treated to a whopping seven courses of locally sourced food. Though the food was outrageously good, it was the experience of really eating locally and sustainably, with friends in the most magical surreal surroundings. Best of all, it was just 15 euros each." – Eddie, Australia.
One-of-a-kind moments
15. "Delhi in May sees temperatures over 40 degrees for days on end. I was queuing with the locals in a dilapidated neighbourhood for some ice to gain some respite from the inescapable heat when I felt a tap on my shoulder. The man behind me told me that that the old man nearby said, "He wants to know, do you realise how lucky you are to be able to travel the world as you do?" It took some time for the realisation to land; I had taken my good fortune for granted up to that point but have never forgotten it since." – Pete, Australia.
16. "On our Everest Base Camp Trek with Intrepid, our group was joined by a friendly dog on our walk from Dingboche to Lobuche. The air was getting thinner and the going tough, but the dog offered a well-needed boost to our weary group. To our surprise, we woke up the next morning to find the dog waiting for us and he escorted us to Everest Base Camp. When we arrived, he walked over to the hiker's monument and perched himself proudly on top. I took a picture, smiled and enjoyed the moment with our local leader, Ramhari. "He does that every time," he explained. Not so unique, but memorable all the same." – Pat, Australia.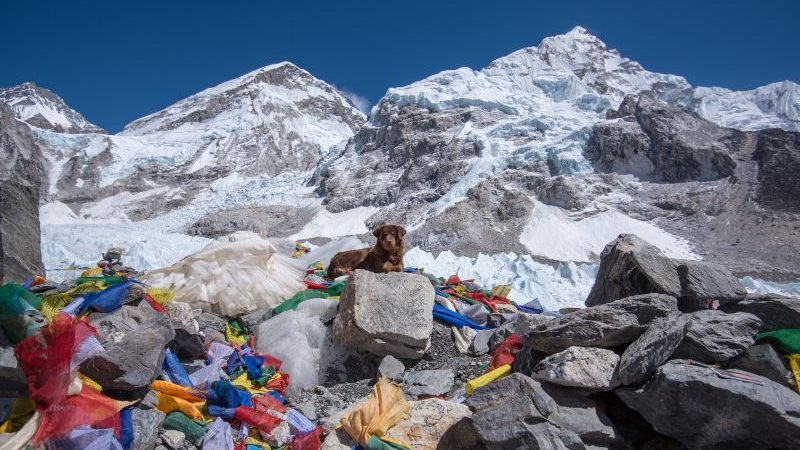 SEE IF YOU CAN FIND THE BASE CAMP DOG ON OUR 15-DAY EVEREST BASE CAMP TREK
17. "Travelling with my son in Peru, we couldn't obtain a permit for the Inca Trail, which turned out to be a blessing. Instead, we walked the Quarry Trail. Same area, similar stunning landscape, but instead of 500 people per day there was zero. Over three days of walking, there was our little group of five trekkers, our guide, porters and their horses. Plus a few local villagers. No tourists and no sign of overtourism." – Manch, Australia.
18. "In my 20s, I went on an exchange program from Costa Rica to Sweden during my final years studying Criminal Investigation. It was my first time travelling in another country – but it changed my life entirely so as soon as I got back home, I flipped careers, and 20 years later I'm still grateful for that experience." – Yanira, Costa Rica.
19. "I didn't realise another country could feel like home, but Italy sure did for me in every sense. One of my favourite memories of travels isn't hiking the tallest mountain or conquering any of my fears; it was such a simple moment that I'll always remember. My friends and I made our way up to Piazzale Michelangelo with a bottle of wine to watch the sunset over Florence. Together we laughed, took photos, drank our wine, shared stories and sat people watching. It was spectacular, and I fell in love with travel at that moment." – Cara, Australia.


20. "After finishing a sightseeing tour in Machu Picchu, we had some free time, and I had my heart set on hiking to the summit of Montaña. So, I went up there, and at the top of the mountain, I was treated to phenomenal 360 degree views. As I hiked back to the entrance, I passed the spectacular old Inca ruins without any crowds and the afternoon sun beaming down above it. It was a magical moment, and one I'll never forget." – Barbara, Germany.
FALL IN LOVE WITH PERU: FIND YOUR NEXT TRIP HERE
21. "Staying in a 16th-century village in Rajasthan on an Intrepid trip, we were given the option to take a sunrise hike to the remains of an old fort. The view was beautiful, but the most memorable moment was after we had descended. Our guide – a local to the area – stopped outside one of the houses and swelled with pride. "This is my home," he told us, and invited us to his house and introduced us to his family. Their generous hospitality for spontaneous foreign visitors was one of the most precious moments of our trip." – Lizzie, Australia.
EXPERIENCE THE MAGIC OF INDIA WITH INTREPID
22. "My friend and I were at breakfast in Siem Reap when a party-style tuk-tuk pulled up and asked us if we wanted to go on an adventure. So, we decided to take a chance and go. We stopped at incredible places, but the real memory of that day is just sitting back in the tuk-tuk, listening to music, and watching the Cambodian countryside go by, stopping at areas we would never have seen. It's still one of my favourite travel moments." – Katie, Australia.
23. "Sailing around Panama's idyllic San Blas Islands with my boyfriend James, we met Gus from Dubbo in Australia (my boyfriend and I from the UK). It turns out that Gus knew James' family where we would be visiting later in the year. Four months later, Gus picked us up and drove us there (a 5 hour journey) and even popped in for a beer. Amazing to think that in the middle of nowhere, on a boat with just 12 other people you could find such a close connection with someone you've never met. Small world!" – Liv, UK.
RELATED: 8 REASONS TO TRY A SMALL SHIP ADVENTURE CRUISE
24. "Travelling to Iran with Intrepid, I was curious to find out more about the people that lived there. Using public transport, I hopped on to the women's only carriage of the train. Between stations, I noticed that women wearing head-to-toe hijabs start lining up very provocative, lace underwear from the handrails at the station to sell. It was such an interesting moment as, despite having to cover their heads, arms and legs by law, women still want to wear something beautiful underneath! A stark yet heartening contrast to what many may otherwise think!" – Lauren, UK.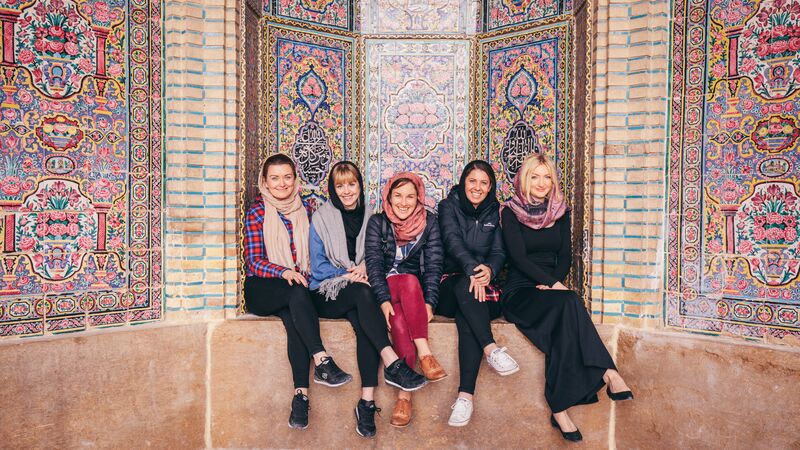 25. "We had a free day on our Intrepid trip from Argentina to Brazil, so we organised a boat trip the islands near Ihla Grande (Brazil). We met some Chileans, Argentinians and Uruguayans who joined us on the island. Everyone sat around bonding over the World Cup, laughing and sharing local food and wine. Later, we all wanted to help clean the beach, so together we did precisely that. It's those moments that stay with you, as there are no divisions or borders to take care of what we love – the planet." – Shirley, Peru.
RELATED: 11 RESPONSIBLE TRAVEL TIPS FOR YOUR NEXT TRIP
26. "On my Intrepid trip to Japan, we spent one night staying at a monastery, and it was so peaceful there. We meditated, ate vegetarian food and woke up early to participate in a ceremony with the monks. On the first night, someone suggested that we go for a walk to the cemetery. So, we walked in complete silence, but after just 200 meters we all agreed (without saying a word to each other!) that it was time to leave and turn around because it was so eerie. I'll never forget that!"  –Rachanee, Thailand.
Love stories
27. "In 2016 I got to marry the man of my dreams. Though, when I'm asked about my magical wedding day, it was a surprise ceremony organised by our tour leader Martin in Kenya (on day 6 of our Best of East Africa trip with Intrepid) a year later that brings me to happy tears every time I get to share it. We were staying with a Maasai Tribe, and on our last day there, Sinclair and I were treated to a surprise traditional Maasai wedding. The smiling, dancing women and the jumping warriors dressed us both in traditional Maasai wedding jewellery, and a bright red and yellow Shúkà (traditional clothes). It was a day I'll never forget!" – Taylah, Australia.
28. "They say that travel can change your life – well, it certainly changed mine. Having come from a small Welsh village, I decided to book a camping trip through Africa (and I hate camping), but the idea was to get out of my comfort zone. My group were an interesting bunch – and one of them was an Aussie who I took an instant dislike to but this year we're celebrating our 25th wedding anniversary!" – Sarah, Australia.

29. "Ten years ago, I was leading one of my last trips on the Trans Mongolian. Little did I know that after this trip, I would have spent the following nine years with Claire (a passenger on the trip). While nothing happened on the trip, Claire decided to fly back to Stockholm after the tour ended, and since then we have lived, laughed and travelled the world together." – Chris, UK.
30. "During my last trip as a leader, we had two passengers on tour and what started as a joke and flirting around ended up in a relationship, and just a few days ago they got married (for the third time) in the Peruvian jungle!" – Elvis, Peru.
What's your best travel story? Share it with us in the comments below.
Feeling inspired?