Swap the slippers for snowshoes and discover the wonders of winter trekking.
Winter doesn't have to be for staying in and watching TV. Instead, keep your body invigorated and your mind inspired on a Winter Hiking & Snowshoeing tour in some of the world's most iconic national parks. Offering the chance to experience a destination in a whole new light, our expert-led adventures promise incredible scenery, unique activities, and plenty of local culture and hospitality – all without the peak season crowds. Whether you're excited by the sight of Yosemite's snow-dusted summits or can't wait to marvel at crystalised ice flows in the Rocky Mountains, let the magic of winter lead you on the journey of a lifetime.
Why choose Intrepid
Expert leaders
We'll be hiking in rugged mountain terrain where the weather can shift suddenly, but you can rest assured you're in safe hands. Our hiking and snowshoeing trips are led by experienced local leaders who are specially trained to run winter adventures. Plus, we think the best folks to show you around the heart of a destination is someone who lives there.
Dodge the crowds
If you thought summer was the best time to go on a trekking adventure, think again. Summer trekking often brings hordes of people, queues at all the best viewpoints, and the constant sound of chit-chat and cell phones. In winter, crowds are non-existent and nature takes over, allowing you to truly immerse yourself in your surroundings – even in some of the most iconic destinations.
Leave the organisation to us
Hiking in winter environments requires more careful planning, but the beauty of joining us on a guided trip is that we organise everything for you – including on-tour transport, hiking permits, local accommodation, delicious meals, and specialist gear (like snowshoes and hiking poles). All you need to do is rock up, lace up your hiking boots and soak it all in.
Our winter hiking & snowshoeing trips
Highlights of our hiking & snowshoeing holidays
Spot wild animals in Yosemite National Park
Yosemite might be beautiful in summer, but have you seen it in winter? With layers of brilliantly white snow covering the ground and evergreen trees guiding your way, seek out the park's animal inhabitants - powerful bison, graceful deer, and muscular grizzly bears just to name a few – during the day and retire to your cosy Airstream accommodation at night. Winter holidays simply don't get much better than this. 
Climb your way up the epic Jebel Toubkal
Have you always wanted to climb up North Africa's highest peak but been too intimidated to do it on your own? Let our expert leaders take you on a journey to the summit of Jebel Toubkal in the High Atlas Mountains on an extraordinary experience you'll remember forever. With unforgettable views every step of the way and less traffic along the trek to share them with, this winter hiking trip is one for the highlight reel. 
Marvel at the frozen landscapes of the Rocky Mountains
Rocky Mountain National Park's landscapes are made even more breathtaking when they're covered in drifting snow and there's no better way to explore them than by strapping on a pair of snowshoes and heading out into the white wonderland. From the sparkling sight of a frozen Copeland Falls to the warm lodge waiting for you at the end of a big day, you're bound to love this wintry corner of Colorado. 
Hike the Grand Canyon in solitude
With a stunning backdrop of snow-dusted canyon valleys and (almost) no other souls on the trails, this is the Grand Canyon that most don't get to see. On this six-day adventure, you'll hike the epic South Kaibab, North Kaibab and Bright Angel trails, camp in the wilderness beneath the sparkling night skies, walk behind tumbling waterfalls, discover ancient Native American ruins, and so much more.
Discover the magic of Yellowstone
Travellers are awe-struck by Yellowstone's otherworldly thermal features, but even more so when snow blankets the park and makes the hissing geysers, bubbling mud pools and steaming vents even more dramatic. Hike across crunchy snow and discover impressive backcountry geysers like Lone Star, marvel at frozen waterfalls and the thermal features that give Firehole River its name, and look out for bison, elk and other wildlife as you traverse snow-covered meadows.
Explore the enchanting Mt Rainier
Immerse yourself in the unspoiled, wintery wilderness of Mt Rainier National Park as you explore the enchanting landscapes surrounding this epic stratovolcano. Spend your days exploring snow-draped meadows, hiking among towering snow-topped peaks, and discovering frozen mountain lakes and waterfalls. Hikers are outnumbered by wildlife in winter, so you might be lucky to see elk, lynx, deer and maybe a rare wolverine peeking through the forest.
Hiking & snowshoeing trip reviews
Winter hiking & snowshoeing FAQs
Read more about walking & trekking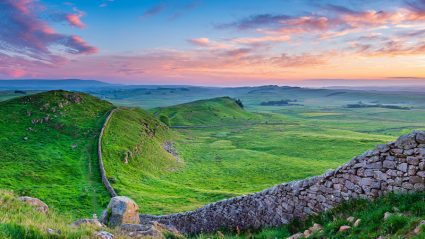 Feb 12, 2022
---
Follow in the footsteps of Romans and uncover two thousand years of history.
Dec 14, 2021
---
For anyone seeking a truly rewarding holiday, the Great Walks of Europe offer a...
Sep 14, 2023
---
Freshly crowned the world's best outdoor/walking guide, Phurba reflects on the...