At first blush this 1,600-kilometre stretch of highway might seem devoid of anything interesting. But ask those who have travelled along its dusty length and you'll usually hear the road makes for surreal travel.
As horizons warp and perspectives alter, questions present themselves. How did Indigenous Australia survive out here? How can the ground above Australia's largest underwater lake be so arid? Whatever became of the Nullarbor Nymph? Much more than a whole lot of nothing, crossing the Nullarbor has become a rite of passage for travellers wanting to fathom Australia's sheer vastness.
Our Nullarbor Tours
An active six-day adventure through Western Australia's remote natural wonders like...
Southern Ocean & Nullarbor Tour reviews
Tips for travelling on Australia's southern coast
Timezones can be confusing when travelling across the southern coast of Australia. Adelaide works on Central Standard Time and Perth follows Western Standard Time – which is an hour and a half behind. Throw daylight savings times into the mix and you've got an extra hour of confusion. 
Need help finding trips to suit your plans?
Read more about the Southern Ocean and Nullarbor Plain
Nov 16, 2017
---
Camping with koalas and cosying up to kangaroos? Only in South Australia.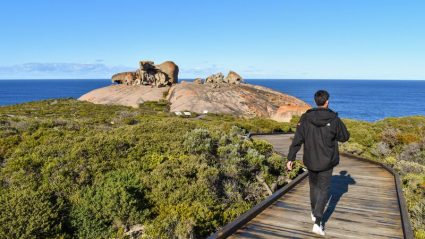 Nov 11, 2019
---
Did you know that Kangaroo Island is seven times the size of Singapore?
Feb 19, 2018
---
Apart from incredible beaches, killer coffee, world-class pubs and an enviable...