Enchanting landscapes and a centuries-old culture you can easily get lost in – Cambodia has it all. 
Cambodia is a country that packs a punch, and on a trip from Phnom Penh to Siem Reap, you'll see that there is so much more to this South East Asian gem than temples (although these aren't to be missed). This country's incredible beauty, exquisite food, and rich culture make it a must-see destination. Although it has a tragic history, your local leader will guide you deep into the heart of this inspirational and alluring destination.
Our Phnom Penh to Siem Reap tours
Highlights of our Phnom Penh to Siem Reap tours
Wander the beautiful sights of Phnom Penh
Get accustomed to the sights and sounds of Phnom Penh on a leader-led tour through the bustling city. Whether you're excited to wander past French colonial-inspired buildings, can't wait to visit the National Museum to check out the classic Khmer craftsmanship or itching to tour the private quarters of the Royal Palace, you'll never run out of things to do in Cambodia. 
Enjoy some authentic Cambodian cuisine
There's no shortage of delicious food to be eaten in Cambodia – think fresh seafood straight out of the country's biggest rivers, aromatic rice dishes that'll have you wanting seconds, and fried insects for those fearless enough to try. From munching on some coconut fish curry (amok) to enjoying a beef stir fry (lok lak), your tastebuds are going to love Cambodia. 
Marvel at the intricate details of Angkor Wat
Alongside the Taj Mahal in India and the Eiffel Tower in Paris, Angkor Wat sits up there with some of the best manmade monuments the world has ever seen. Guaranteed to take your breath away with its scale and opulence, this ancient temple was built way back in the 12th century as a present for the Khmer Empire and has captivated travellers and religious followers ever since. 
Take in epic landscapes from the seat of a bike
Driving might be the quickest way to take in as many of Cambodia's picturesque landscapes as you can but pedalling past ancient temples and never-ending rice fields while the wind whips through your hair and the sun's rays beam down on you is something else. That's right. Swap 4 wheels for two and cruise past scenery you've only ever seen from the pages of travel magazines. 
Learn about Cambodia's troubled past
While Cambodia is a spectacularly beautiful and collected country now, its past hasn't always been a happy one and a visit to the Tuol Sleng Genocide Museum and the Killing Fields of Choeung Ek will give you an in-depth look into the tragic history of the Khmer Rouge. Learn about the devastating conflicts that occurred and how the country is moving forward peacefully.  
Explore the chaotic streets of Siem Reap
Finish off your Cambodian adventure the way you started it; with a bang in Siem Reap. Spend a couple of days exploring the ancient grounds of ruins and temples at the Angkor complex, take a boat trip down the Tonle Sap Lake and marvel at the floating villages you come across, and wander the city's vibrant markets full of souvenirs and local produce you simply have to try.
Phnom Penh to Siem Reap tour reviews
Phnom Penh to Siem Reap FAQs
Read more about travel in Cambodia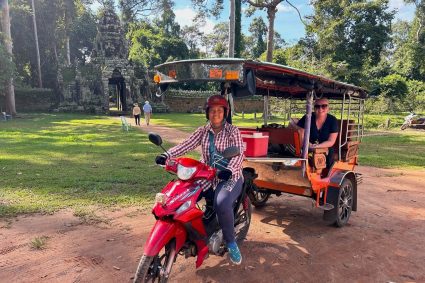 Nov 27, 2023
---
Tour Angkor Wat on a tuk-tuk trip that empowers Cambodian women.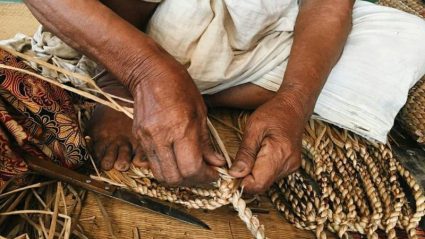 Nov 22, 2022
---
On the outskirts of Siem Reap, not-for-profit organisation Rokhak is changing the...
Jun 29, 2022
---
What if we told you that you could help 52 at-risk Cambodian youth break the cycle...