Let the diverse and culturally rich flavours of Europe take your tastebuds on an unforgettable culinary journey. 
From the chaotic fish markets of Portugal's seaside towns to the spirited tapas bars in Spain, Europe is one of the best regions in the world to explore great food. Cycle to a pistachio farm on the island of Aegina in Greece, learn how to make pasta like a pro in Italy, or indulge in cured meats and truffles in Slovenia on our European food tours. We avoid the tourist traps and introduce you to the real deal: hidden laneway bars, herb-filled homestay kitchens and al fresco cafés only the locals know. Bon appetit indeed. 
Food tours in Europe
European food highlights
Portuguese tart
Desserts don't get any more decadent or more delicious than Portuguese tarts. Filled with a sugary, vanilla custard which is then baked to achieve that perfectly crisp look, these sweet treats are all the rage in Portugal and have been since their creation way back in 1820. 
Gelato
While gelato may be famous worldwide, there's nothing like enjoying the icy sweet treat in the country where it originated back in the 1600s. From the classic lemon to the nutty pistachio, Italian gelato can't be beaten when it comes to its spectacularly rich and fresh taste. 
Ajvar
Stemming from the need to use up as many red peppers as possible from the annual harvest, ajvar is a savoury relish from the Balkan region of Europe. Usually paired with cheese, pickles, yoghurt, or bread, this colourful condiment is a must-try in Serbia, Croatia, and Macedonia. 
Meet our local leaders
'Spain is all about food. Of course, you have the monuments and the history, but when you travel with me it's about the food. I like to order the food when I take my groups out because I want people to try something new. I choose things like pork cheek stew because this is something that many would not think to try.'

– Daniel, Spain
Why choose Intrepid
Real, authentic experiences
We love the highlights, but for us the real magic is found off the tourist trails. Our trips combine iconic sites with hidden gems that you'll only discover with Intrepid. We're talking mornings exploring the Taj Mahal, followed by a Mughlai cooking class with a passionate home cook.
Local expertise
Whether you're perusing markets, hunting down the best street food bites or learning how to cook centuries-old family recipes at a homestay, there's no better way to get the inside scoop on a destination – and its culinary traditions – than with an expert local leader by your side.
Small groups
Big coaches and flag-toting tour guides don't cut it for us. With a maximum group size of 12, our groups blend in with the locals and have plenty of opportunities to interact with chefs, street food vendors and group leaders. It also means you can really connect with your fellow foodies.
Reviews
Stories from the kitchen
Recipes from Europe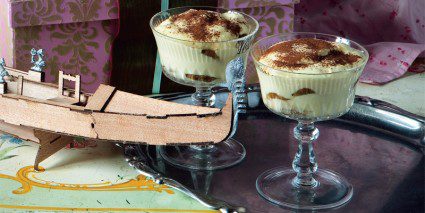 Mar 31, 2015
---
Recipe taken from Venezia: Food & Dreams by Tessa Kiros Tiramisu an be varied...
Nov 21, 2014
---
Make it yourself, then head out on Intrepid's Real Food Adventure Morocco to taste...