Move over Machu Picchu – this epic trek takes you to the real 'lost city' of the Incas, surrounded by dense cloud forest deep in the Andes.
Take your boots further with a challenging 8-day hike, moving through high altitudes, over mega mountain passes and along a quiet trail leading to the well-preserved Inca city ruins of Choquequirao. The site is three times larger than Machu Picchu, and you're given a full day to explore. Think secluded and not for the faint-hearted.
At a glance
Number of ruins
Average duration
Peak time to trek
Our Choquequirao Trail tours
Highlights of the Choquequirao Trail
Explore the vast Choquequirao ruins
Explore a seldom-seen side of the Inca civilisation – the sprawling ruins of Choquequirao. Quieter and far bigger than its glamorous counterpart Machu Picchu, this 'Cradle of Gold' is made up of ceremonial platforms, palaces, terraces, ritual baths and temples dedicated to the sun, moon and earth spirit, Pachamama.
Camp at a beautiful terraced coffee plantation
Rest your head in a particularly special location – on Inca terraces in the middle of an Andean coffee plantation. There may even be time for a tour of the plantation for a small fee – a rare chance to get behind the scenes and see how this local operation plies their trade in these spectacular hills.
Marvel at Llactapata
Before the triumphant home stretch of the Choquequirao Trail, take a detour to the impressive Llactapata ruins. It's chance to not only explore some beautiful lined terraces and 16th-century housing structures, but also get a taste of what the Classic Inca Trail is all about.
Soak up next-level views from Yanama Pass
Traverse the breathtaking Yanama Pass, the highest point of the Choquequirao Trail. From 4660 metres (15,290 feet) above sea level, take in the splendour of southern Peru's famous mountain scenery – namely, the snow-dusted Vilcabamba range.
Why choose Intrepid
Trek experts
All our guides are certified local tour guides and trained in-house on Intrepid Safety Policies. Each trekking guide also receives exclusive Intrepid training, provided by mountain rescue experts in the field.
Safety First
All our guides and trek leaders have been trained by medical specialists in handling altitude illness and are proficient in first aid. Our team carries oxygen cylinders on all treks for emergency use.
Local matters
Our team members live and work in the Andean region, which means revenue from all our treks benefit the local economy.
Full inclusions
We take care of the details, so you can focus more on enjoying the journey. Our tours include all meals, with essential camping equipment and the option to hire additional hiking equipment if needed.
Rainforest Alliance tick of approval
We are proud to have the tick of approval from the Rainforest Alliance indicating that we meet and operate at the highest standards in environmental, social and economic sustainability
Sustainable travel
We strive to use travel as a force for good. That's why we choose to give back to the communities we visit, carbon offset all our trips and take our social and environmental responsibilities seriously. We've been officially certified as the world's largest travel B Corp, which means when you choose Intrepid Travel, you can rest assured you're travelling to improve the planet.
Meet our team
Maritza, operations manager
"I am passionate about empowering local Indigenous communities, especially women, and am also a committed defender of Mother Earth, known in the Andes as Pachamama. I have also worked tirelessly with local communities and governments to help improve the sustainability of treks in the Cusco region".
Paul, leader
"It will be a pleasure to share our traditions and beliefs, take you to the most amazing sites and, most importantly, interact with the locals! Get ready for a behind-the-scenes tour where we'll visit hole-in-the-wall restaurants and find the best picarones (Andean doughnuts). I'll be waiting for you here, in my beloved Peru."
Fernando, general manager
"I like working for Intrepid because their social and environmental philosophy isn't just a slogan to sell more trips, they really do care about it. I have changed my life in so many aspects due to all the learning coming from Intrepid, from recycling to accepting myself, and being proud for who I am."
Ascencio, porter
"I started working with Intrepid in 2014 and now I'm 61 years old. I'm very happy to be working with Intrepid because each porter's treatment is better than other tour operators in Peru. Because of this job (which includes fair pay), I can provide a better education for my children". 
Valentina, porter
"I come from Huilloc Community in Ollantaytambo town in the Sacred Valley (Cusco), and I started working as a porter on the Inca Trail in 2021. I love walking the Inca Trail and I'm very happy to be working for Intrepid as my income enables me to provide a better education for my 7 children". 
Teofilo, porter
"I'm from the Community of Kalla Rayan (Calca town) in the Sacred Valley, and I'm 53 years old. I've worked as a porter for Intrepid since 2009, mainly because I love it and we have very good working conditions. Thanks to my job, I've saved money to spend on my wife and better education for my children". 
FAQs
Life on the trail
While the Choquequirao Trek is a big undertaking, the views are what you would expect (and more) when you're travelling through the Andes. You'll camp for seven nights with the support of your expert trek leader and team of horsemen, and our chef prepares wholesome meals to enjoy each night. On the last day, you'll stay overnight in a hotel (where you can have a well-deserved rest and shower) in the gateway town of Aguas Calientes – before spending a day at Machu Picchu. You'll return to Cusco in the late afternoon to relax and kick back after a mammoth journey. Check out the gallery below for a preview of what life on the trail looks like. 
Responsible trekking
Intrepid Travel is committed to ensuring the environmental sustainability of the amazing destinations we visit and we take our social responsibilities very seriously. In Peru, we have committed to paying our porters and guides a fair wage and supplying them with the necessary equipment and resources to undertake their work safely. We also support several community initiatives aimed at promoting the long-term sustainability of the region's environment and preserving the traditional cultures of its communities.
Read more about the Choquequirao Trail
Sep 05, 2018
---
You definitely want to have a good pair of hiking boots for this one.
Aug 28, 2018
---
Looks like Machu Picchu's got some ancient competition.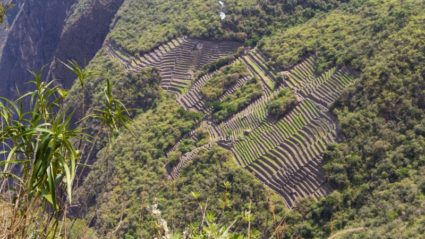 Sep 12, 2018
---
Get away from the crowds of Machu Picchu on this little-known trek to an ancient...