So, you're ready to pull your hiking boots out of storage and book an adventure to experience Sumatra's steamy jungle wilderness? We don't blame you.
This UNESCO-listed National Park in Northern Sumatra is marked with natural wonders at every turn. It's home to countless endangered species, including Sumatran tigers, rhinoceros and elephants, and it's one of the only places on earth where orangutans still thrive in the wild. I recently got to check it out on an incredible overnight trek through Gunung Leuser National Park on the 9-day Sumatra Adventure in Indonesia.  
Here's the lowdown on everything you can expect – and everything you need to know – about spending two days trekking in Gunung Leuser with expert guides.
1. You'll experience incredible wildlife encounters
Gunung Leuser is one of the most biodiverse forests on the planet and home to the world's densest population of orangutans. Approximately 5,000 orangutans call this park home. So you can be confident that trekking here will serve up some exceptional wildlife spotting opportunities.
I can't make any serious promises – wildlife encounters are unpredictable at best, after all – but you do have a (really) good chance of seeing orangutans on this trip. And let me tell you, witnessing orangutans swinging from the vines above you will be a sight you won't soon forget. The expert local guides accompanying my group along the trek were so committed to making sure we came face-to-face with these gentle giants of the forest that they even ran ahead in search of them before leading our group to meet them.
Plus, you're likely to share your trek with Thomas Leaf monkeys, macaques and other vine-swinging wildlife. You can also look out for peacocks on the forest floor, and keep your eye on the skies to spot rarer hornbills and other birdlife.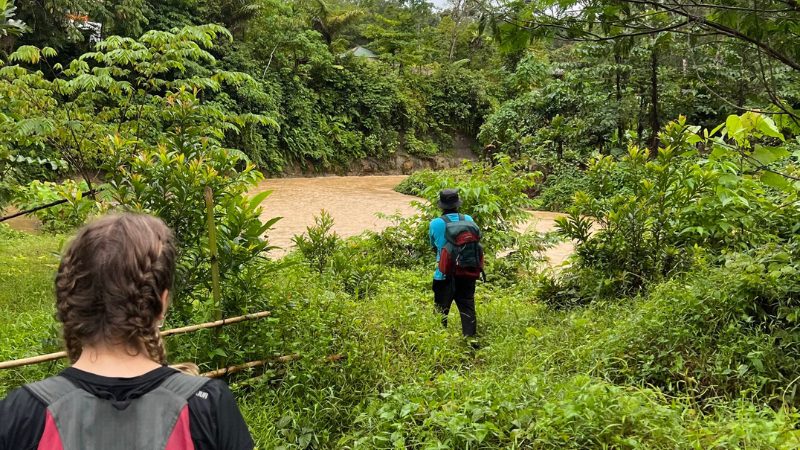 2. You'll get closer to nature
This isn't your average walking track with well-worn paths and signposts along the way. This is the real jungle experience – it's wild and remote, and it's probably not like anything else you've experienced. You'll be able to lean on your expert local guides to lead the way and chop through the odd vine or overhanging shrubbery where necessary. But you should know, it'll be sweaty, muddy and kind of… leechy? There, I said it. In all honesty, the rugged nature of this trek really defines the adventure, so embrace the gritty essence of it. And if you wear appropriate hiking gear, the leeches aren't so bad – I promise. 
3. You'll disconnect (in the best way)
There's no wi-fi in the jungle. Shocking. But there's something special about immersing yourself in nature and something even more special about not having phone reception to immediately tell your Instagram following all about it. You'll embark on this trek knowing it'll be filled with memory-making experiences; knowing that you're going to witness some very special things but what you won't necessarily realise until you get there is just how refreshing disconnecting from real life can be.  
When I stepped out of the jungle on day two, I left my wi-fi switched off a little longer than necessary, not quite ready to dive back into reality. 
4. You'll dig into some tasty local eats
You're hiking in some of the world's most remote wilderness, sharing the area with endangered Sumatran tigers and elephants, so you'd be forgiven for thinking that the catering on your trek would be minimalist to say the least. But you would be wrong. We refuelled regularly and tucked into some of the most delectable local eats during this trek, just like all true adventurers should.  
Our local guides carried plenty of snacks like fruits and crackers, and our picnic lunch and dinner beneath the jungle canopy featured stir-fried noodles, tempeh, curried vegetables, rice and more. Bon appetit! 
5. You'll sleep beneath the canopy
After a day spent trekking through the jungle, spotting orangutans swinging above and eating all of the best Sumatran picnic treats my heart desired, the icing on the cake was getting to camp in this lush UNESCO paradise. You can forget your evening meditation music – instead, you'll be lulled to sleep by the sounds of the jungle around you. Think crickets singing, leaves rustling and the soft sound of a running stream if you're lucky enough to camp by the water. I woke up to a homemade breakfast of nasi goreng prepared by our guides and smiled to myself as I enjoyed my last few hours in the jungle, knowing this adventure is one few others will ever experience. 
Our hot tip: if you haven't watched the Our Great National Parks series hosted by Barack Obama yet, skip to episode five: Gunung Leuser, Indonesia. If this blog isn't enough to make you want to book your spot on our Sumatran Adventure, like, yesterday, this episode certainly will be. 
Feeling inspired?