When Mark and his 11-year-old daughter Quinn decided to travel together through Cambodia, they expected an adventure. What they didn't expect was one of the greatest experiences of their lives. Mark shares what made this particular trip so special, and why he recommends every parent travels with their kids.
Mark Kosiba isn't your typical travel guy. The 54-year-old father of three is a self-proclaimed 'working dude', who entered the workforce straight out of college and hasn't really stopped. He's done a handful of business trips to China, but hasn't done much travel for fun.
That all changed a few years ago, when a friend of Mark's – who takes a whole month off to travel each year – suggested they go on an Intrepid trip to Thailand, Cambodia and Vietnam. That was all it took to get Mark hooked.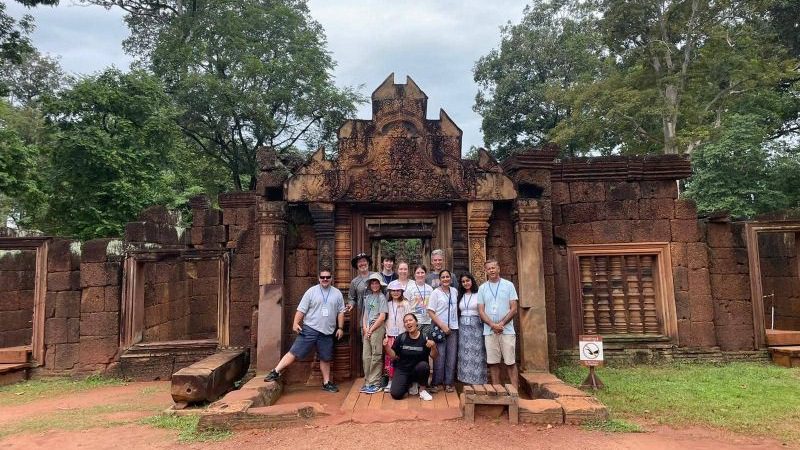 This year, Mark decided to hit the road with a new travel companion: his 11-year-old daughter Quinn.
"There's something unique about having that one-on-one time travelling with a child," Mark says. "When you're without the sisters and mom, we get to know each other a lot better. It's incredibly powerful and important."
Mark and Quinn – along with a father-son pair they're friends with – took Intrepid's 8-day Cambodia Family Holiday with Teenagers, and Quinn was pretty nervous about her first trip overseas. "It's a whole different part of the world and I was excited to see it, but also nervous about things going wrong, like missing our flight or getting stuck somewhere," Quinn says. "But when we finally got there, all that went away and I was so happy to be there with my friends and my dad."
Travelling with kids, particularly one-on-one away from siblings and another parent, can be a great way to build resilience and cope with whatever challenges life might throw at you.
"We talked a lot about what might happen if we lost our passports or missed our flight," Mark says. "Ultimately, it's about not panicking – whatever happens, we're going to figure it out together. In fact, Mark believes some of those unexpected things can lead to the best memories. "There's magic in things going sideways when you're travelling, that some people might look at as a negative, but it's just part of the experience. The ability to face a problem and then solve it with your kid? I can't express how great it feels to do that," he says.
One of the biggest things that made Mark and Quinn's trip so memorable was their Intrepid leader Patsreymom. "We felt this bubble of safety travelling around Cambodia with her," Mark says. "She was so intuitive with the kids. I felt safe to take chances I wouldn't normally take if I was trying to travel with Quinn by myself."
Quinn has since lost her travel jitters and is excited to see more of the world. "Thailand sounds really cool, and maybe China too," she says. "Basically, I just want to go out of America and see a lot of other places! If we go on another trip with Intrepid, I think I'm going to feel safer because I'll be with people who know what to do and what to eat."
For parents who might feel nervous about travelling one-on-one with their kids, Mark has one piece of advice: do it.
"Travelling with your kids will be one of the greatest things you'll ever do," he says. "When you completely replant yourself in another part of the world where you're dealing with things like language, culture, food – there's an intensity. You bond, you learn about each other, and it changes the relationship dynamic between you and your kid. It's the coolest thing ever."
Feeling inspired?