I, like others before me, came to Cinque Terre to see the colorful houses clinging to rocky cliffs along the Ligurian coastline.
And after exploring the area on my Highlights of Italy tour, I left with memories of one of the most fulfilling 48-hours full of food, sunshine and challenging hikes.
Once sleepy fishing and agricultural towns, Monterosso al Mare, Vernazza, Corniglia, Manarola and Riomaggiore form the Cinque Terre National Park, recognized as a UNESCO World Heritage site. It's now a haven for adventure junkies, sun seekers and foodies alike. In addition to climbing steep and sometimes jagged trails leading you along towering vistas, vineyards and pastel-painted villages, the idyllic area also offers a retreat from the frenetic pace of Rome, Venice and Florence.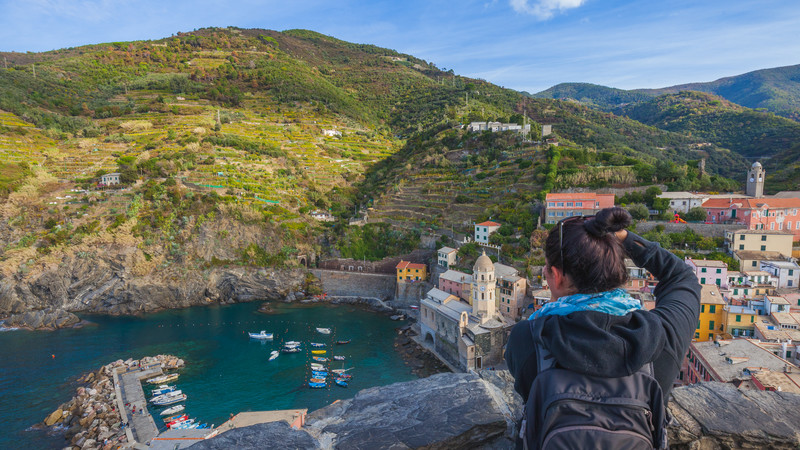 Here's how me and the group spent a few days basking in the beauty of seaside cliffs while satisfying our desire to mix adventure and culinary exploration with natural beauty.
Passing the pesto
…And the focaccia, seafood and fresh fruit. The smell of fragrant basil and warm bread lingers in the air around small streets packed with open-air restaurants. Given the bounty of basil (it loves the temperate climate) the region is the birthplace of pesto. We ate it tossed with trenette pasta (Ligurian noodles similar in size to linguine) for a filling meal, and slathered on freshly baked focaccia for a snack on the go.
Sampling the seafood is also a must.
For a starter to share, we devoured the antipasti frutti di mare, a plate of mixed "fruits of the sea" such as clams, squid, tuna or shrimp usually served with plenty of bread, lemon and olive oil. Not a fan of anchovies? You've probably never had them like this – fresh from the sea. Local fisherman have been catching these little creatures for centuries, and they are nothing like the pungent, tinned filets from the supermarket. Our group was packed with adventurous eaters, and we sampled them grilled and fried.
READ MORE: A GUIDE TO EVERYTHING YOU NEED TO EAT IN ITALY
Sipping cocktails
After a day spent hiking, several of us huddled under a sun umbrella and sipped on locally-produced limoncino (its northern Italian name; in Southern Italy it's called limoncello). The drink, made of sweet lemons steeped in alcohol, is usually served as an after meal digestive. However, on that hot day, a little glass of the chilled elixir hit the spot. It's so important to the region that it's common to be served a complimentary glass after dinner at family-run trattorias. If you're lucky, they'll have a housemade version.
White wine is more common than red in Cinque Terre. Ask to sample one of the wines from vineyards around villages – you'll probably pass them on hiking trails. The wine is unfussy and relatively cheap. Drink up!
Want to toast your hiking feat that sent your Fitbit off the charts while using leg muscles you didn't even know existed? Try the Sciacchetrà. The special dessert wine is made from locally-harvested sun dried  grapes – essentially raisins. Because it requires so many gallons of grapes to produce just a few glasses, it's far more expensive than your average glass of wine. But how many times will you be watching the sun set on Cinque Terre?
PHOTO ESSAY: WHAT IT'S REALLY LIKE ON A TOUR OF ITALY'S HIGHLIGHTS
Cruising the bay at sunset
One of the most memorable evenings on the trip was spent cruising around Cinque Terre to take in the sights from the sea. Our tour leader surprised us with a sunset cruise complete with a delicious spread of cured meats, focaccia, sweet treats and plenty of prosecco. In addition to taking in the visual feast, it was a great opportunity to relax for a few hours and just chat with my companions. Aside from some sunset selfies, there were no phones leading to far more conversation. And that smell of fresh sea air is the best cure for all of life's stresses.
VISIT CINQUE TERRE ON ONE OF INTREPID'S SMALL GROUP TOURS TO ITALY
Enjoying the crystal clear waters
While not known as a swimming destination, we definitely needed to dip our toes, and waists, into the majestic Mediterranean. The beaches are rocky instead of sandy, but the sparkling sun reflecting in the water, especially in later afternoon, is too good to pass up. We cried out a few times as feet balanced on angular rocks, but once we glided into the smooth waters, all was forgotten. For the more adventurous, follow the line of locals and dive off one of the shorter cliffs.
And yes, we laced up our sneakers
After a night spent relaxing on the boat, we set our alarms early, put on our hiking clothes and caught the first train from our hotel in La Spezia to trek one portion of the five trails – from Vernazza to Corniglia. The guide books say you can complete the entire trek, across all five villages, in six to eight hours – which we considered overly ambitious. If you prefer a leisurely pace, stopping for lunch, gelato and picture breaks, pick one or two portions of the trail and expect the abbreviated trek to take three to four hours.
READ MORE: 5 GREAT DESTINATIONS IN ITALY FOR SOLO TRAVEL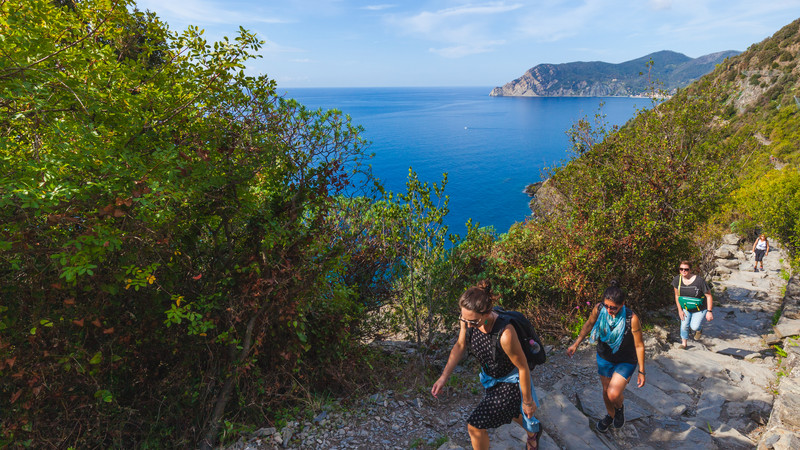 There are two trails, the red and blue. Blue is is the easier – though still quite challenging for those who simply want to stroll. There are steep hills and craggy steps, but it's the kind of hike that will leave you tired and thirsty at the end, but feeling so glad you did it.  
READ MORE: HOW TO GET AWAY FROM THE CROWDS IN CINQUE TERRE
And as noted above, bring your swimsuit in your daypack and cool off with a dive into the bay. Don't attempt the challenging red trail unless you are a seasoned trekker, and bring along enough water and snacks to get you through.
Take note, the train will save you. It makes a stop at each of the five villages, making it easy to call it a day at any village along the and head back home– or to a restaurant for a scenic meal.
Ready to visit this dazzling place? Explore Cinque Terre on one of Intrepid's trips to Italy.
Feeling inspired?