You don't have to go far to get a coffee fix in Vietnam. From before the sun rises until well after it sets, you'll find locals sipping ca phe sua da. It's typically served strong and sweet and can be found on almost every corner at streetside stalls, in modern open-air cafes and in hard-to-find spots hidden down nondescript laneways.
Vietnam's coffee culture is unlike that of anywhere else in the world. The drink was introduced by the French in the 19th century. While that influence is still seen today – particularly in the most common preparation called phin, or filter, a single-cup drip method – Vietnam quickly forged its own creative and singular path.
The best-known Vietnamese coffee is iced and made with condensed milk, but you can also get it combined with yoghurt, coconut cream or coconut milk, blended into a shake with tropical fruit, or mixed with pandan paste and honey.
Depending on where you are in the country, there are nuances, too: Northerners tend to prefer a short, thick coffee, while in the south, expect it to arrive in a tall glass with ice. Bac xiu is a sweet, short milky version popular in Saigon, and in Hue, you can get salted coffee made with fermented milk.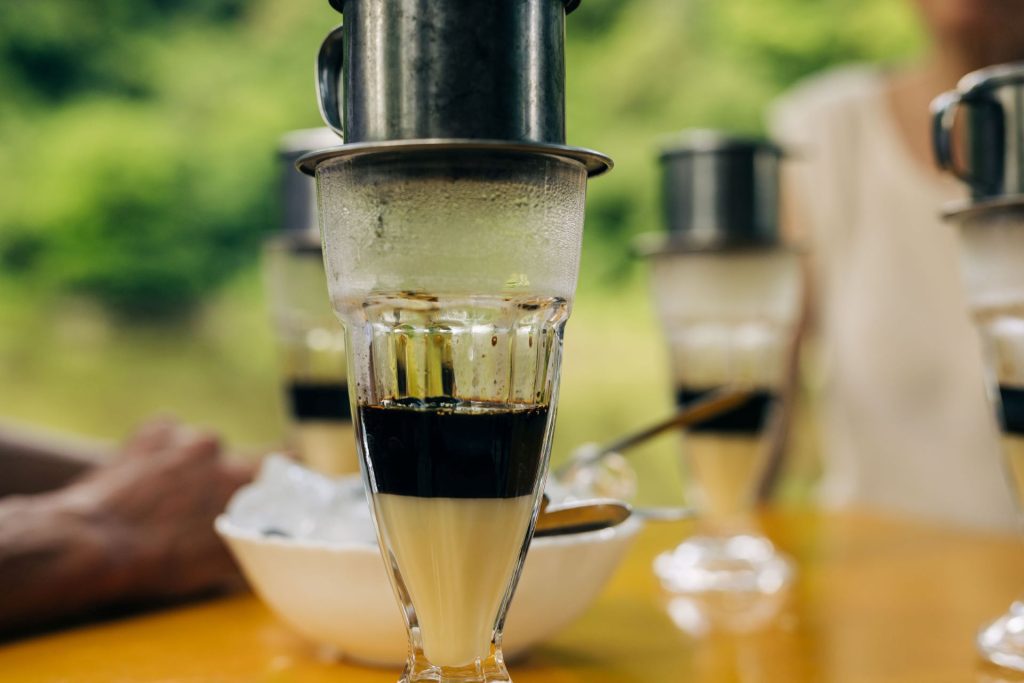 'We have a lot of coffee shops,' says Intrepid leader Tu Vu. 'And we drink coffee strong. Most of the coffee we drink in Vietnam is robusta, which is really strong.'
Even if you've never travelled to Vietnam, you've probably crossed paths with Vietnamese coffee beans. The country is the world's second-biggest coffee exporter, second only to Brazil, with most of the beans grown in the Da Lat region of the Central Highlands.
Robusta beans are defined by their intensity, which lends a slight bitterness and is part of the reason many Vietnamese feel sugar is compulsory. Unless you specifically ask for black coffee without sugar – ca phe den (hot) or ca phe da (iced) – it'll be added in the form of sweetened condensed milk, a spoonful of sugar or something else entirely.
In the Old Quarter of bustling Hanoi, a couple of blocks off the main drag and at the end of a narrow laneway, Cafe Giang is low-key and unassuming. But there's a reason its worn timber seating is regularly packed with caffeine fiends. They're here for the ca phe trung – or egg coffee – a sweet, creamy drink invented in 1946 by Nguyen Van Giang.
'He worked as a barista at the first five-star hotel in Hanoi,' says Van Giang's granddaughter Anh. 'They served some foreign drinks like cappuccino. At that time in Vietnam, the country was still under the war and we did not have fresh milk. He thought, 'Oh, we can have something similar.'
Most families in the area raised chickens, so Van Giang decided to use egg yolks. He combined them with a little sugar, whipping until the mixture took on a fluffy, creamy consistency, then added coffee. The result is sweet and frothy with a kick, a bit like eggnog or liquefied tiramisu.
Cafe Giang has moved twice since its inception, but the signature recipe remains pretty much the same: robusta coffee, condensed milk and egg yolk blended with a little butter and cow's milk cheese, served hot or iced. The shop now sells up to 1000 egg coffees a day, including versions made with matcha, cinnamon, mung beans, rum and beer. Versions of Van Giang's drink can be found at coffee shops all over the city.
'I believe my grandfather would be so proud of himself and what he did,' says Anh. 'From that very small coffee shop, it's become a very popular drink in Hanoi.'
Craving some adventure and a cup of coffee? Learn more about Intrepid's trips in Vietnam.
Feeling inspired?