In the male-dominated world of Peruvian trekking, female tour guides are still quite rare. When Ernestina Valeriano started her tourism career 15 years ago, they were basically non-existent. Now, Tina is leading the charge for women in the travel industry, guiding female-only expeditions through the Andes.
It's hard to get Ernestina Valeriano on the phone. Reception isn't great in the high, cloud-covered valleys of the Peruvian Andes, where Ernestina (Tina to her friends) has been working for the last 15 years. When she's not at home in Cusco, looking after three dogs, two cats, her husband, mother and 19-year-old son, she's trekking the mountains and sharing her culture with Intrepid travellers.
"I actually just finished a trip this morning!" she says, clearly still buzzing. "We just got back from Machu Picchu. I was leading a group of 16 women, and it was an amazing journey."
Feeling tired? "No, no, no, definitely not tired. I love this job. For most people, their office is their home. For me, the Inca Trail is my office. Machu Picchu is my office. Everywhere outside Cusco is my office! I love to show people around this beautiful country."
Tina is something still quite rare in Peru: a female trekking guide. When she started her tourism career, women were not barred from the industry, but the male-dominated culture and Peru's conservative social values didn't exactly encourage participation. Women were generally expected to stay home and raise families, not go hiking through the Andes.
"The system is still very – how do you say – machismo?" Tina says, "But little by little it's getting better. When I started there were hardly any female tour guides in Peru. The men in the office would say, 'Tina, why aren't you at home? Why aren't you looking after your family?' It was a difficult time. Now, of course, it's the opposite. Companies are actually looking for more women."
Tina is Quechua. She grew up in the little village of Paucartambo, in Peru's Southern highlands, and moved to Cusco when she was 11 years old. She lived with her mother and four siblings, and money was tight. Tina always dreamed of working in the trekking industry, which dominates the old Inca city, but there were a few hurdles to overcome.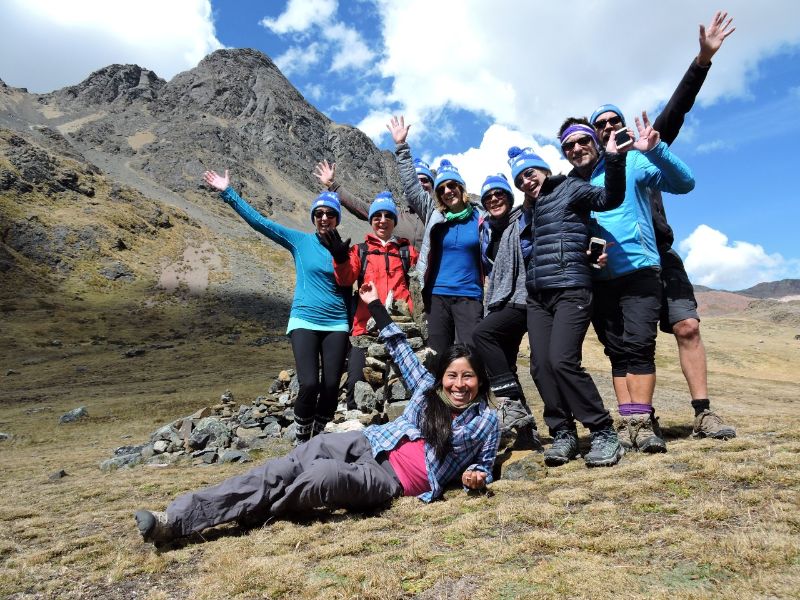 First, she was busy raising a child. Second, she was a woman, and tourism in Peru didn't exactly welcome women. And third, there was language: Tina's mother tongue is Quechua, so she threw herself into language classes in order to learn Spanish, and eventually English. Working in a restaurant and chatting to travellers helped speed up the process.
"I actually started very late in tourism," she admits. "Most students when they finish school go straight to university to become a tour guide. In my case, I had my baby, so that wasn't an option. I worked as a waiter for a while to earn money, then spent three years at a tourism institute. I'm over 40 now, and I've been doing this for 15 years. Not too old, I guess!"
Tina ended up becoming one of the first female trek guides in Cusco, and on the Inca Trail. It was a huge achievement, especially while raising a family, and today she leads Intrepid's Women's Expeditions: limited-edition, female-only tours that wind through the high valleys, lakes and ruins of the Andes.
"It's still very difficult for female guides in Peru," Tina admits. "As a woman, you wonder, will people think differently about me? Maybe my English isn't good enough. Maybe I'm not strong enough for this. Some girls ask me, 'Tina, how do you become a leader? How are you doing all this with your family?' And I say that my family supports me. They know that this is a part of me. This is my life. They say, 'If you're happy, we're happy'."
Tina says juggling family and work is still the biggest hurdle for young women in Peru. But if you want to succeed in travel, you need that support network in place.
"In Peru, we start our families very early, and it's always going to be difficult to leave your family," she says. "But I always tell the girls they should follow their dreams. If they want to be a tour guide, they need support. I feel proud of me, and my family is proud of me too."
Feeling inspired?