When I was first booking my 17-day trip to Tanzania, I wasn't really sure if I was overdoing it or not. My main purpose of the trip was to summit Kilimanjaro, and all the rest was mostly secondary.
But it wasn't until my trip began and after each passing day, I came to realize that every moment of my experience was incredibly rewarding.
The people, the culture, the landscapes, and the animals were responsible for making this one of the most magical trips of my life. Intrepid's Best of Tanzania trip is named that for a reason. It's hard to pick just one moment as being better than any other because in the end, it was the entire trip… not just one moment.
Here are five of my favourite places, along with my memories of each:
Serengeti National Park
This trip wasn't my first trip to the African continent, so for me, this wasn't my first experience with a safari. But, hey listen, a safari is a pretty unique experience, one in which you get to see some the earth's most majestic creatures in their natural habitats.
READ MORE: WHAT IT'S REALLY LIKE CAMPING IN THE SERENGETI
But what made this safari different from others I had taken is that I didn't bring a professional camera. That may sound odd, but what I realized from previous experiences is that I was spending all of my time trying to take the perfect photo, missing so much while doing so. This time, I was just soaking it all in, occasionally taking a few videos with my phone, when we were up close and personal with some of the animals.
Looking back now, I have fewer photographs yet more memories of our time spent camping in the Serengeti.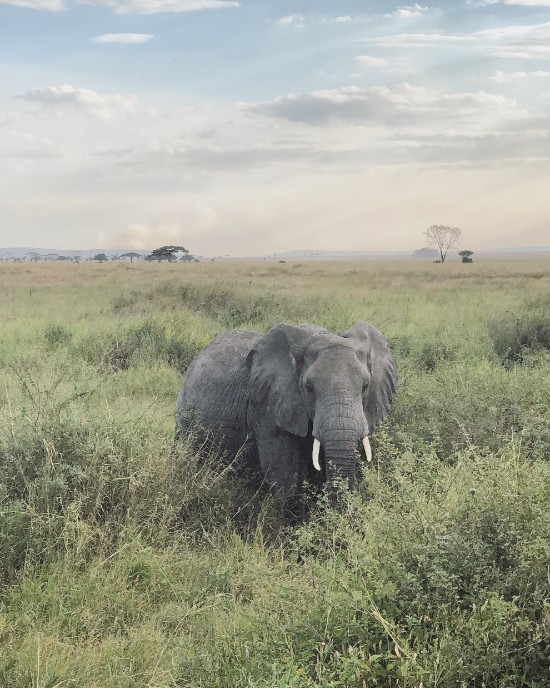 READ MORE: 7 REASONS WHY YOUR NEXT ADVENTURE SHOULD BE IN TANZANIA
Lake Victoria and Musoma
Africa's largest lake, which is also the world's largest tropical lake, shares its shores with Kenya, Tanzania and Uganda, but it was the small town of Musoma in Tanzania that won my heart. Upon arriving and setting up camp, I was eager to jump on the bike tour to go and see the town. Our local guide informed us that Musoma had a really big population of children, mainly due to the fact that most families consist of 8-15 members, so there was a overwhelming ratio of kids to adults. He also warned us that the kids would most likely want to say hi, wave or even touch us as we rode by.
It wasn't until we turned a corner and rode our bikes down a small street and stopped for a moment before I realized that what he had told us wasn't an exaggeration.
There were kids running towards us from every direction, all wanting to give us high-fives and some a bit too timid to get near us, which I found endearing. Nearing the end of our bike tour, we parked our bikes at the bottom of a hill where we would then hike up to a lookout. But our group had grown tremendously. We had added about 25 local children who followed us and who hiked up to the lookout with us. Looking out over their city with them all just smiling and excited to be around us was something truly remarkable. We didn't communicate past first names, but it was evident that everyone was really happy to be there, making that day and time spent at Lake Victoria more than memorable.
EXPLORE TANZANIA FOR YOURSELF ON ONE OF INTREPID'S SMALL GROUP ADVENTURES IN TANZANIA
Ngorongoro Crater
Camping at the rim of this crater was pretty epic. When our guides informed us that we might have some animal visitors at night while we were sleeping in our tents, none of us were too fazed as we had just camped in the middle of Serengeti National Park and had heard all sorts of animal noises throughout each night.
That evening, after I crawled into my warm sleeping bag and dozed off, I never imagined that I would wake up hours later to the sounds of heavy breathing and what sounded like chomping of grass, which indeed it was. That night, we were indeed visited by some friends, a herd of African buffalo, you know, the ones that look like they have a wig on their head. I bravely peaked out from the air vent at the top of my tent and couldn't see a thing due to the darkness, and I wasn't about to shine a flashlight and make myself be known, so I crept back into my sleeping back and endured a few hours of heavy brushing against my tent as the buffalo grazed around the campsite.
The next day, spending the entire day inside the crater with all the animals was definitely a highlight of the trip, as we saw the "Big 5" from a safe distance within a few hours, but the up and close evening with the buffalo… now that was something spectacular.
READ MORE: 6 THINGS TO KNOW ABOUT CAMPING IN EAST AFRICA WITH INTREPID
Kilimanjaro, via the Marangu Route
The evening before our early morning departure to the gates of the national park, where I would be hiking for the next 5 days to reach Uhuru Peak, the tallest point in Africa, we were gathered in our hotel's dining room, going over the last minute logistics of what we needed to pack and what we could leave behind. Being a gay man from Los Angeles, I had inadvertently packed way too much for this hike so I was looking forward to the assistance of our guide in helping me edit my gear after dinner.
READ MORE: WHAT I WISH I KNEW BEFORE CLIMBING KILIMANJARO
As I took a sip of my local beer, I glanced up to see the disapproving eyes of our guide. Before he could even say anything, I assured him that this particular beer had been my first one of the evening. He smiled and politely asked that I not partake too much as tomorrow would be a long day. This was my first indication that he was more than just a guide hired to take us to the top of Kilimanjaro…he was genuinely concerned about us all.
All of my guides throughout my entire journey in Tanzania were there to keep us safe and be our leaders but I felt an extra layer of comfort with the Kilimanjaro guides and porters.
There were 10 of us in total, along with our three guides and many, many porters. Our group had formed a special bond. Seven of us had just spent a week together in other parts of Tanzania and within hours of meeting our three new additions, we had quickly made them feel as if we had all been together the entire time. This hike would prove to be the most difficult and most active portion of the trip, and having such a supportive group of new friends to experience it with is what truly helped me reach the top. Them and, of course, our guides and porters who are the real reason any of us got up there.
I never imagined that I would be hiking to the top of a mountain, let alone the tallest one in Africa, but after summiting and seeing the most beautiful views I've ever seen in all of my lifetime, I knew that I had made the right decision.
READ MORE ABOUT MY TRIP: "DRAGGING MY GAY ASS TO THE TOP OF KILIMANJARO"
Stone Town and Zanzibar
Landing in Zanzibar and seeing the crystal blue waters surrounding the island, I felt a sense of relief yet sadness, because this was the end of my trip in Tanzania. The plan was to spend a couple days in the northern beaches, which are beyond picturesque, to say the least.
READ MORE: WHY ZANZIBAR SHOULD REALLY BE ON YOUR BUCKET LIST
But it wasn't the beaches that most impressed me about Zanzibar, although I did very much enjoy the couple of days of disconnecting and lying in a hammock with endless cocktails. It was Stone Town that kinda stole my heart. And an artist by the name of Hellen that I met while browsing through shops that truly tipped the scales in favor of Stone Town vs. the beaches.
I had walked past Hellen's art gallery (a tiny little storefront packed full of art) when I heard a woman's voice yelling at me, "hello, hi, hello, come on in, I'm here." This was Hellen, an unapologetically boisterous woman with an infectious laugh. I ended up spending about two hours just sitting with her, talking about Zanzibar, my travels and her art. I also ended up being her assistant when others would walk in and purchase her art, helping her roll and wrap each canvas that she pulled off the walls.
There wasn't much substance to our conversation, but it was more about the moment – here I was in on an island of Tanzania, hanging out with a local artist who made me feel like we were old friends catching up.
Ready to experience the many delights of Tanzania? Check out Intrepid's range of small group adventures there.
—
(All images taken by David Duran on Intrepid's Best of Tanzania trip.)
Feeling inspired?