Not only does this flashy tropical destination have amazing beaches for you to relax on but it also has plenty of trendy and casual restaurants for you to eat at when you need a food pick-me-up.
What's not to love about Noosa. From its dazzling waters and endless golden shores to its lush forests full of native animals, there's a little something for everyone to enjoy on this slice of paradise. Not only are you spoilt for choice when it comes to natural beauty, but Noosa is also fast becoming a haven for foodies with heaps of vibrant restaurants popping up all over the place.
Perfect for dining in after you've spent a long day exploring, these restaurants specialize in offering up locally sourced produce with a side of welcoming hospitality. Whether you prefer the relaxed vibe and kick-ass view of Season or the modern Asian style food served by SumYungGuys, these top 9 Noosa restaurants will have you coming back for more. And more. And then some more.
Just because the beach you're sunning yourself on isn't in Positano, doesn't mean you can't get good Italian food and Bombetta in Noosa rivals Italy's best. Priding themselves on their cool atmosphere and trendy décor (think black subway tiles, polished concrete floors, and high ceilings), Bombetta mixes urban chic with to-die-for food.
With a menu that features all your favourite pizzas and pasta including specials like the 'Mooloolaba Prawn' pizza and the smoked beef brisket ragu pasta, this vibrant eatery will give you the best of both worlds, Italian cuisine in a tropical Aussie location.
2. Light Years, Sunshine Beach Road
For a meal that's gonna leave you on a high, try out Noosa's newest eatery, Light Years. With a personality that'll hit you as soon as you walk in the door, this charming yet vibrant restaurant is one of the best places to go for those ~main character~ vibes.
Featuring a modern-Asian cuisine with dishes that are bold in flavour and saliva-inducing to look at, as well as delicious cocktails that'll have you saying "okay, just one more" another three times, Light Years promises (and delivers) a great culinary experience.
If you thought Light Years was good, then you're going to love SumYungGuys. Another restaurant offering up shareable modern Asian inspired cuisine, SumYungGuys packs a punch (in the best way) thanks to their fresh and tasty menu. Featuring dishes such as 'Moreton Bay squid' and 'Fraser Isle Spanner Crab fried rice', it's easy to get lost in the delightful flavours and moody atmosphere of this trendy spot.
A meal is only ever as good as the drinks served alongside it, and thankfully for SumYungGuys, their drinks list is good. Like out-of-this-world good. From cocktails like the aptly named 'Phlu Shot' and the vodka and mango infused 'Better Than Yours' to the extensive selection of white wine, you'll be eating it up and partying all night long at this Noosa favourite.
Another Noosa restaurant at the top of its game is Humble on Duke, an eatery focused on offering good service and even better food. With a menu oozing local produce and a drinks list celebrating wines from Australia and New Zealand's top regions, Humble on Duke is one of the best when it comes to a nostalgic yet exciting culinary experience. Perfect for the whole family or on those special nights for two, this restaurant is guaranteed to leave your heart feeling happy and your stomach feeling full.
5. Locale, Hastings Street
If you want a feed from a Noosa local, make sure you're heading to Locale. Another Italian must-stop-at, this trendy restaurant prides itself on serving up a seasonal menu with the freshest local produce in all of Noosa. Locale is located just a few steps away from the sandy shores of the main beach on Hastings Street (as if you could ever forget what tropical destination you were having dinner in) and is surrounded by the lush vegetation that Northern Queensland is known for.
With a menu offering up handmade pasta, traditional antipasto, and refreshing cocktails, you'll be 'omg, this is good'-ing and 'go on, put some more on my plate'-ing your way through one of the best meals of your entire trip.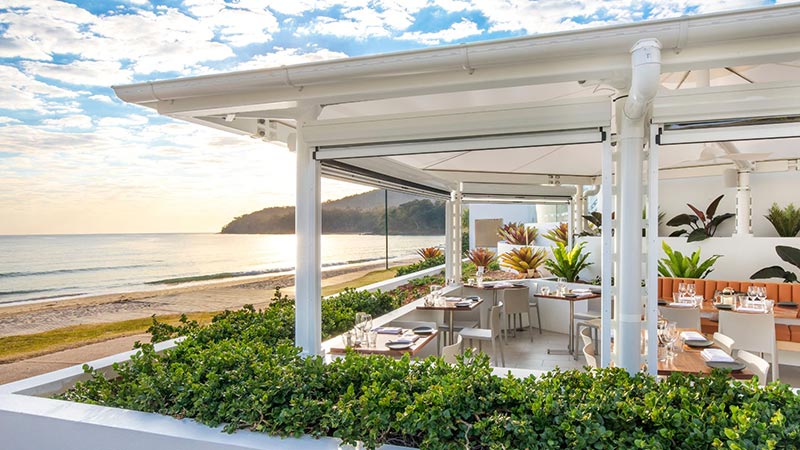 For the ultimate Noosa dining experience, you can't look any further than Season. Trust us when we say you don't know beachfront dining until you've sat at a table 10 metres from the water, listening to the waves gently lap at the sand while looking up at the expansive, star-filled night sky with a plate of the best food in front you.
Topping the list of Noosa restaurants with the best view, this trendy yet casual eatery is not only perfect for any occasion, but it's also open for breakfast, lunch, and dinner so you never have to miss out on delicious meals or your favourite drinks.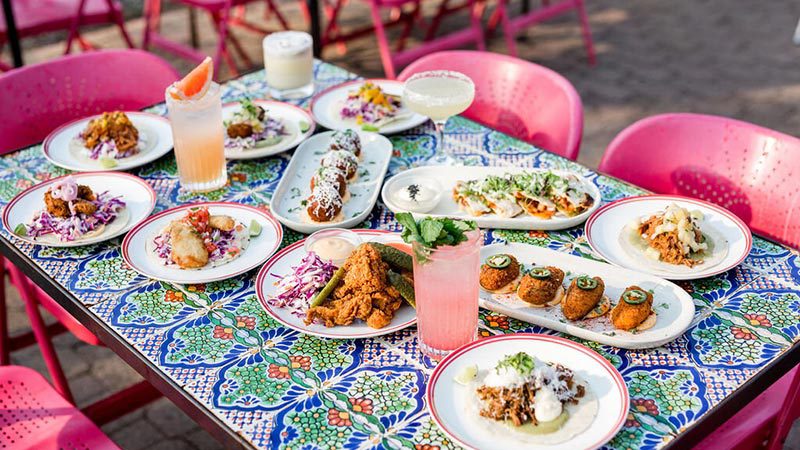 Paradise Arcade may sound like a child-friendly, tropical oasis filled with games, slides, and a ball pit or two but in reality, it's an adults-only playground featuring (lots of) tequila and the best Cali-mex food you're likely to find in all of Noosa. Okay, so it's not actually adults-only but you need to be 18+ to enjoy the kind of fun this restaurant dishes up.
With over 130 tequilas and mezcals, an extensive beer and wine list, and the best margaritas in town, Paradise Arcade is the place to go if you're looking for a good vibe, great atmosphere and even better food and drink.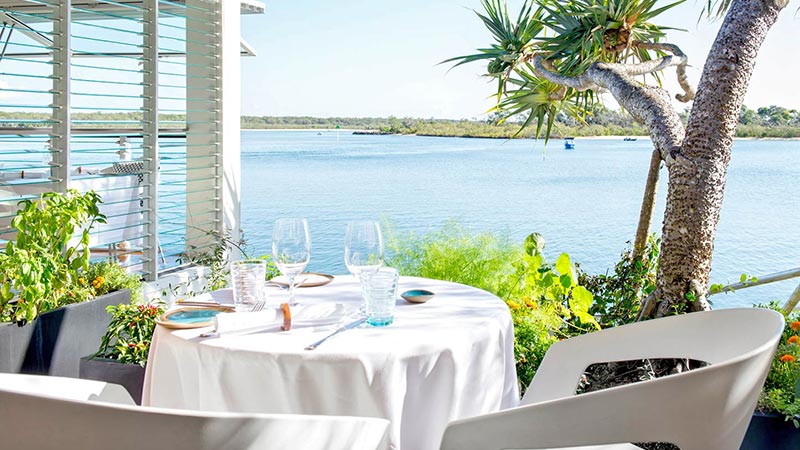 Noosa might be known for its chic lifestyle and coastal setting but if you really want to feel like you belong here then dining out at Rickys River Bar + Restaurant is the way to go. Located right on the Noosa River, Rickys offers unparalleled and uninterrupted views alongside dishes filled with the best local produce money can buy.
Just imagine yourself sitting by the water, sipping on a fruity and refreshing cocktail while watching the sky turn from a clear blue to a pinkish purple as the sun sets. Guaranteed to be a memorable lunch or dinner, this waterfront restaurant even has its own private jetty so you can arrive via ferry, water taxi, or gondola for the full VIP experience.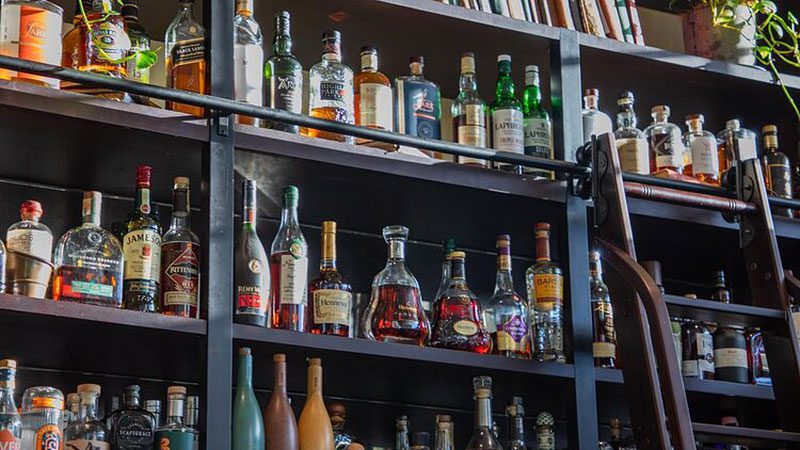 Simply stepping into the subtly styled, old-glamour interior of Bang Bang Noosa is enough to make you realise you never want to leave. Beautifully adorned with art deco crystal chandeliers and lush indoor greenery, this trendy Noosa restaurant oozes understated elegance while giving off a welcoming and relaxed atmosphere.
With a menu full of sticky pork belly, beef curry, fresh seafood, and flat rice noodles, Bang Bang Noosa mixes the best of local produce with the flavour of your favourite Asian cuisines. Affectionately termed 'Bang Bang Bangers', this eatery's cocktail selection is out of this world with tasty thirst quenchers such as 'Finish Me Off' and 'Coastal Walk'.
Regardless of what cuisine you feel like or which vibe you're going for, these top Noosa restaurants are sure to tickle your tastebuds and satisfy your hunger.
Feeling inspired?