Many travellers consider Mongolia a bucket list destination. For Intrepid leaders Bata Erdenekhuu and her husband Timur Yadamsuren, it's simply home.
It's a sight to behold.
A dead-silent stadium filled with thousands of spectators, seemingly holding their collective breaths, while only the sound of galloping hooves fills the air. A single horseman clad in full Genghis Khan-era warrior attire gallops at full speed across the race track carrying a large flag of Mongolia.
And so opens the centuries-old revered Naadam Festival, which celebrates three historic sports – wrestling, archery, and horse racing – in the most immersive and spectacular way.
"We don't have many big celebrations here," shares Intrepid leader Bata Erdenekhu, who is Mongolian. "For us, it's the Lunar New Year in winter and Naadam during the summer. This is a celebration that brings joy and happiness to all Mongolians after a long harsh winter."
"We have been celebrating Naadam for over a thousand years," adds Timur Yadamsuren, her husband and fellow leader. "And it's during the peak time of the year in July when everything is green."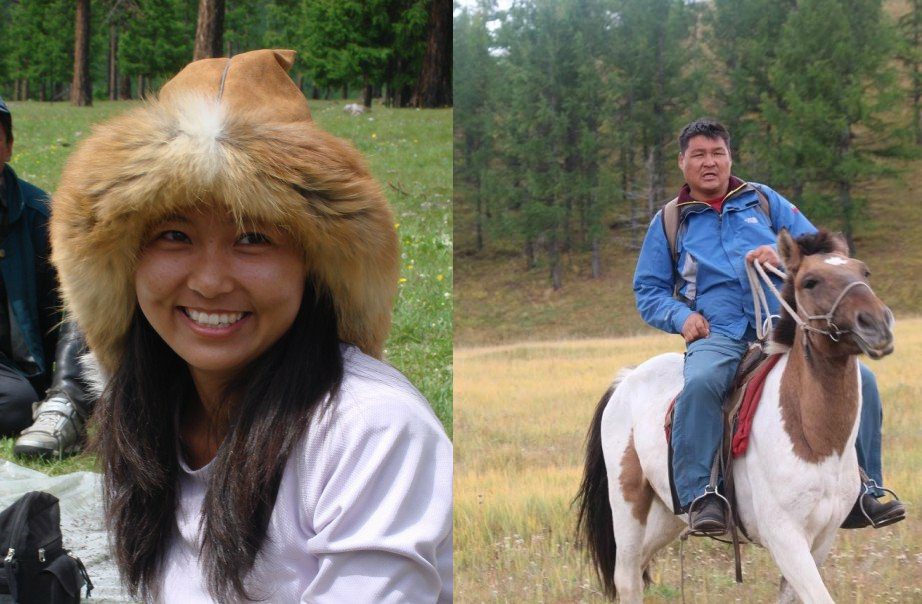 For nomads, this is a crucial time with lush grass and blooming flowers. Dairy products are plentiful as animals and their offspring have access to abundant food, grow stronger and fatten up. People begin to gain their physical strength back.
"I am from a nomadic family, and during the summer, nomads have no fear of animals dying due to scarcity," Timur says. "Everybody has survived the previous winter and spring. Everything is thriving. So it's time to meet, gather, celebrate and compete."
With a background in tourism spanning over 20 years, Timur was born to a Western Mongolian family of nomads who herd yaks and sheep. "Growing up in the mountains far away, I often felt lonely as a kid," shares Timur. "I was very keen to learn about different people. I was good at geography and wanted to see the world."
This innate curiosity drove Timur to leave his technical career as a mining engineer and seek meaningful opportunities to interact with people outside of mines.
While Timur grew up around the Altai mountains, his wife Bata was raised in the bustling capital city of Ulaanbaatar. She studied Russian and English in high school, and would go on to major in English at university. "One summer, I went looking for a job as a waitress at a cafe. Timur was the manager there," Bata shares. "He told me I didn't need to be a waitress because my English was good enough to be a tour guide."
Within a year, they became a couple, and that was how the dynamic duo started their new guiding careers within tourism.

Since 2006, and now with five children of their own ranging in age from seventeen to two, the couple have been leading two-week trips – separately and sometimes, jointly – around their home for Intrepid Travel, including Mongolia's Naadam Festival and Wild Mongolia.
For Mongolians, Naadam is a boisterous celebration of life displayed through three main events – archery, horse racing and wrestling. While women have started progressively participating as archers and jockeys, wrestling remains historically dedicated to men. "Wrestling was for training the soldiers and warriors," explains Timur. "Women are seen as the source of life. While warriors take lives, women make life."
Various Naadam festivals are held across the country – at county, provincial, and national levels – and Intrepid travellers will experience smaller, more intimate venues as well as the main opening ceremony. Timur and Bata also take travellers to nearby training camps for the professional athletes and visit local families.
"Staying with nomadic families can be a great shock even for experienced travellers," says Bata. "Even though Mongolians are very welcoming, we also give people time to adjust emotionally and mentally to staying in our gers [round, traditional dwellings] and experience our rougher countryside." Beyond staying with locals and visiting camps, travellers can also try their hands at these sports themselves under the guidance of competing professionals.
For Bata and Timur, horse racing is their favourite sport. Travellers might be surprised to see that the competing jockeys actually range from six to eleven years in age. "On average, they tend to be between seven to eight years old," adds Bata. "And it requires great technique. How to make your horse go slower, faster, change direction or tactic. So the child is really thinking hard like an adult, making concrete plans towards victory."

Beyond sharing their country, passing on the innate joy this celebration evokes feels particularly poignant for Bata. "Everyone at the festival is really happy, cheerful and joyful. And tourists feel this same joy. They feel the festivity in the air, and I feel like that little Mongolian kid passing that joy into their hearts. It truly makes me happy."
Timur points out that Mongolians essentially hibernate through eight frigid months of winter, so when travellers flock in over the summer, it feels like he's reconnected to the world again. He can proudly show off his culture and teach people his traditions from the inside out.
For many, Mongolia remains a trip of a lifetime and both Bata and Timur feel proud that their "small, remote, spacious" country is a bucket list destination for travellers. "To think that we're part of these lifetime memories for people, and hearing that, makes you incredibly proud."
Want to explore all Mongolia has to offer? Check out our Mongolia trips.
Feeling inspired?