This year, we're encouraging travellers to connect with new cultures through food. Check out our Travel Goals for 2023 for more inspiration. 
Taybeh Brewery isn't just the first brewery in Palestine. It's the first microbrewery in the entire Middle East. And it's run by the Middle East's first female brewer – Madees Khoury. From 2023, Intrepid travellers will be able to visit Taybeh on our Israel and the Palestinian Territories Real Food Adventure. Here's how one family kickstarted the Middle East craft beer scene.
Madees Khoury didn't have what you'd call a typical upbringing. In 1994, when she was nine years old, her father and grandfather moved the family from Brookline, Massachusetts, to the West Bank village of Taybeh in Palestine, with a plan to start the first genuine microbrewery in the Middle East. As you do.
Taybeh Brewery, as it became known, was Madees' home away from home. She watched her family build the business and struggle through conflict after conflict. When Madees finished high school, she went back to the States for college, eventually returning and joining the family craft in 2007. Now, armed with a Master of Business, she runs the company with her brother, Nadim. She's also the first female brewer in the Middle East.
"You have to be involved with everything, when it's a family business," she says. "I'm doing the beer, helping out with the family, taking care of suppliers. It's a lot of work! The craft beer industry in the Middle East is still very young, so every day is different."
Fermenting the future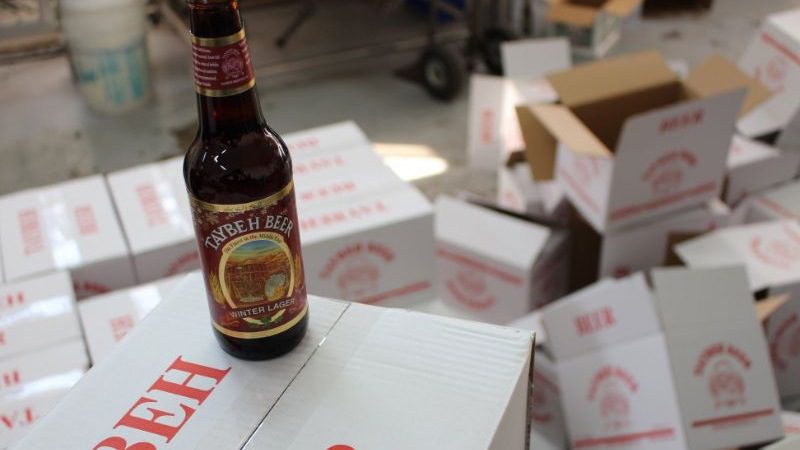 Taybeh was the first modern brewery in Palestine, which is ironic, given their product. "People forget beer was invented in the Middle East!" Madees says with a laugh. "It all started here." Today, the business churns out 600,000 litres of craft beer every year, and exports to 17 countries, including Israel, Japan, Germany, Norway and France. Next week they're even bottling their first shipment to Abu Dhabi.
In the 1990s, when Taybeh began, Palestine was entering what Madees calls the "Golden Years". The Oslo Accord had just been signed, the second Intifada had yet to kick off, and locals were optimistic about the future. For Madees' grandfather, getting permission to open the country's first brewery from then-President Yasser Arafat was easier than you might think.
"It's actually more difficult for us now," she admits. "Back then it was the beginning of the Palestinian authority. There was a new government, things were more calm and peaceful and open. I've been here 16 years now, and every year it's gotten more difficult. We're basically a business under occupation. The water supply, for example, is controlled by Israel, and every year it shrinks."
The flavours of Palestine
Running a brewery in the West Bank of Palestine obviously throws up its share of challenges. Taybeh is probably the only brewery, anywhere, that has had to smuggle its own beer through military checkpoints on the back of a donkey, or coordinate international IPA shipments in the teeth of civil unrest and occupation. Still, they're not alone anymore. Ten years after the Khoury family founded Taybeh, Israel's first microbrewery, The Dancing Camel, was born. Today, other indie breweries are slowly emerging in Palestine, including Birzeit and the (fantastically named) Wise Men's Choice.
As Madees says, this movement is about more than just good beer.
"You now have microbreweries in Israel, Lebanon, Jordan, plus a couple in Palestine. It's growing, but still not as fast as in the western world.
"A lot of people are surprised that we even drink here," she laughs, "or have a brewery, or a female brewer. When they try our beer, they want to learn more about us, about Palestine and Palestinians. What people see in the news is completely different from reality here. We live like anyone else in the world. We go out. We travel. We eat. That's why people should come visit us – to see the real image of Palestine."
From 2023, Intrepid travellers will be able to do just that, stopping at Taybeh on our Israel and The Palestinian Territories Real Food Adventure. It should be an interesting cellar door experience. Taybeh is mostly known for its lagers, but there are about 10 different beers on rotation. The brewery gets its malt from France and Belgium, and its hops from Bavaria and the Czech Republic, but the spring water, yeast and other flavours are all grown right here in Palestine.
"We just started working with sour beers, introducing them to Palestinian consumers," Madees says excitedly. "People seem to like them! Especially the younger generations. But we're always trying new things. We've got a dark lager, an amber ale, and a white, Belgian-style beer. We've even tried Arabic coffee beer, beer with watermelon, and a lemon gose from my grandmother's lemon tree."
A new chapter is brewing
Madees says part of the challenge with Taybeh – as if running a successful export business in the West Bank wasn't challenging enough – is being the first (and, as far as she knows, only) female brewer in the Middle East.
"Women in the beer industry have it difficult all over the world," she says, "but here it does feel especially hard. Being in a Muslim-dominated country, a male-dominated country, even after 16 years in the business I still get new people just ignoring my presence in the room. I have to remind them that yes, I'm here, you can discuss business with me. That man isn't the manager."
Madees was young when she first started working at Taybeh – only 21. She says the last 16 years have mostly been about proving herself, and proving that Palestine's story shouldn't be limited to 30-second news bites, or smoke-shrouded pictures of war and conflict. There are people here, women here, doing extraordinary things.
"My grandfather used to say, if you can make it happen here, you can make it happen anywhere," she says. "I've wanted to give up many times: exporting abroad, dealing with drivers and the Israelis, getting permits, making everything happen on time. But after every challenge, I get stronger, every single time. You can throw anything in my way now. I can take over the world. I'm bulletproof."
Feeling inspired?