UPDATED: This article was originally published in September, 2018 and has been revised to include up-to-date information. 
Grab your trekking shoes and trail mix, folks. Inca Trail permits for the 2020 trekking season go on sale in October!
Ever since 2002, the Peruvian government has said you can't trek your way to Machu Picchu without a permit and a registered operator, and ever since 2002 the scrabble for these Wonka-style golden tickets has been intense. Only 500 people per day can trek the Inca Trail (200 travellers, and 300 porters and guides).
So if you want to see sunrise over the Lost City of the Incas this year, here's all the info you need:
How do I book my permit?
We'll take care of your Inca Trail permits when you book your trip with us, so you don't have to worry about the details. When you arrive on the Inca Trail, your leader will have your passes waiting for you. Easy.
RELATED: WHY YOU NEED A PERMIT TO HIKE THE INCA TRAIL (AND HOW TO GET ONE)
When do I need to book?
It depends when you want to go. Permits for treks in March, April and May tend to sell out by the end of November, while June and July permits are usually all snapped up by the end of December. August and September are the two busiest months on the trail, with permits close to being gone by February, so you'll need to plan your trek a little further ahead.
Moral of the story? If you're looking to trek the Inca trail in 2020, don't um and ah about it. Just book it. We suggest getting your trip locked in by the end of 2019 (or early 2020 if you want to trek from August onwards).
How much does it cost?
Put away that wallet – your permit is already included in the cost of your Intrepid Inca Trail trip.
Can I go without a tour company?
Nope. Sorry. Solo trekking of the Inca Trail is no longer permitted. Take it up with UNESCO.
RELATED: HOW TO PREPARE FOR AN EPIC TREKKING ADVENTURE
What do I need to bring with me on the trek?
Your permit, obviously, but also some valid ID that confirms your name. A driver's license or passport should be fine. You'll also need the all the usual trekking equipment to keep your body in tip-top shape. For basics, we recommend:
A pair of good trekking shoes, preferably worn in for a few months
Good quality, breathable socks (and plenty of 'em)
Insect repellent
A high SPF sunscreen
Some polarised sunglasses
A light rain coat or poncho
Some layers for when it cools down at night
Trekking pants (the really cool ones that magically turn into shorts work well)
A hat
A reusable water bottle
Hiking poles (or you can rent them in destination for about 10 USD)
A day pack to carry anything you need during the day (water bottle, extra clothing layers, etc.)
RELATED: THE ULTIMATE PACKING LIST FOR YOUR INCA TRAIL TREK
When should I trek the Inca Trail?
The high season for trekking in Peru runs over the drier months (April to October). The most popular time to hike the Inca Trail is between June and August – which is therefore the most crowded time.  If you want to avoid the worst of the crowds, pick a shoulder month like May or October. The weather is generally still pretty fine, and it won't be quite as packed. The only month that is completely off the table is February – the Peruvian government shuts down the trail for maintenance during this month.
RELATED: THE BEST TIME OF YEAR TO HIKE THE INCA TRAIL OR QUARRY TRAIL
Argh, I missed out on a permit! Do I have to wait until 2021??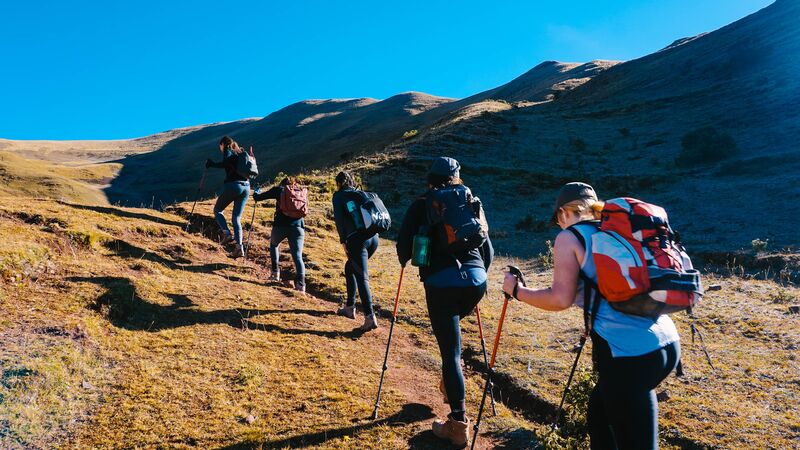 Not at all. Consider trekking the Quarry Trail or Choquequirao Trail instead; they're awesome alternatives because you still end up at Machu Picchu, and you don't need a permit. Both trails are just as challenging as the Inca Trail too, with incredible scenery, more opportunities to meet locals along the way, and far fewer people to contend with. The Quarry Trail is a shorter trek – just two and half days – and takes you past five Inca ruins, while you'll spend eight days working your way along the epic Choquequirao Trail, taking in six epic ruins as you go.
RELATED: HIKING PERU'S QUARRY TRAIL, IN 32 BEAUTIFUL PHOTOGRAPHS
More pre-trip reading:
Need more info about Machu Picchu and the Inca Trail? Here are a few more blogs filled with stories from real travellers, as well as tips and advice for trekking to Machu Picchu.
Ready to hike the Inca Trail? Explore all our Inca Trail trips. 

All images c/o Intrepid Travel.
Feeling inspired?