Mexico might not jump to mind when you think 'family getaway'. Probably because the words 'spring break' got there first. But you really can't judge the Yucatan Peninsula by Cancun.
Over the last 10 years, the rise of experiential travel has opened up the hinterland, putting places like Merida, Valladolid and Chichen Itza on bucket lists everywhere. People are now travelling to the Yucatan for the history, which 15 years ago would have been like travelling to Vegas for the museums.
The region is becoming especially popular with families. Particularly those who want a unique and real experience. According to recent Travel Market Reports, family holidays are Mexico's fastest growing travel demographic, driven partly by affordable flights from the US, kid-friendly hotels, and a well-established tourism industry on the ground.
But if you're after a family adventure beyond the 12-pool, gated mega-resorts, there is an alternative. Here are 5 reasons you should make Mexico your next family vacation.
1. Mayan history
There's four major Mayan sites you want to explore on the Yucatan Peninsula: Ek Balam (a newcomer to the tourism scene), Coba (home to the biggest Mayan pyramid), Tulum (hard to beat clifftop ruins overlooking a beach) and Chichen Itza (probably the most famous Mayan temple complex in the world).
Visiting these ruins with a local guide (on a small group family tour is usually the best bet: you get an engaged guide who really knows their history, there's a balance between exploration and education, and the kids can climb jungle-covered ruins with friends their own age. Keep an eye out for sunbathing iguanas.
RELATED: BEYOND THE ALL-INCLUSIVE: 6 GREAT FAMILY VACATIONS TO TAKE INSTEAD
2. World-class beaches
Beaches are Yucatan's calling card. Mexico has over 6000 miles of coastline, and the eastern beaches near Tulum and Playa del Carmen are exactly why you fly thousands of miles to Mexico: sugar-white sand, warm Caribbean currents, and the odd sea turtle (for prime turtle-watching opportunities, head to Akumal, between Tulum and Playa del Carmen). These beaches are ideal for families: the water gradient is usually quite shallow, there's food and entertainment just off the beach, and most of the hotels in Riviera Maya are well set-up with kids clubs and activities. If the kids love snorkelling, make sure to allow a couple of days in Isla Mujeres, about seven miles off the coast.
RELATED: 6 OF THE BEST BEACHES IN MEXICO
3. ALL of the food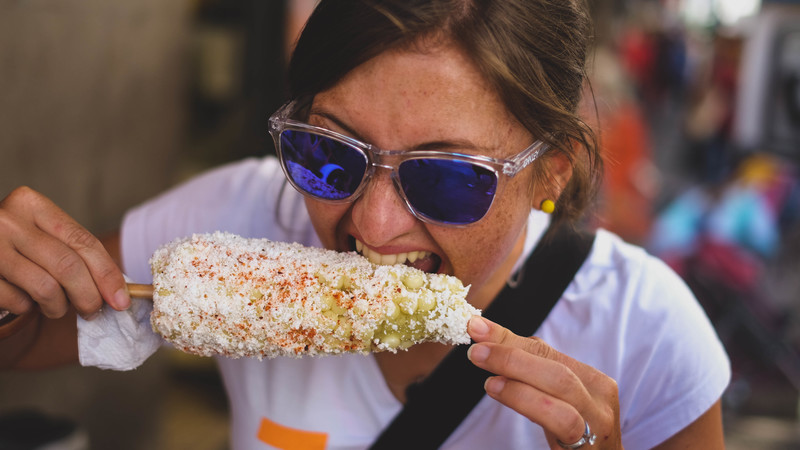 It's Mexico, right? Do we even need to explain? You could eat nothing but tacos for three weeks and still have room for more. But here's another advantage of travelling on a family group tour: you can skip the touristy food stands and snack on something more interesting. Our favourites include papadzules (the Yucatan's answer to enchiladas), slow-roasted cochinita pibil (not too spicy, so it's great for kids), and a big serve of huevos motuleno for breakfast (fried eggs with black beans, salsa and soft tortillas). The Mexican palate is pretty mild, and your group leadere can usually find something for even fussy eaters.
CHECK OUT OUR FULL RANGE OF FAMILY ADVENTURES HERE
4. Plenty of action
This is the big one. Why fly all the way to Mexico just to camp by the pool? You could be swimming in cenotes. Cenotes are natural pits or sinkholes that form deep limestone pools, usually hidden in the forest. There's about 30,000 of them scattered between Chichen Itza, Uxmal, Merida and Valladolid (Cenote Ik Kil and Yokdzonot Cenote are two of the most famous).  There's also cycling around the Coba Archeological Site, snorkeling in the mangroves at Playa del Carmen, or exploring the caves of Parque Dos Ojos.
RELATED: EXPLORING MEXICO'S CENOTES & SWIMMING HOLES
5. Kid-friendly accommodation
Pretty essential for any family holiday. You need to know your hotel understands things like adjoining rooms, water slides, and what happens when kids get bored (short answer: it's not great). All of Intrepid's Mexico hotels have been handpicked for their family-friendly facilities. Usually that means kids clubs, swimming pools, games rooms and heaps of organised fun (you can get a feel for the accommodation here). But really, the whole point of going to Mexico is to get away from the resorts. If you come back from a three-week Mexico adventure talking about the buffet, you're doing it wrong.
Want to learn more about our Mexico Family Holiday? Get all the info here. Check out our full range of small group adventures in Mexico here.   
Feeling inspired?