When I set out on this unconventional life of adventure, getting married was the last thing I would ever have imagined doing – let alone doing so in a small church in Iceland, of all places.
But I found a gem of a man, in the middle of the Pacific Ocean, when I least suspected it. And while an unexpected and life changing turn of events knocked us off course in a big way in 2020, ultimately, it led us to some of our most unforgettable adventures yet.
Choosing a life of adventure
My life took a significant turn after university, when I decided to attend teacher's college on the Sunshine Coast in Australia – never having left Ontario on my own, let alone Canada. Back in 2009, this wasn't as common as it might be today, and a lot of people thought I was out of my mind. But living there for that year opened my eyes to a world beyond Canada. And it was there that I made it a life goal to teach on every inhabitable continent.
Back in Canada a few years later, I got a job offer to go and teach Grade 5 in the Marshall Islands – a place no one seems to be able to pinpoint on a map when I tell them about it. I signed up, looking forward to two years of solitude, only to meet Nick the first week in. This American man with a southern drawl had the audacity to offer to carry my bike for me, which my jaded self took as an affront to my independence. It was not love at first sight. We did, however, become close friends fast.
I learned he had left the US after the demise of his marriage, which then led him to teaching in the islands for a few years. The more I got to know him, the deeper in love I fell, and our lives slowly became entangled. From the start, I expressed vehemently that I didn't want kids and I was never getting married. He didn't know what he wanted, other than me, so he stuck around.
We created a life together, living and teaching in countries worldwide, leaving the islands for Niger, then Vietnam. Nick basically proposed to me all over the world. He'd say things like "even though you don't believe in marriage, you know I would ask you to marry me right here and now", as we watched the sun set from the top of a castle in Portugal. I would laugh it off – I was sure marriage wasn't for me. But he would keep saying these things, letting me know that he respected my choice, but if I ever changed my mind, he would marry me in a heartbeat.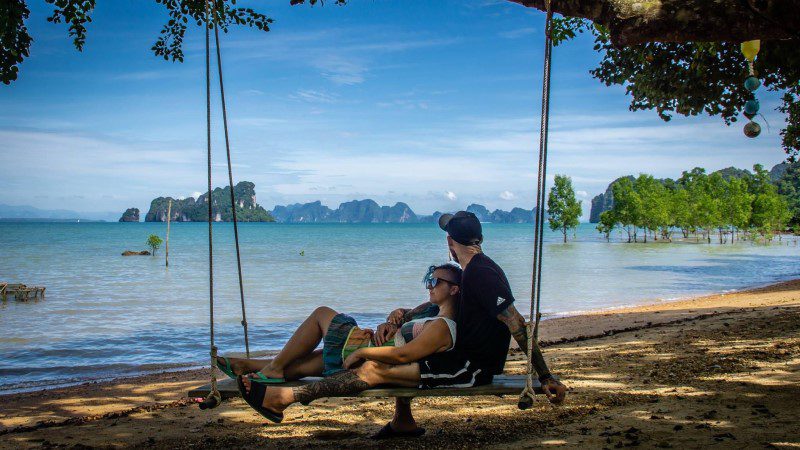 Adventures put on hold
In August 2020, we found ourselves moving to Ecuador in the middle of the pandemic, for our next adventure.
While we were stuck in quarantine upon arrival, I told Nick that I had changed my perspective on marriage. We had been discussing our future when things became a little tense, and though I had planned to make it a little more romantic, my thoughts simply came pouring out of me. I had read that because marriage is no longer necessary, it makes it that much more special to choose to marry someone – and that really resonated with me. His face lit up. All the previous tension in the room floated out the window. He was all in. He told me all he ever wanted was to be with me.
We could never have predicted or prepared for the misadventures to come. I should have been planning a wedding, but a few months into our Ecuador adventure, my chest began to scream in pain. I tried to brush it off but eventually I couldn't excuse it away. The pain became unbearable and I had to seek help. Then my worst nightmare happened. I was diagnosed with a cancer that I had never heard of: multiple myeloma – a type of bone marrow cancer that can affect various areas of the body and causes damage to the bones and blood cells.
Reflections and renewed wanderlust
When they say your life flashes before your eyes when death approaches, they aren't kidding. But it's not like in the movies; it's more reflective than that. I found myself looking back on my life and being thankful. As I lay in my hospital bed, I knew I had lived the life I wanted – one full of travel and adventure and love. But as I endured months of chemotherapy, I longed for the days of travel again. I would sit and daydream about all the places we had been, and the places I wanted to go to one day.
During my fifth cycle of chemo, I reached remission. To ensure I stayed in remission for as long as possible, we had to fly back to Canada so I could get a stem cell transplant. It was during this gruelling treatment that I came up with the idea of getting married in Antarctica. Our life together has been one continuous adventure, so why not make our wedding one too? We knew we wanted to go on a huge adventure after I made it through treatment, and Antarctica was the only continent we had yet to visit together. Instead of dwelling on the anxiety my illness caused me, I spent my days focused on Antarctica and future travels.
Saying 'I do' to an Intrepid adventure
Soon, the idea snowballed into getting married in every place we travelled to after I recovered. So after getting the legalities nailed down in the US, we headed to the Galapagos Islands, followed by Bora Bora, then Antarctica, to celebrate our love over and over again, with small ceremonies across the world. We said vows sometimes, other times not. We dragged my dress and his suit with us to every destination, throwing it on after the adventures of the day were over, to profess our love for one another in front of strangers, or in total solitude.
Our most recent nuptials took place in Iceland during our first ever trip with Intrepid. Our local leader, Thordur, made the experience really special for us. He had been notified in advance that we were hoping to have a small wedding ceremony while on the Premium Iceland in Winter trip, so he told us to leave it up to him and he would figure something out.
We set about exploring the country we had been dreaming of visiting for years – chasing waterfalls, watching the sunrise over snow-capped mountains, catching a brief glimpse of the northern lights and getting lost in Reykjavik. There is something so special about travelling with a local guide like Thordor, who shares Viking history, countless legends and personal insights that you would never get visiting the country on your own.
Journey's End
It felt even more special when he brought us to Hofkirkja, the church he had chosen to marry us in. Thordur also chose a beautiful Icelandic poem, Journey's End, to recite for us at the ceremony. Our tour group – who took photos for us, rang the bell for the ceremony and even helped recite the poem with Thordur – seemed genuinely happy to take part in this special moment with us. Even a random group of Spanish tourists turned up and stayed for the ceremony.
It could not have been more 'us'. It was the perfect ending to what we call our 'redemption year'. A year that took us back to our adventurous life, our adventurous love, after the misadventure cancer brought to us.
We're now living and working in Slovenia, ticking off the last continent of my original teaching abroad goal. Perhaps we'll move on to a new goal of getting married on every continent, we shall see. My husband has memorised the English translation of our Iceland wedding poem. He likes to recite it to me in our new home. As my favourite stanza says, "We laughed in the highlands while heaven grew clear, bright at the mountain brim. Not a single joy seemed to exist apart from living our life."
Sara and Nick travelled to Iceland on Intrepid's Premium Iceland in Winter trip. Explore the whole Premium range or check out our Iceland adventures.
Feeling inspired?