Bob Golodets is one of Intrepid's most popular leaders in Russia. And he's as Russian as they come – strong of heart, thick of accent*, fan of stew.
Bob loves Russia. He never stops talking (or thinking) about it. But there's another nearby country that he just can't get off his mind, no matter what he does. "All countries are special, but some are more special than others," laments Bob. "Why I keep thinking about Georgia?!"
Bob's question is an interesting one. Just why does he keep thinking about Georgia? Nestled at the crossroads of Europe and Asia, Georgia is surrounded by (clockwise from west) the Black Sea, Russia, Azerbaijan, Armenia, and Turkey. You might think that this location would, over the course of time, embue Georgia with a pretty unique cultural undercurrent. Perhaps that's where his adoration stems from.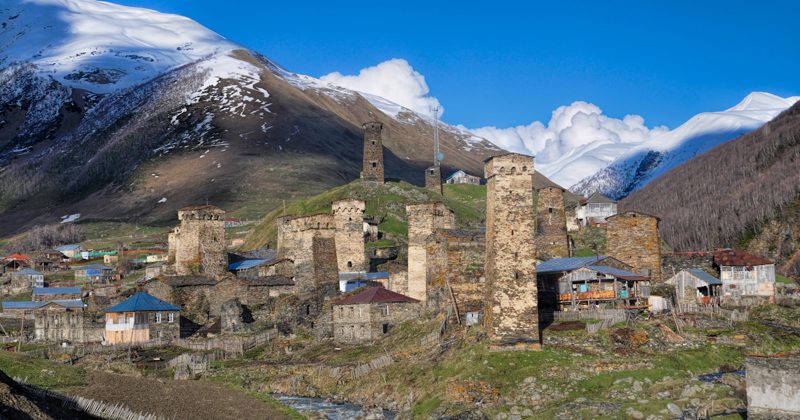 To get to the bottom of it, we asked him if he could share with us a little more info on just what it is about Georgia that gets him hot under the collar.
"Georgia is fool of traditions," explains Bob "This people respect their past to find the way to the future. They respect elders, their parents and history. Yes, there will be famous western fast food chains in Georgia, but it's much more delightful and delicious to try something local. The main parts of traditional Georgian table will be meat, cheese, pies, vegetables and herbs."
Bob's a fan of the food. The meat (and in particular, the shashlik kebabs), he says, is extra special. And apparently Georgians are partial to a bit of a roast. "They see the meat – they roast it!" says Bob.
Another Georgian speciality are khinkali – a dumpling filled with meat or cheese, and a kind of soup combined one of the aforementioned ingredients. In fact, they're so soupy, that you're quite likely to end up covered in the stuff.
Related: uncover the wonders of Georgia with Intrepid Travel
Cheese in general is an apparent necessity too. Georgians like it sliced with bread and wine and make a famous cheese pie that goes by the name of Khachapuri. "You have to try it", comes Bob's firm instruction.
And then there are the herbs. Georgia's abundance of mountainous slopes offers the perfect conditions for growing vast quantities of flavoursome herbs. And according to Bob, they know how to use them.
Bob says that Georgia is famous for its wine, mineral water and lemonade. He also says that when it comes to wine, every single grape benefits from the country's nature and climate. "Tzinandaly, Ahasheny, Kindzmarauli are some of the famous Georgia brands of wine," he explains. "You'll definitely find something special for you."
Georgia's mineral water, too, is something to write home about. Borgomi, a resort town in the country's south-central, is famous for its natural springs of mineral water. Bob describes the liquid output of this town as: "salty, healthy and famous". A higher recommendation, you will not find.
And let's not forget the Lagidze Water. In the 19th century, a Georgian pharmacist's apprentice by the name Mitrofan Lagidze began to make sweet herbal drinks for his patients. The drinks quickly became popular, and you can now buy Lagidze Water in Georgia, Russia, Ukraine, the Baltics, Poland and Armenia in a range of delicious flavours.
Related: discover Georgia for yourself with Intrepid Travel.
"If you'll ever be to Georgia you have to see how this people dance and sing," says Bob. "After an epicurean feast it very good for digestion to sing."
There's no denying that singing and dancing after a big feast sounds fun, especially with a bunch of impassioned locals. But we can't help but wonder if that much physical activity right after a big feast is a great idea. But Bob is resolute: "All the guests are welcome to sing – join the choir and enjoy the harmony. There's a famous dance, Suhishvilly, that looks like an superman dance. They fly like a spiderman, spin and turn and twist and shout."
To round out Bob's explanation of his love affair with Georgia, he talks of the philosophy of its people. "Georgian people remind me of Italians," he begins. "They both understand life, they know how to live and how to enjoy their life. To eat, to drink, to dance, to sing, to smile, to cry – their land, their sky, their peaceful shiny sun and endless joy and fun."
Other countries reach out to me, other nations smile tenderly. Still in peaceful dreams I see the road leads back to you, Georgia!"
On listening to these rather poetic descriptions it's hard to not feel as though Georgia should make it into your immediate travel plans. And when you consider all of the above – the food, the drink, the people, Bob's unwavering passion for singing and dancing – it's even harder not to see just why he's so infatuated with the place.
*So thick, in fact, that it even comes across when he types. The majority of Bob's quotes in this article are unedited, as he typed them, in his Russian accent.
Feature image c/o Image c/o Sergi Kvaratskhelia, Flickr
Feeling inspired?