I knew that I'd have no internet in Cuba, but ironically I felt more connected than ever.
Let's be honest: the first few days were a struggle. I was tempted to pay for all of the internet cards so that I could update my social media or text my friends back home. I embarrassingly felt like an internet addict who needed her fix. I was committed, though. If there was any country that I wanted to be present for, it was Cuba.
Cuba has been at the top of my bucket list for as long as I can remember. Admittedly, there was the allure of a country that was relatively 'untouched', but I also wanted to experience the essence of Cuba that people often raved about. I wanted to learn more about this country that was so culturally and historically different than my own, the US.
I imagined riding in the back of a candy-colored classic car and salsa dancing in the streets of Havana. These things did happen, but I was pleased to discover that the Cuban people captivated my heart more than anything else.
A heavenly homestay
My first encounter with Cuban hospitality was at my casa particular. A casa particular is essentially a homestay where locals invite visitors into their home. It's a great business opportunity for the Cuban people to earn more money while showing tourists their way of life. I knew this would be a great opportunity to see how Cubans live, but I had no idea how much it would impact me.
Mirtha, my casa particular host, was awaiting my arrival on her front porch when I showed up after dark. She didn't speak much English, but that didn't stop her from talking. Luckily, I was able to use the Spanish skills I acquired from traveling throughout Latin America this past year. I managed to communicate with Mirtha over fresh brewed tea at her kitchen table. She had a plethora of paintings on the wall, which revealed she was an art lover. I quickly realized that I wasn't just a guest in Mirtha's home. I was family.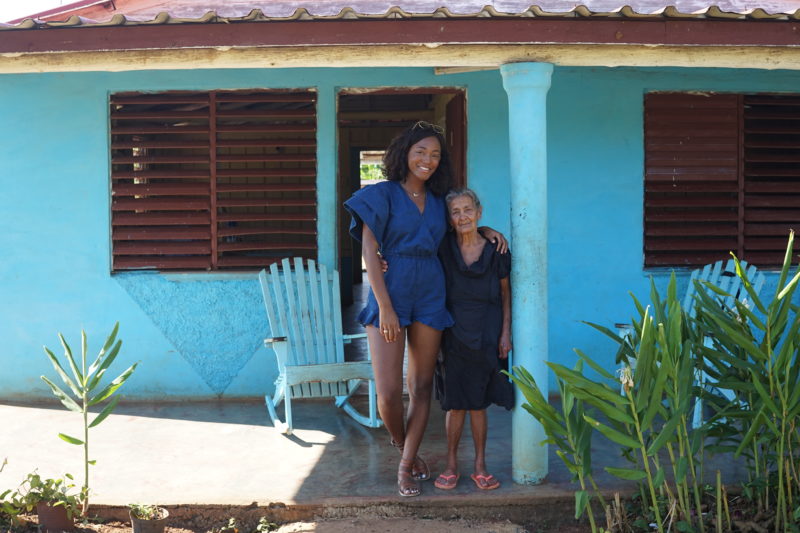 She offered me more food than I could stomach. She provided helpful information about restaurants, activities, and safety. She told me endless stories about her childhood and life in Cuba. In my short time there, she went above and beyond to make sure I was comfortable. She even gifted me with a necklace when I left. I was sad to leave, but my short time with Mirtha revealed so much about the generosity of Cuban people.
STAY AT A CASA PARTICULAR ON AN INTREPID TRIP TO CUBA
The spirit of Havana
Wind blew through my hair as I road through Havana's old town in a lime green vintage car. I found myself amazed as I looked up at crumbling buildings. I inhaled the salty sea air as we rode along the iconic Malecon (seawall). A smile cropped up on my face as Cubans playfully danced to reggaeton on street corners and I danced along too.
Our guide shared historical and cultural facts about his Cuba, which helped me connect the dots between Cuba's past and my current observations. He perked up when he passed his old elementary school and the park he played at as a child. It was an honor to hear him talk about his own personal landmarks, which I would have never noticed alone. Many people rave about Havana's historical monuments, but I quickly realized that the people bring the city to life.
READ MORE: AN INTERVIEW WITH CUBAN INTREPID GUIDE DADY
The simple life in Vinales
After discovering the the spirit of Havana, I was excited to visit Vinales. The drive from the bustling streets of Havana to the Cuban countryside was a much-needed change of pace. We drove past pastel-colored homes, massive limestone cliffs and endless rows of tobacco fields. Cowboys rode by on their horses and it felt like we were in a wild west movie scene. It wasn't long before we were riding through the fields on horses too. As I sat atop my horse, I was in awe of the beautiful scenery that surrounded me.
After an hour-long horseback ride, we arrived at a tobacco farm. We were greeted by a farmer who had spent his lifetime growing tobacco. He guided us through the farm and talked to us about life as a tobacco farmer. We learned about the production process and the business side of tobacco farming in Cuba. He had a grin on his face as he talked about his life's work and it was so clear that he cherished his work as a farmer. Before we knew it, we were rolling and puffing on our own cigars with this legend.
As I looked out over the tobacco fields, my heart was full. It's safe to say that this is the best cigar I've ever smoked.
READ MORE: WHAT IT'S LIKE LEARNING ABOUT CUBAN CIGARS FROM A TOBACCO FARMER
The essence of Cuba
I hardly mention the lack of internet, cold showers, or logistical issues that occured while I was traveling Cuba. Why? Well, once I came to embrace the lifestyle differences, I learned to appreciate them. I was too busy making real life connections and having genuine conversations to worry about what I was missing out on. I felt honored to witness the strength and resilience of the Cuban people.
Conversations with Cubans will quickly reveal to you that the country is so much more than the classic cars you'll ride in or the cigars you'll smoke. I loved crossing things off my Cuba bucket list, but I can honestly say that the people impressed me most.
Ready to visit this incredible country? Check out Intrepid's range of small group tours of Cuba.

(Car photo c/o Intrepid Travel. All other images c/o Ciara Johnson.)
Feeling inspired?