In March 2016, bestselling author Jo Piazza joined us on a climb to the top of Mt. Kilimanjaro. Together with her husband Nick, the newlyweds would spend a better part of the year on the road, learning about the realities of married life through the lens of travel. Their adventures, filled with plenty of laughter and lessons of love, are documented in her brand new book, How to Be Married, launching April 18, 2017 on Amazon, Barnes & Nobles and iTunes.
The below is an exclusive excerpt from her book which features her time in Africa and Mt. Kilimanjaro with Intrepid Travel.
At 19,341 feet, Kilimanjaro is a very, very tall mountain. About 25,000 people climb the mountain every year, and of those only 40 percent make it to the summit.
I did everything possible to ensure against failure on the mountain. My friend Mikey Sadowski works for one of the top-rated Kilimanjaro climbing companies, Intrepid Travel. Before I booked the trip with them, I talked to Mikey for hours about the best routes and guides. "Is there a guide who can carry me if I need to be carried?" I inquired.
—
The concept of actually climbing Kilimanjaro and not just talking about it didn't become real until we stood at the base of the mountain. One of the mountain guides, named Jos, tried to assure me that people in much worse shape than I had made it to the summit.
"The Russians, they drink the vodka all the way to the top," he said. "They fine."
I told him vodka makes me do funny things too.
Our main climbing guide was Justaz, pronounced like "justice," who looked like a more fit and more approachable version of Jamie Foxx and had climbed Kili more than 250 times.
As I hiked, I began to think about all the time I spent worrying and whether that worry had yielded anything productive. The locals have a phrase in Kiswahili, Hakuna matata, that literally translates to "No worries." I'd thought it was something Elton John made up for Disney's The Lion King soundtrack, but it isn't. The phrase began to resonate even though altitude sickness was constantly on my mind.
When it came to altitude sickness, Justaz was the Dalai Lama. He wouldn't allow any members of our group to discuss their symptoms with one another. "Much of it be in your head, and then those symptoms become contagious throughout the group," he advised. "You be positive and you probably will not have it. When I trek and I feel a little headache, I switch off my brain and it goes away. I feel a little nauseous. I tell my brain this is not happening."
"You could make a fortune as a mindfulness coach in New York City," I said to him.
"But Jo, then how would I climb the mountain?"
—
After the second night, I woke feeling like my entire body had been rolled in broken glass from the arduous treks of the two previous days. Even though he felt fine, Nick made sure to slow down with me. He carried some of the weight from my pack and stole a salt shaker from the mess hut so I would stay hydrated.
"Pole-pole," Nick insisted to the guides. It meant "My wife needs to go slow" in Kiswahili. Picture the movements of an arthritic septuagenarian; that was the pace my body preferred.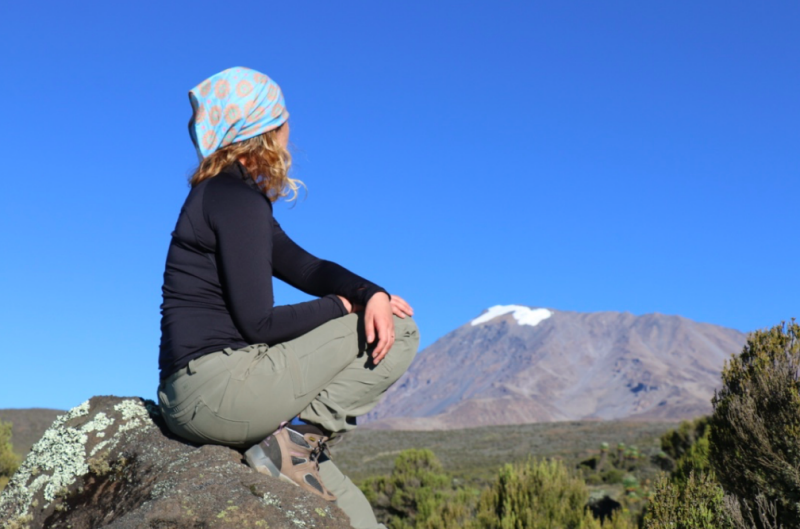 On the path Nick invented a whimsical song to keep me going. It made no sense but had a rhythm that worked well with the click, click of my walking sticks.
"Oregano, oregano. Gotta keep it moving. Gotta keep it moving. Oregano, oregano. Oh yeah. All right." I didn't have to say anything to Nick. We both knew this was what teamwork should feel like.
—
The highest summit of Kilimanjaro is called Uhuru, which translates to "freedom." On the fourth day of our climb it was plainly in sight, so close we felt like we could reach out and touch it—the exhaustion, the aches, pains, nighttime trips to the bathroom in below freezing temperatures with monkeys shrieking at our backs, the altitude sickness, it had all been worth it.
"Climbing the mountain is actually a good metaphor for succeeding in marriage," Justaz said to us. "What you have to remember is that both the mountain and a marriage can be completely different in the afternoon from what it was like in the morning. You can't try to predict what any day will bring. Trying to predict it will only bring grief. You have to try to enjoy the parts that are wonderful."
ADAPTED FROM HOW TO BE MARRIED BY JO PIAZZA, COPYRIGHT © 2017 BY JO PIAZZA, PUBLISHED BY HARMONY BOOKS, AN IMPRINT OF PENGUIN RANDOM HOUSE LLC.
Want to grab a copy and read the rest? 'How to Be Married' is now available on Amazon, Barnes & Nobles and iTunes.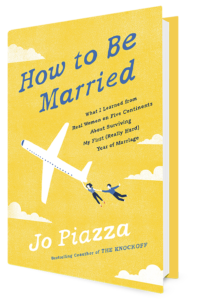 Interested in the trip that Jo and her husband took? She took the 7-day Marangu route to Kilimanjaro, and so can you!

Image Credits: All c/o Jo Piazza
Feeling inspired?