Diana Petterson is often the only Black solo traveller in her tour groups – and the destinations she visits, too. But all that changed on an Intrepid trip to Iceland. Here's her travel story.
For my 50th birthday, I was determined to set course for my first international trip. It had taken several years for the pieces to come together. My marriage had ended, my youngest child was 16, and I was at a crossroads.
More importantly, I was ready for an adventure. I spent months crafting a three-week solo journey that landed me in Rome and took me through Florence, Venice, Paris and London.
That was 16 years ago, and since then I've made it a point to travel as much as I can. My goal is at least 100 countries (quite ambitious, I know). Right now, I have 70 countries under my belt, with plans to visit many more. Even though I battled the uncertainty of doing this on my own, especially in the beginning, the excitement is what propelled me to continue. I wanted to finally make my dream a reality.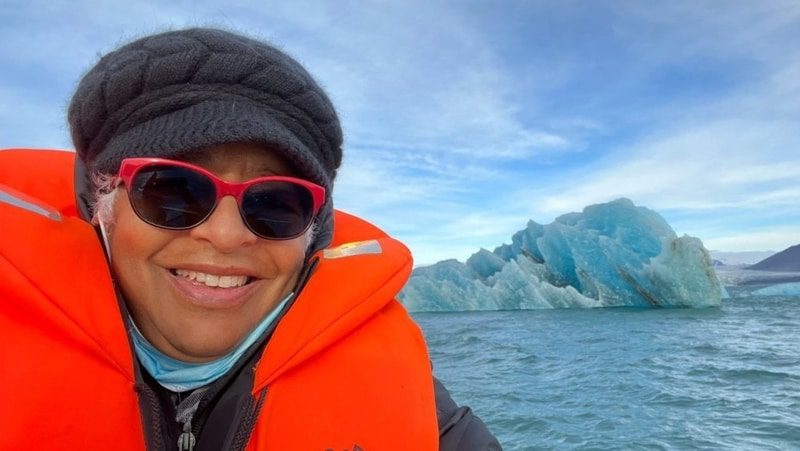 Last year, I travelled to Iceland with Intrepid Travel. I'd been aiming for 20 countries in 2020, all with Intrepid, but of course COVID got in the way of that plan. Now I was back, finally, travelling the world again. And Iceland was a beautiful place to start. The mountainous, volcanic landscapes, along with the fresh air and kind people, made it ideal – even during a pandemic. I fell in love with the waterfalls, and the greenery, and the black volcanic soil. I even walked through an ice cave at Jökulsárlón lagoon in the Vatnajökull National Park! The cave is constantly melting. In time, it will no longer exist.
There were 11 of us in the group: two couples and the rest singles. This was actually the first group tour I've taken where the singles outnumbered the couples. Flying solo in a small, diverse group like this one can make for a truly great experience. It's the best of both worlds, especially when the group gels as cohesively as this one did.
Throughout the years, I can only count two tours – out of the dozens I've taken – where there was another Black person in the group. On this tour there were three of us! All single, solo female travellers. I can't speak for everyone, but this was a first for me!
Khadijah had travelled through several European countries, along with South Africa, Mozambique, Costa Rica, Ecuador, Nicaragua and Canada. Rahel had been to Rwanda, Morocco and Thailand. Getting to know these two young women added to the wonders of Iceland and, in all honesty, it was gratifying to encounter young Black women with such a desire to travel. Especially on their own.  
I travel to explore, understand and appreciate the diversity of the world, even though growing up I had very few role models. Other than Uhura, the communications officer on the Starship Enterprise, I didn't know any Black women who travelled the world. Still, my family loved to explore. It was on our weekend jaunts, with my siblings and parents, crossing the border into Canada from our home in Washington state, that the seeds of travel and discovery were planted.
I don't have the answers as to why so few of us Black Americans are reluctant to travel internationally, but I would think cost plays an important part, along with the added racial baggage we carry when we travel outside of our own country. This is just my perspective, of course. Everyone experiences travel differently. In a foreign place, where we are already vulnerable, we may need to have a whole other way to manage the racism (and, in some cases, the sexism) that comes our way.
But I don't allow any of this to stop me from travelling the world and neither should you. I've met many people who were kind – and a handful who were not – but I've never encountered any overt racism on my trips. As a more mature solo female traveller, I find people are usually more helpful, and even curious, than anything else.
To young Black travellers, I say this: if you have the desire to travel, just go. That's all there is to it. Just go! Whatever fear you have is normal and healthy, but it shouldn't overcome your desire. Travelling is as much about exploring the world around you as it is about pushing yourself to fulfil your own dreams. And that's true no matter who you are, or what you look like.
Want to follow Diana's footsteps? Check our Intrepid's Iceland small group adventures.
Feeling inspired?