You might imagine visiting Africa in a more traditional Safari context, spending action-packed days searching for the illustrious "Big Five" – lion, elephant, buffalo, leopard and rhino – and slow nights sipping cocktails against a blazing pink sunset. This stage is always set with the finer comforts of home inside spacious white canopies and feasts aplenty. At least that's how I saw it.
Traditionally expensive, that kind of luxe safari experience seemed limited and reserved only for the wealthy. I was looking for something bigger, more authentic, and further beyond the boundaries of the national parks. If I was going to go all the way to the other side of the world, I wanted to see how people lived. And that's just the kind of adventure I went looking for when I set out for a camping road trip through Zimbabwe, Botswana and South Africa on Intrepid Travel's 9-day Vic Falls to Kruger tour.
I wouldn't call myself a camper. I have camped. I like camping. But in no way would I define myself as such. I don't even own a tent. But on day one, I was thrown right into it. In quick sequential fashion, I walked off the plane, zipped through customs, got a transfer to the campground, and was ushered to my new home – a thick brown, weather-proof, bug-proof tent named Zebra. Once the dust settled from 36 hours of travel, I wondered, out loud, what the hell am I doing?
If I'm being completely honest, I was pretty scared. Traveling solo always incites the butterflies in me and on this particularly stormy afternoon, alone in my tent, they were going nuts. As my fellow Intrepid travellers arrived one by one, I started to relax. They were cool, interesting, diverse; I knew this little family of then-strangers would make a great team.
Zimbabwe, Getting Things Started
We started out with an overnight in Victoria Falls, the enormous waterfall on the border of Zambia and Zimbabwe. At 1,700 metres wide and 108 metres tall at its highest, it's one of the Seven Wonders of the Natural World. It took me hours to slowly walk its length, stopping at every vantage point to have another look at its sheer magnitude, while getting drenched by the force of its powerful mist. I couldn't think of a better way to kick start this adventure than being right there, right then.
We explored Zimbabwe by overland truck, equipped with huge windows for taking in the landscapes and wildlife, and plenty of cosy seats so we could spread out. We had ample amounts of storage, refrigeration and power to chariot our camping gear, luggage, cameras, phones, food and drink from spot to spot. We quickly got used to this way of life as we made our way south to our first stop, Hwange National Park.
Hwange National Park: What's on the Outside that Counts
We set up camp at Tuskers, a spot well known for the elephants that frequent the watering hole on the grounds, and prepared for an afternoon game drive in Hwange NP – also known for its elephants. We were picked up in an open safari vehicle and set out to explore.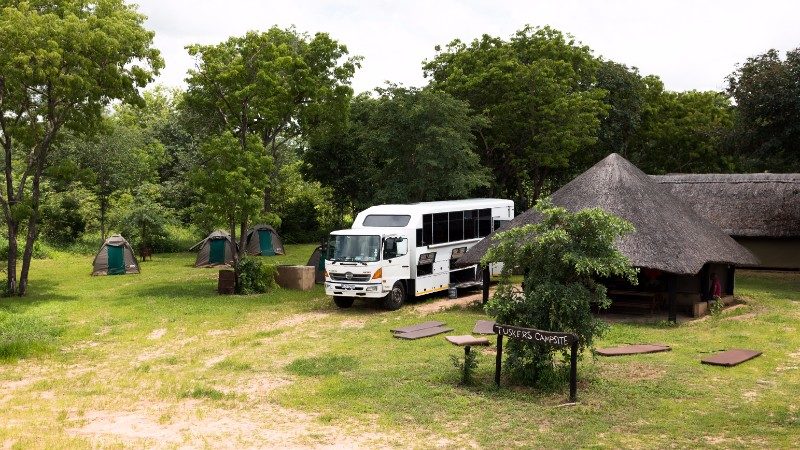 We made it about 10 minutes outside of Tuskers, well before the park itself, when we came across a herd of wild elephants emerging from the thick bush along the side of the road. We all clamoured about the truck with excitement to get a closer look at these African superstars. It was undeniably thrilling. For those keeping score, that's one of five.
Just a few short metres away, a group of zebra and a wildebeest were having a snack together. Mind officially blown. No matter how many times we ended up seeing the same species of zebra throughout the trip, nothing can compare to this first spotting.
Our experience inside the park was less exciting than outside of it. The wet weather of this unusually cool summer had kept our famed favourites out of sight. We longed for the Big Five but walked away from Hwange National Park with mostly bird sightings and a few swimming hippo. Such is life in the bush and off we went, back to our campsite for the night, thrilled from the day's encounters nonetheless.
As with every night, our two guides prepared a delicious fire-cooked meal that never failed to disappoint. We never went hungry out there – our bellies were always full after a long day of driving, hiking and exploring. Meal time had lots of laughter as the group shared life stories, travel encounters, a few toasts; we even took on cleaning responsibilities with joy and camaraderie. Every night by the fire, rain or shine, was a welcome treat.
Amazing Matobo
From Hwange, we drove about four hours south to the beautiful Matobo National Park, known for its rolling hills, deep valleys, and iconic rock formations called kopjes. Once unpacked at our new campsite, Big Cave Camp, we climbed up through the rocks above the valley, offering the most impressive viewpoints of the area.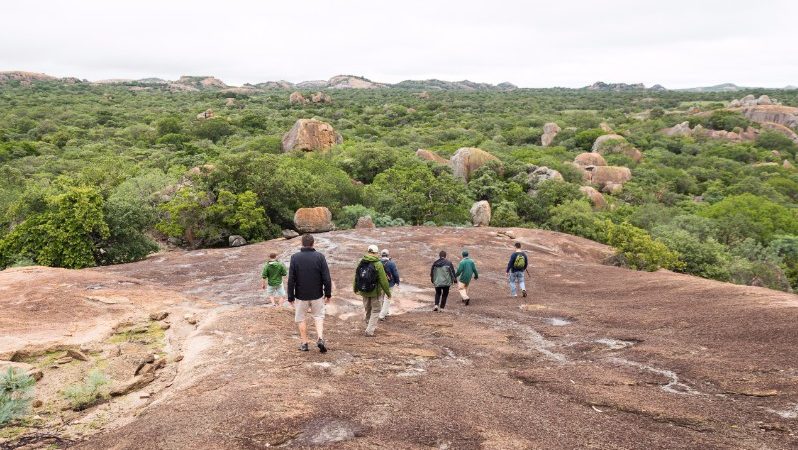 We were shown around by Vusa, a friendly staff member of Big Cave's neighbouring resort lodge hidden among the rocks. He led the way, telling stories of the area's history, of the bushman people who lived here thousands of years ago, and of the surrounding plant life that provides food and healing remedies, and poisons that can kill quickly.
We visited the rhino sanctuary at Rhodes, a conservation area where volunteers are working to restore the endangered rhinoceros population and protect them from poaching. Poachers hunt down and brutally kill these creatures for their horns, which can sell for up to $60,000 per kilogram. Part of the sanctuary's effort is to proactively remove the horns and, while this may seem barbaric, the idea is that they can safely remove horns without killing the animal. The rhino is then useless to poachers and remains alive. It's not a perfect system, but it has been successful in restoring the population in the area.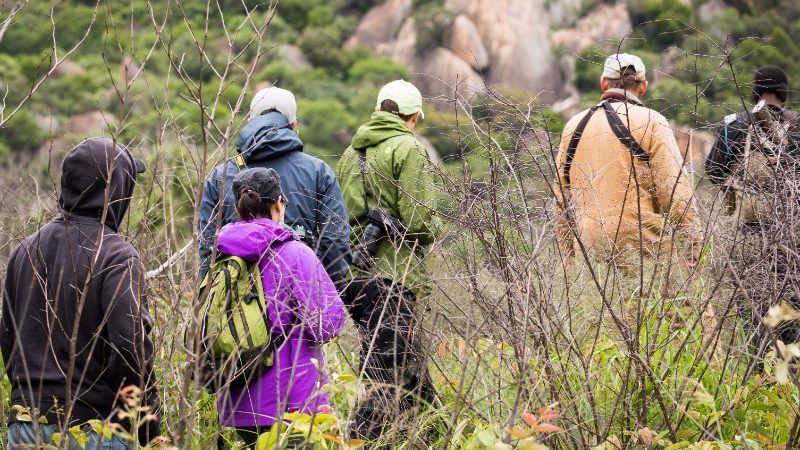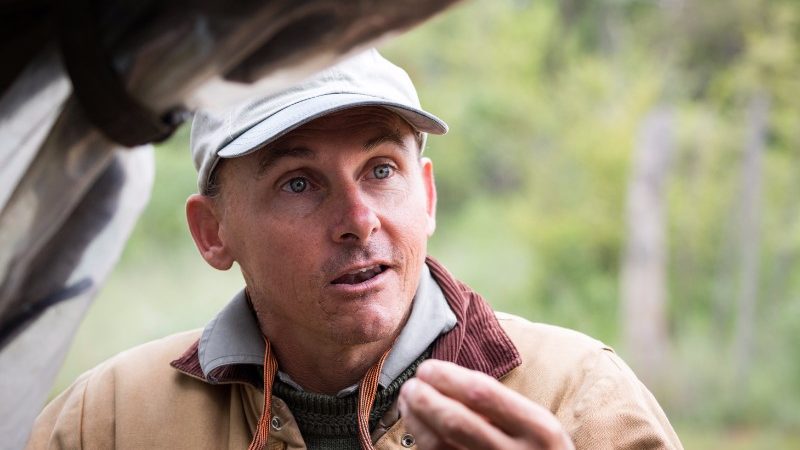 Curt, our local Zimbabwean guide whose love for these creatures was palpable, took us rhino tracking (on foot!), where we were able to get within a few metres of a white rhino family. They minded their business, enjoying a meal as we stood by, dumbfounded to be in their presence.
With no dangerous animals that wanted to kill us there, we were able to roam freely within the park. We hiked over the rock formations, to heights well above the valley floor. A rocky path led us up to the hidden Nswatugi Cave, once home to the nomadic bushmen people dating back over 30,000 years. As soon as we walked into the cave… wow.
Detailed etchings of animals and people, telling stories of those who once lived here, were clearly defined on the walls. Some say the etchings served as a menu of sorts, sharing the types of animals available in the area. Others hypothesize that they were more religious in nature, used in ceremonies held at this very spot. Whatever the function, standing before the history of man brought me to tears.
We quietly hiked down, taking in the valley views and hearing further stories of the bushmen, their impeccable knowledge and use of the deadly plants surrounding us. We shared moments of reflection on the scale of time we were just standing before, and held sadness for the brutal consequences of civilization and what it's done to these people.
The Worldly Chief Ponda and his Epic Tales
Our last stop in the Matobo region in Southern Zimbabwe was a tiny rural village run by Chief Ponda. He regaled stories of his youth, vibrantly acting out key scenes and colourful encounters from his life.
He fought a leopard and won! He showed us scars and the hide that now serves as a trophy of his victory. He also shared stories of how he helped a team bring a herd of rhino back into Zimbabwe through unconventional means. He might have been the most worldly one of us all, despite having never seen the world.
We sang songs with the people in the village, danced and played games in the rain; this close access to rural communities was exactly what I had hoped for.
One Night in Botswana
From Southern Zimbabwe, we packed up our tents, our gear, and our passports and set off east to a campsite at Goo-Moremi Gorge, Botswana, which presented a comedy of errors as soon as we arrived. Tree limbs in the way, an entrance too small for our truck, and narrow passages resulted in a lot of quick thinking by our guides and the camp staff. It's not a good road trip unless something goes hilariously wrong, and everyone rallied together to get us to the campsite quickly and safely.
I'm sad that we didn't get to spend more time here, as our single night in Botswana was one of the highlights. Within the campsite, hidden in the bush, we felt completely isolated from the world around us. The temperatures were a pleasant kind of hot, and welcome after the cool rains of our time in Zimbabwe. We hiked through the waterfalls of Moremi Gorge, photographed the stars and enjoyed home-cooked meals and stories by the fire.
Botswana was a beautiful waypoint, connecting us from Zimbabwe to South Africa and although very short, the pace was relaxing and mellow. It offered the treat of free time and space for us to reflect on previous moments and prepare for new experiences ahead.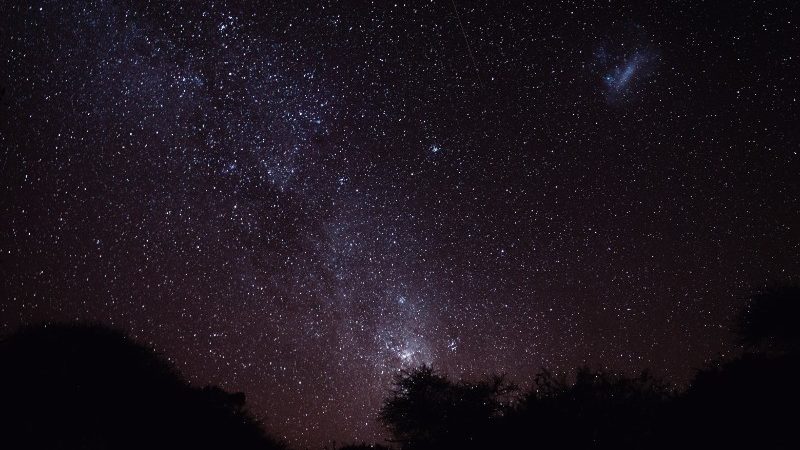 Life on the Road
An early start and a cup of coffee were how most days started on the roads of Africa. By now, we were masters at packing up our tents and gear, piecing it all together inside the compartments of the truck, and getting settled inside for a long drive to our next location. You could easily get lost in your mind in a moment of solitude, or engage in deep conversation with new friends from around the world. We had a perfect mix of both (as well as a fair amount of snoozing). However each of us chose to pass the time, the drives always seemed much shorter than I expected.
South Africa, A Very Warm Welcome
We arrived in South Africa on a blazing hot afternoon, the hottest it had been so far. Our campsite was in an open field surrounded by the Blouberg Mountains. We drove deep into nowhere, following unpaved dirt roads through hills and mountains, unsure of where all of this was headed. It certainly paid off when we arrived at camp.
First order of business after arriving at any campsite is to set up tents and unpack the truck. Each campsite had the offer of an "upgrade." For a price, you might choose to stay in a small hut, bungalow or rondawel (traditional circular dwelling with a thatched roof). I had come to love my little tent, but the heat, the promise of a "bucket" shower (it's exactly what you think it is), and a bed inside four walls, made me quickly abandon my allegiance to Zebra. We had some great times together in the rain and shine, but it was time to upgrade.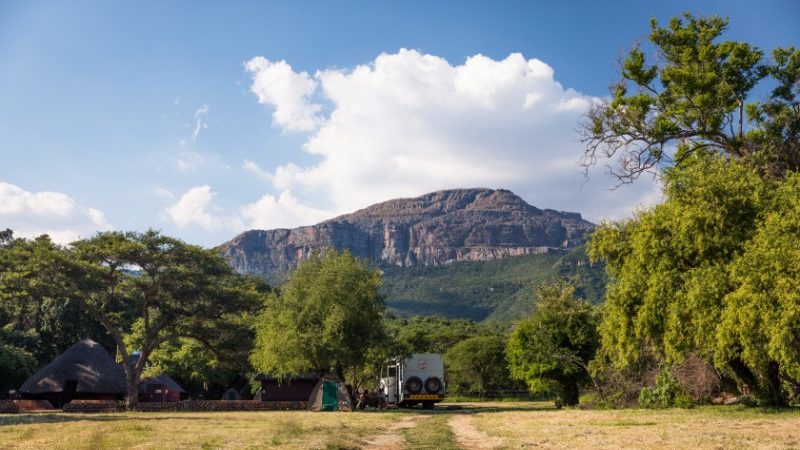 After getting situated in my cosy rondawel, I returned to the group and we hiked to a natural swimming pool. A favourite spot among local teens, the pool was busy with kids jumping off the boulders, horsing around, and enjoying our company as we all splashed together to stay cool. They welcomed us into their fun, egging us on to jump from the surrounding rocks into the water below.
Visiting the People of Senwabarwana 
We hiked back down to our campsite to prepare for an evening in a nearby village, Senwabarwana. One of the most amazing things about traveling with Intrepid is their sustainable practices, their connections to local communities, and their commitment to supporting these areas through tourism, conservation, job creation and awareness efforts.
Because of this philosophy, we were granted rare access to the village and were able to experience real life with the people and their world. Our evening inside the village was a whirlwind of chaos and colour, laughter and joy that will not soon be forgotten.
We visited a tiny tavern at the village's edge to taste the homemade beer and toast to our host and its patrons. It took some time for the locals to warm up to us – looking at us with curiosity from afar – but once they did, all bets were off. We were dancing together and there was no turning back. There's so much you can say with a dance, a toast and a smile.
Afterwards, we walked toward a local family's home hosting us for dinner. Some of us raced down the streets, kicking up dust and playing tag in the summer sun. Others walked slowly behind, chatting with older locals, curious about who we were and where we came from.
Our day ended with a home-cooked meal hosted by Agrinette and Tauani, residents of the village who spoke English very well and prepared local foods for us to try. The more daring of us tried the infamous fried mopane worm, indigenous to South Africa. We shared stories and ambitions, laughs and photos. And we all toasted to bringing worlds together in this small spot in Southern Africa. Today marked my absolute favourite day on the road.
Kruger National Park and Our Quest for Lions
With only a few days left on our ten-day trip, it was time to make our way south to the famous Kruger National Park, one of the largest game reserves in Africa. With nearly 20,000 square kilometres of ground to cover, many travellers spend their entire visit to Africa in Kruger. We settled in at Satara and Letaba rest camps and spent two full days viewing game in open safari vehicles. From day drives and sunset spotting to tracking animals well into the night, we had our best wildlife experiences there.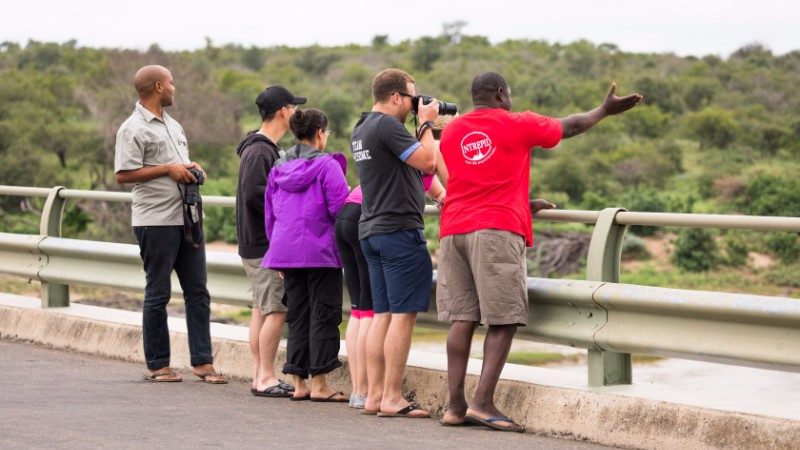 We drove for hours that felt like minutes, encountering animals all over the park including giraffe crossing the road, hippo swimming in the distance, zebra and wildebeest in every direction, elephant families walking in a row, colourful birds flying through the skies, porcupine, scorpion, baboon, buffalo… It was a true wildlife extravaganza that left me feeling like a kid. We were extremely lucky to spot some of the rarer animals, including a group of hyena having an early morning drink, and an aggressive black rhino looking to charge. Three of the Big Five now in the books.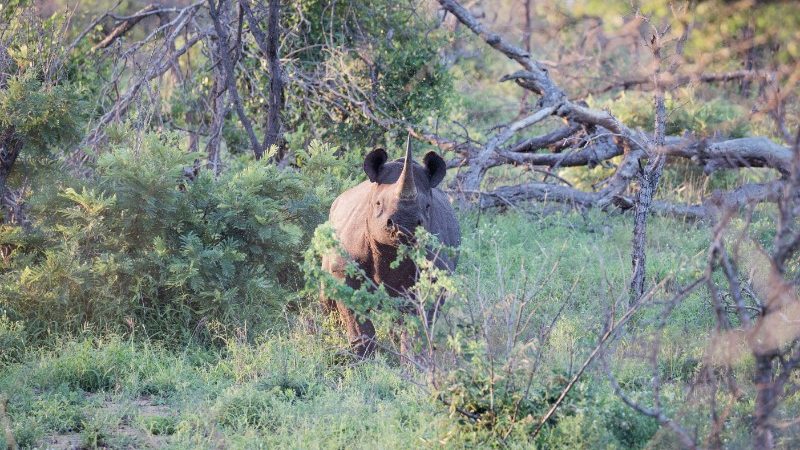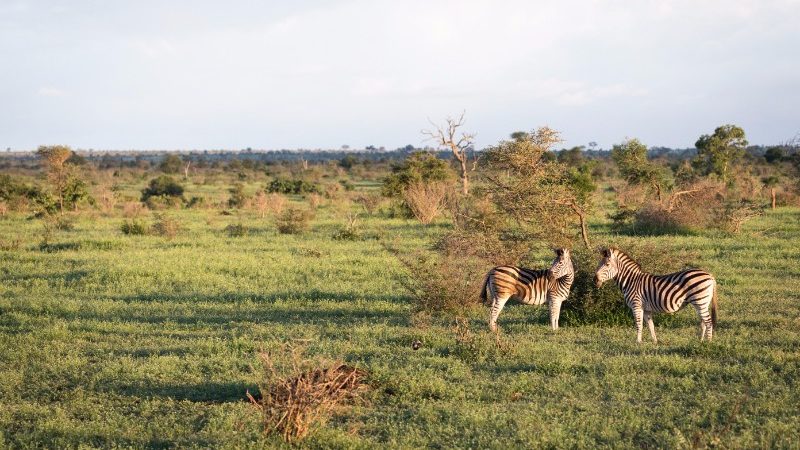 Naturally, the group was hell bent on seeing lions, which had been largely hidden inside the thick bush. So far, we had not been at the right place at the right time. Every day, we hoped today would be the day.
With no luck, it was time to go. We packed up our camp and started our two-hour drive out of the park at 5am. Suddenly, our guide Shimane spotted several female lions and cubs, camouflaged by a sandy river's edge. They stretched, yawned and scratched about while the cubs energetically played and pawed each other. Overjoyed, we watched in silence – the only sounds a few yelps of excitement and the shutters constantly firing. Four of Five.
Satisfied, we made our way south again.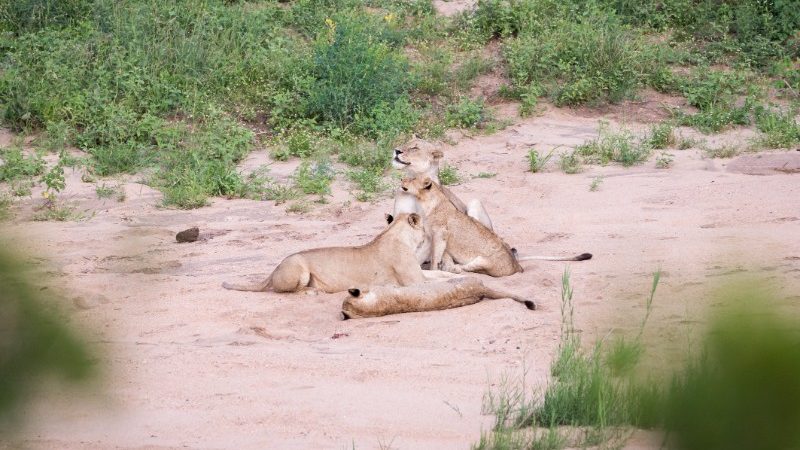 The Road to Johannesburg
The drive to Johannesburg marked the beginning of the end and our longest drive yet – 9 hours and 567 kilometres to our final destination. The thick bush of Kruger National Park faded behind us, opening up to farms, valleys, rolling hills, and deep canyons.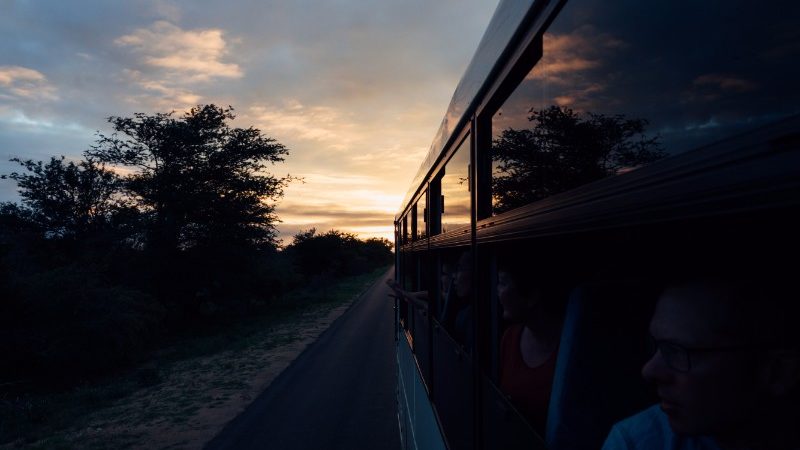 Thunderous rains poured down briefly, only clearing the sky moments later to bright blues and puffy white clouds. We slept. We reflected. We wrote notes and shared dreams of future travels. We made pit stops and detours to the more scenic locations, including Blyde River Canyon, much like The Grand Canyon in the US.
What seemed like no time at all, that was it – we arrived at the end back in a bustling metropolis with restaurants and down comforters. With a modern hotel in front of us, we said goodbye to our guides, our tents, and our truck – which immediately set off to usher another group of travellers looking to camp across Africa and experience its culture and people beyond safari. As the truck drove away, the all too familiar end credits began to roll in the pit of my belly. The trip was over.
I Bless the Rains Down in Africa
Toto gave us the lyrics, "It's gonna take a lot to take me away from you, there's nothing that a hundred men or more could ever do, I bless the rains down in Africa…"
This song is about love, but I'm going straight literal here. It was hard to leave Africa and I'll never forget my time there. Even our rainy days were magic – with fewer tourists, beautiful lush greens, and popping colours against the moody skies, I truly did bless the rain there.
With the song blaring in my ears, I'm plotting new adventures back to Africa and expanding well beyond where I've been before. The no-fuss camping style was an ideal way to experience both the rich wildlife and the deep cultural encounters in a short amount of time. Being nervous at the beginning feels silly in retrospect – I'd be the first one there to do it all over again.
Until next time, Africa.
Experience the incredible diversity of Africa on an Intrepid small group tour. 
All images c/o Allison Quinn. 
Feeling inspired?