Fun Fact: The Blue Mountains were named for the blue haze that drifts around them making the range just about the most magical place you'll ever visit.
The Blue Mountains are nothing short of breathtaking. From the sweeping views and the jaw-dropping rock formations to the spectacular forests and the mesmerizing cascades, literally everywhere you look could be a postcard (and we're not even exaggerating).
There's so much to see and do while visiting the Blue Mountains but we think the most magical experiences of all are those you take on foot. We've put together a list of the best trails to walk in the Blue Mountains to ensure you'll see everything this magnificent natural wonder has to offer.
1. Ruined Castle Walk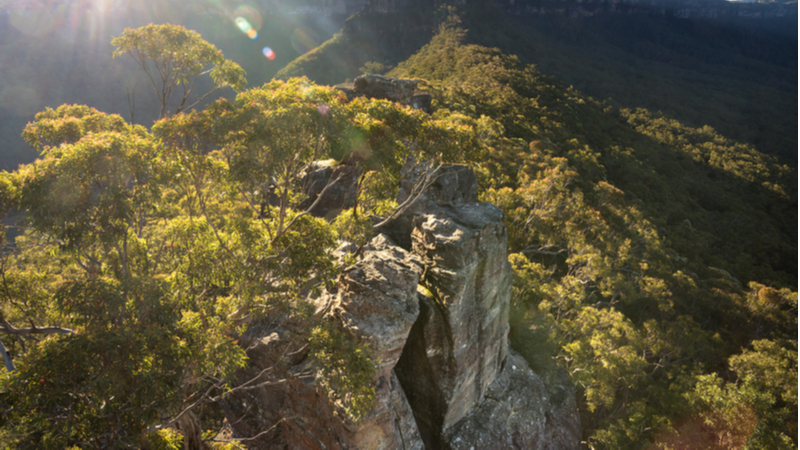 Difficulty: Hard & challenging but manageable
Distance: 7.5km return
Duration: 5-6 hours
Beginning your 7.5km (return) trek from the Golden Stairs, walk your way through lush rainforests as you're taking in the various views; stopping to admire the three peaks formation and marveling at Mount Solitary. While this Blue Mountains trail may be hard, we can promise you it'll be worth it once you reach the main event. Stumbling upon several boulders that look like they belong elsewhere you'll know the ruined landmark is nearby. Faintly reminding you of the castles you read about in fairytale books growing up, this rock formation gets its name for resembling an ancient kingdom that's since gone to rubble.
2. Valley of the Waters Walk
Difficulty: Hard
Distance: 1.5km return
Duration: 1.5 hours
Demonstrating the depth of beauty the Blue Mountain region has to offer, the Valley of the Waters walk will take you through the picturesque canyon so you can fully immerse yourself in in this World-Heritage Listed site. But make no mistake about it, this walk is for the waterfalls. Passing through the spectacular Jamison Valley, the Valley of the Waters walk will deliver you to Wentworth Falls; a three-tiered waterfall that's guaranteed to take your breath away. Watch as the cascading waters fall into the sparkling pool below, and if you're up for it, why not climb down the Grand Stairway and take a dip? Afterwards, continue onto Wentworth pass and make your way through lush rainforest, stopping to admire the many smaller waterfalls that appear and taking about 367 photos of Empress Falls once you come to it.
CHASE WATERFALLS ON OUR BLUE MOUNTAINS WALKING TOUR
3. Grand Canyon Track
Difficulty: Medium
Distance: 5.4km return
Duration: 2-3 hours
Arguably one of the most beloved Blue Mountains hikes, the Grand Canyon Track really does have it all. Seemingly transporting you to a different world altogether, this historic track will take you through a dry sclerophyll forest as well as dense, green rainforests for an unforgettable experience you'll want to tell everyone about. Be watchful for the fascinating flora and fauna along the way and keep your eyes skyward so you can marvel at the huge sandstone walls and the ever-present waterfalls you'll soon come across.
4. Grose Valley Walk
Difficulty: Medium
Distance: 6km return
Duration: 5 hours
Everyone says that a trip into the Grose Valley is essential when coming to the Blue Mountains and it's not hard to see why. Start your walk by wandering beneath tree ferns (that'll have you feeling like you just stepped into a scene from Avatar) before making your way along stunning cliff tops, gently descending into a eucalyptus forest full of beauty. Make your way under the shade of towering trees and brace yourself for a challenging yet oh-so-worth-it climb down to the river. Once you've made it, calm down and cool off in the still waters of the river, taking the time out to breathe in the fresh air and enjoy the peaceful sound of the nature that surrounds you. Once finished, begin your ascent out of the valley and walk back knowing you can tick this one off your bucket list.
CHECK OUT THESE HIKES FOR YOURSELF ON OUR BLUE MOUNTAINS TOURS
Feeling inspired?