North Africa's highest peak calls to be climbed.
Jebel Toubkal stands 4,167m above the mighty Atlas Ranges of Morocco. It's a mountain that has captivated adventurers for centuries – a stark ascent through lowland floodplains, charming Berber villages and rocky gorges strewn with snow. The climb is not for the faint of heart, but the sweeping views from the peak, across the jagged line of the Atlas Mountains and the Sahara beyond, have to be seen to be believed. 
Our Toubkal treks
Set off on a seven-day adventure through the Atlas Mountains, joining an expert guide...
Trek through Morocco's High Atlas Mountains exploring Aroumd and Imlil and then climb...
Highlights of our Mount Toubkal treks 
Explore the chaotic streets of Marrakech
Get a real taste of Morocco before and after your hike by visiting Marrakech, a historic city full of soothing hammams, bustling souks, mouthwatering food and eye-catching architecture. Join your leader for a tour of Djemaa-el-Fna in the city's old town medina and prepare for a night of singing, dancing, fortune telling, drumming and street food snacking. And that's just the beginning.   
Marvel at spectacular Atlas Mountain scenery
Sometimes the journey is better than the destination and when it comes to trekking in Morocco, there's no prettier journey than through the Atlas Mountains. Walk over the rugged terrain on your way up Mount Toubkal and stare in awe at the breathtaking scenery at every turn - think jagged mountain peaks, the faraway dunes of the Sahara Desert and views of the Atlantic coast (on a clear day).  
Summit Mount Toubkal
If adventure is your middle name, Mount Toubkal is your kind of mountain. Lace up your hiking shoes and get ready to summit the highest peak in North Africa with your local expert guide and your newfound hiking friends. From passing the pilgrimage site of Sidi Chamarouchou on your way to basecamp to waking up before down for the final push, this is one experience you'll never forget. 
Mount Toubkal trek reviews
Mount Toubkal FAQs
Read more about walking & trekking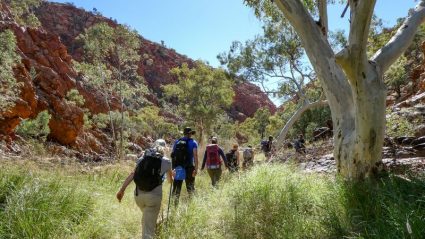 Mar 18, 2023
---
One thing's for sure, hiking the Larapinta Trail will be one of the greatest...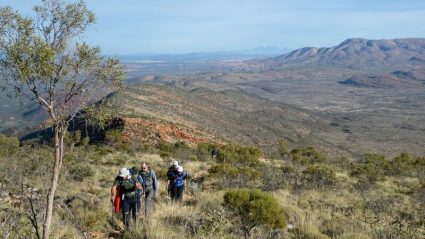 May 16, 2023
---
This trail will leave you feeling different. In the best way possible.
Jul 07, 2023
---
Follow these steps (pun intended) to get fit for your walking holiday.