Ready to get active in South Africa? Visit the majestic Vic Falls? Or wander through the markets of Marrakech? There's no better time to lock it in.
We've teamed up with Qantas to offer some exciting rewards. Qantas Frequent Flyer members can earn 5,000 Qantas Points when they book an eligible Intrepid Africa trip*. That's a bonus 2,500 points! Book from 1 October 2017 until 31 October 2017.
To claim your bonus Qantas Points, you must mention this offer to your travel consultant at time of booking. 
Intrepid has teamed up with Qantas to offer Qantas Frequent Flyer ('QFF') members the ability to earn Qantas Points when booking eligible Intrepid trips. Sales staff use promo code 53127.
1.            Qantas Frequent Flyer ('QFF') members are able to earn double Qantas Points when they book an eligible Intrepid trip for a limited time only.
2.            If you are not already a QFF member, you can join by visiting the Qantas website qantas.co.nz
3.            Earning points on eligible trips:
4.            Customer will earn 5000 Qantas Points per eligible trip.
5.            Double Qantas Points are earned on bookings made in New Zealand Dollars from 1 October 2017 – 31 October 2017.
6.            Points are earned on trips with a minimum trip value of NZD$1,000 per person after any other discount is applied.
7.            Qantas points will not be earned on:
                1.            Private Tours
                2.            Trips booked with Staff, Companion, Friends and Family discounts
                3.            Travel Industry Member discounts
                4.            Press and Partnership Trips and Prize Winners
8.            Trip value does not include additional costs for single supplements, transfers and optional extras
9.            Customer cannot earn points on any other land arrangements booked with Intrepid
10.          Countries valid for double Qantas Points earned include; Benin, Botswana, Djibouti, Egypt, Ethiopia, Gambia, Ghana, Guinea, Guinea Bissau, Kenya, Madagascar, Malawi, Morocco, Mozambique, Namibia, Rwanda, Senegal, Sierra Leone, South Africa, Swaziland, Tanzania, Togo, Tunisia, Uganda, Zambia & Zimbabwe.
11.          If the trip is cancelled or a discount is applied and the value of the trip is less than NZD$1,000 per person, then the trip will no longer qualify to earn Qantas Points.
12.          Qantas Points will only be earned on transactions that occur after adding your Qantas Frequent Flyer membership number to a purchase.
13.          You will only earn Qantas Points with Intrepid if you've entered a valid QFF number and surname before the trip departure date. Please contact qantas.com.au to check your membership details.
14.          Qantas Points will be credited to the QFF account on the day of the trip departure.
15.          Travel must be taken by 31 December 2018.
16.          You can check the Qantas Points that you have earned with Intrepid Travel Australia and your total Points balance at qantaspoints.com/your-account
17.          Standard Intrepid Booking Terms and Conditions apply.
18.          Intrepid reserve the right to change, suspend or terminate these Terms and Conditions at any time.
Sales staff use promo code 53127
Explore our Africa trips below and have your Qantas Frequent Flyer member number ready.
Need African adventure inspiration? Read on...
Jul 11, 2018
---
Not sure of the difference between a gite and a riad? We've got you covered.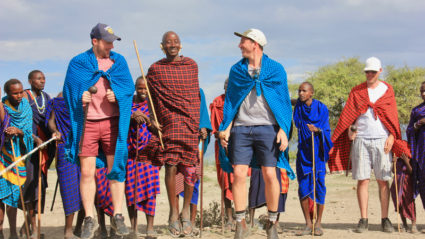 Jun 26, 2018
---
But although leading up to the trip all I could think about was taking the best...
Jun 16, 2018
---
Whether you've always wanted to sink your teeth into a juicy souvlaki in Cyprus,...