The Grand Canyon might be a feast for the eyes, but there's plenty of cafes and restaurants to visit once you're finished gobbling up the views. 
When you imagine the Grand Canyon, you're probably not thinking about where you should eat. Your biggest concern is likely where you can see the most spectacular views or which hiking trails you should do. But a Grand Canyon tour can work up quite an appetite, so we've put together a list of some of the top places to eat to refuel your energy and maybe even spoil you with more amazing views
Note: some of these cafes and restaurants may be temporarily closed due to the COVID-19 pandemic. Please contact the eateries in advance before visiting or making a booking.
1. Bright Angel Bicycles and Cafe
Location: Grand Canyon Visitor Center 10 South Entrance Rd, Grand Canyon National Park, AZ
Price range: $
Best for: coffee, sandwiches, bagels, pastries, salads
If you fancy a quick bite while exploring the South Rim, Bright Angels has you covered. This no-frills café located near Mather Point is the perfect pit stop to grab a coffee (made with locally roasted beans) and a tasty breakfast or lunch. They have a simple menu with things like breakfast burritos, sandwiches, bagels, salads, pastries and more. You can grab n' go or sit down on one of the picnic benches for alfresco dining with uh-mazing views. As you might've guessed by the name, they also rent bicycles for a reasonable price. Cycling is a fun way to cover more ground if you're pushed for time.
2. Phantom Ranch
Location: North Kaibab Trail, Grand Canyon National Park, AZ
Price range: $$ – $$$
Best for: American, home-cooked favorites
Located at the bottom of the North Rim, The Phantom Ranch Canteen is a restaurant you'll remember for more than just the food. After a long and sweaty hike down, take refuge and refuel in this cozy diner. Breakfast and dinner is a set menu served at certain times in the day. Enjoy American classics like fluffy buttermilk pancakes, maple-smoked bacon, Arizona steaks, homemade cornbread, meaty stews, cheesy baked potatoes and other family favorites. It gets booked out pretty fast so make a reservation well in advance. If you're passing through on the Bright Angel Trail, you can also pick up the 'hiker's sack lunch' which is full of goodies including a bagel, energy bar and fresh fruit.
3. The Sky View Restaurant
Location: Eagle Point Rd, Peach Springs, AZ
Price range: $$ – $$$
Best for: American, the views
With a name like this, you can imagine this place is all about the views. Located on the edge of the West Rim, you'll be treated to dramatic panoramic vistas of Eagle Point and the famous Skywalk where you can watch people walking out onto the u-shaped glass bridge to see the canyon floor 4,000 feet below. Sky View Restaurant serves up casual American classics including fried chicken wings, cheeseburgers, hot dogs and beer-battered fries. If you're not very hungry, you can always kick back with an ice-cold beer, glass of wine or soft drink to take it all in.
4. Desert View Trading Post & Ice Cream
Location: W Hwy 64, Grand Canyon National Park, AZ
Price range: $
Best for: coffee, ice cream, snacks, light breakfast and lunch
You can't walk to the Desert View Watchtower without stopping for a generous scoop of ice cream at Desert View Trading Post. If ice cream doesn't tickle your fancy, there's plenty of other sweet treats and savory snacks on the menu. You can also browse the gift shop for souvenirs to take home. They sell art and crafts made by local artists and craftspeople from the Grand Canyon's traditionally associated tribes. There's plenty of shaded spots to sit and enjoy your ice cream while taking in the different vantage points of the South Rim and the Colorado River. 
5. Canyon Village Market Place and Deli
Location: Grand Canyon Village, AZ
Price range: $
Best for: sandwiches, pizza, burgers, groceries
Feeling peckish? Need to pick up a few essential supplies? Canyon Village Marketplace and Deli has it all. Grab a piping hot pizza, hot dog or burger and stock up on groceries while you're at it. It's a bit of an Alladin's Cave where you can find everything from freshly roasted chickens, grab n' go salads and cooking essentials, to craft beers, souvenirs and camping supplies. The Deli is a great place to pick up ready-made picnic items to take with you on a hike. It's also conveniently located in the market plaza next to the post office… don't forget to send a few postcards home to your loved ones!
6. El Tovar Dining Room
Location: Grand Canyon Village, AZ
Price range: $$$ – $$$$
Best for: American, Southwestern, international 
If you feel like treating yourself, El Tovar Dining Room is the place to do so. Enjoy gourmet dishes in an art deco atmosphere that is built with native stone and Oregan pine. The menu combines traditional Southwestern classics with a sprinkling of international influence. Treat your taste buds to breakfasts such as Sonoran-style eggs with chorizo, polenta pancakes with prickly pear pistachio butter or chocolate and peanut butter chip Belgian waffles. For dinner, enjoy a black Angus prime rib hash, Navajo tacos or oven-roasted pheasant. When you're done eating, head down into the El Tovar Louge where you can sip on cocktails and enjoy the Native American murals that fill the walls. Finish the evening on the veranda watching one of the famous Grand Canyon sunsets paint the sky in glorious shades of orange and pink. 
7. Yavapai Tavern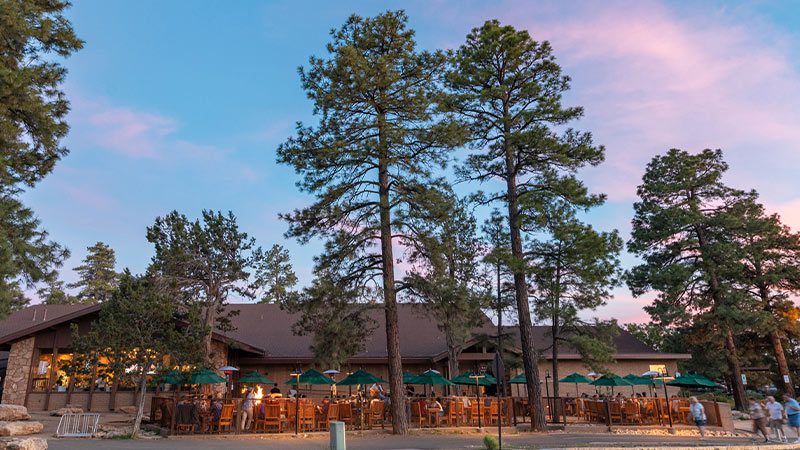 Location: 11 Yavapai Lodge Rd, Grand Canyon Village, Arizona
Price range: $$ – $$$
Best for: Southwestern, burgers, pizzas, wings 
You can't beat a good ol' burger and a beer. Actually, you can… with a freshly brewed glass of local craft beer at the Grand Canyon. Yavapai Tavern is known for its artistic take on burgers (think bourbon bacon and malted elk) as well as other Southwestern specialities. Sink your teeth into house-smoked wings, homemade BBQ sauce, shredded beef nachos and artisan pizzas. Yum. They also serve an impressive selection of local brews, wines and cocktails to quench your thirst. We recommend enjoying a cold drink on the outdoor patio while listening to some live music around the fire pit.
8. Cameron Trading Post and Restaurant
Location: 466 US-89, Cameron, Arizona
Price range: $$ – $$$
Best for: American, Mexican, local cuisine
You've probably eaten a taco, but have you ever had a Navajo taco? Cameron Trading Post is famous for it. It's a breakfast taco made from flatbread that is deep-fried and slathered with spicy ground beef and topped with cheddar, crunchy lettuce and green chilies. It's perfectly crunchy on the outside and deliciously gooey on the inside. Other local delights include green chili stew, prickly pear BBQ chicken and Yah-Ahtay chili. You can also tuck into American classics including club sandwiches and cheeseburgers. Cameron Trading Post is a bit of an icon around here. It was built in 1916 by two brothers after the first swayback bridge was constructed over the Little Colorado River in 1911 to provide the first access over the gorge. It was mostly used by Navajo and Hopi locals to exchange their produce for dry goods. The restaurant is filled with Native American art and decor, and is as hospitable for guests today as it was for the traders who traveled here all those years ago. 
9. Deli in the Pines
Location: 6225 AZ-67, North Rim Grand Canyon Lodge
Price range: $
Best for: American fast food, sandwiches
This unassuming joint in the North Rim might not be a deli (and it might not be in the pines), but it's a good place to pick up something quick and easy when you're on the go. Grab a breakfast pastry, sandwich, salad or pizza-by-the-slice to bring with you on the North Rim hiking trails, or enjoy one of the daily specials like the breakfast burrito or pulled pork sandwich. They also sell soft-serve ice cream if you're after something sweet. The food is simple, convenient and affordable in terms of Grand Canyon prices.
10. Grand Cookout
Location: Grand Canyon Lodge, North Rim, AZ
Price range: $$
Best for: barbeque, American, evening entertainment
It might be a little cheesy, but this chuck wagon-style dining experience certainly packs a punch. Fill your boots (or should we say stomach) with an all-you-can-eat buffet packed with hearty favorites including BBQ beef briskets, mac n' cheese, homestyle cornbread, roasted chicken, buttery potatoes and creamy coleslaw. The food is good, but the main deal is the dinner theatre show which will have you tapping your foot to country and western music, laughing at brilliantly bad jokes and listening to stories about the history of the Grand Canyon. There's even a few magic tricks thrown in there which always go down a treat with the kids. The whole evening takes place in a tent not far from the North Rim Campground.
11. Arizona Steakhouse
Location: Grand Canyon Village South Rim, Grand Canyon National Park, AZ
Price range: $$ – $$$
Best for: American, Southwestern 
Fancy some hearty Arizona-inspired food in a chic restaurant setting? Enjoy American classics like aged-cut steaks and baby back ribs or indulge in Southwestern, Mexican or Navajo-style fare. Arizona Steakhouse might be a little more casual than El Tovar Dining Room, but it still offers an intimate dining experience with amazing views of the South Rim. Located on the edge of the South Rim, the views are something to shout about. Sip on one a glass of wine or beer from local artisan brewers and vintners while you enjoy the views. 
12. The Grand Hotel
Location: 149 AZ-64, Grand Canyon Village, AZ
Price range: $$ – $$$
Best for: American, Southwestern 
The Grand Hotel is the only three-diamond hotel in the national park. They serve hearty meals in a rustic setting that still has that old-time charm. Enjoy wholesome dishes like chorizo and eggs, buttermilk pancakes and Texas smoked bacon for breakfast. For dinner, sink your teeth into chicken tortillas, Arizona steaks, garlic mussels and succulent chicken fillets. If you'd prefer something a bit lighter, you can always sit at the bar with a drink and some appetizers. The Grand Hotel is also the place to go if you fancy a bit of a knees-up when the sun goes down. There's a lively bar and nightly entertainment including live bands and country and western singers.
HUNGRY FOR ADVENTURE? CHECK OUT OUR GRAND CANYON NATIONAL PARK TOURS
Feeling inspired?