Fact: Australia is huge. HUGE. If you were the strongest person in the galaxy and could pick up the island continent (provided you had enormous hands and were actually a giant), you could snugly fit Australia into mainland USA. The world's largest cattle station is in Australia, and it's bigger than Israel. The world's largest sand island – Fraser Island – is in Australia. And Australia has more 'big' things – the Big Pineapple, the Big Merino, the Big Banana – than anywhere else on earth.
In short, Australia has a LOT going for it.
It's also an extremely diverse environment. Poet Dorothea Mackellar wasn't wrong when she described Australia as 'a land of sweeping plains, of ragged mountain ranges, of drought and flooding rains' in her famous 1908 poem My Country. There's 'stark white ring-barked forest' (here's looking at you, Kimberley), 'sapphire-misted mountains' (cheers, Tasmania), and 'the hot gold hush of noon' (just about everywhere on a 40-degree day).
In many ways, travelling in Australia is akin to travelling to more than one part of the world – say, the Middle East, Europe, the United States – at once. So rather than umming and ahhing about your next holiday to one or two countries, here's how you can reap the rewards of multiple countries by visiting just one: Australia.
1. Skip the French vineyards and head to Margaret River
Western Australia's Margaret River region, a few hours south of Perth, has been wowing visitors for years. There are roughly 250 wineries in the area, but if vino isn't your jam, hit up a brewery, chocolate factory or cheesery instead. Indulging in the good life surrounded by lush green fields, eucalypt forests and spectacular beaches isn't a bad way to spend an afternoon either.
ENJOY A TIPPLE OR TWO ON ONE OF THESE ADVENTURES IN MARGARET RIVER
2. Jordan's Treasury Building hasn't got a thing on the Kimberley
That moment when you first lock eyes on the Treasury Building in Petra is indeed jaw-dropping. But when you spy a sight that has been created by millions of years of volcanic eruptions, wind, rain and erosion, it makes you really appreciate all that nature has to offer. The Kimberley has all that, and more: desert to rival Death Valley, deep gorges reminiscent of South African canyons, a dramatic coastline (c'mon, it's Australia – it's what we do best!), and the moon-like Bungle Bungle Range.
THE KIMBERLEY IS WHERE WESTERN AUSTRALIA REALLY GET WILD. FIND OUT MORE INFO HERE
3. Kakadu: think African savanna, minus the lions
Kakadu, home to the Bininj/Mungguy people for over 65,000 years, is one of Australia's wildest regions. Waterfalls cascade triumphantly during the rainy season, and cry one solitary tear during the dry season. Billabongs hold secrets (and crocodiles). Dingos stalk through the grass while kangaroos bounce through bushland. Connect with culture, history and nature, all in the one epic destination.
YOU MUST DO KAKADU. CHECK OUT OUR RANGE OF ADVENTURES HERE
4. The Red Centre is like Wadi Rum (only redder)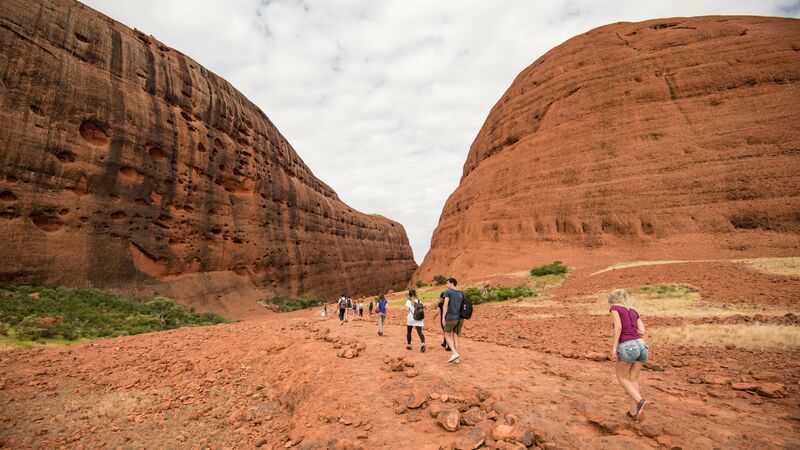 If you haven't been to the Red Centre, have you even been to Australia? The Red Centre's most famous face is Uluru – the sandstone giant is at the heart of Australia in more ways than one. But you've also got the giant red-rock domes of Kata Tjuta (there are 36 of them, so it's an impressive sight to behold), the enormous gorge at Kings Canyon, a sandy-beached oasis at Ellery Creek and the towering rock walls at Simpsons Gap. And while Wadi Rum is often compared to Mars, the Red Centre feels quite otherworldly.
EXPLORE OUR RANGE OF RED CENTRE ADVENTURES HERE
5. Drive one of the loneliest roads across the Nullarbor…
The 1600-kilometre stretch of bitumen across the Nullarbor Plain is comparable to Nevada's Route 50 highway, one of the loneliest roads around. It seems like there's not much of anything out here, but the emptiness makes for a pretty surreal experience.
DRIVE THE LONELIEST ROAD ON ONE OF THESE AUSTRALIAN ADVENTURES
6. … then drive one of the most beautiful along the Great Ocean Road
From the loneliest road to one of the most scenic – Victoria's Great Ocean Road is a winding route between Torquay and Allansford, taking in sandstone cliffs, dense rainforest hinterland, peaceful bays and crashing waves – picture Portugal's Algarve, but with more koalas. This part of Australia is famous for its Twelve Apostles (although there are only eight remaining), but there's a stack of other great things to do here. Stroll along the beach or through the rainforest, then settle in at the local pub for a pint and a parma.
EXPLORE OUR GREAT OCEAN ROAD ADVENTURES HERE
7. Wonder where in the world you are in Tasmania
For a relatively small island, Tasmania has so much going for it. Old growth forests, meandering hiking trails, picturesque beaches, and cheese… all the cheese your heart desires. Parts of the state will make you wonder where on earth you actually are – a redwood forest in California, rugged up in a warm coat on Canada's rugged west coast, in a lush meadow somewhere in Ireland. But then you'll hear that strong Aussie accent offering you a scallop pie, giving you directions to MONA, or telling you to watch out for a Tassie Devil on the loose, and you'll know you're on the Apple Isle.
SEE THE BEST OF THE APPLE ISLE ON ONE OF THESE TASMANIAN ADVENTURES
8. Are you in the Amazon? Or Far North Queensland?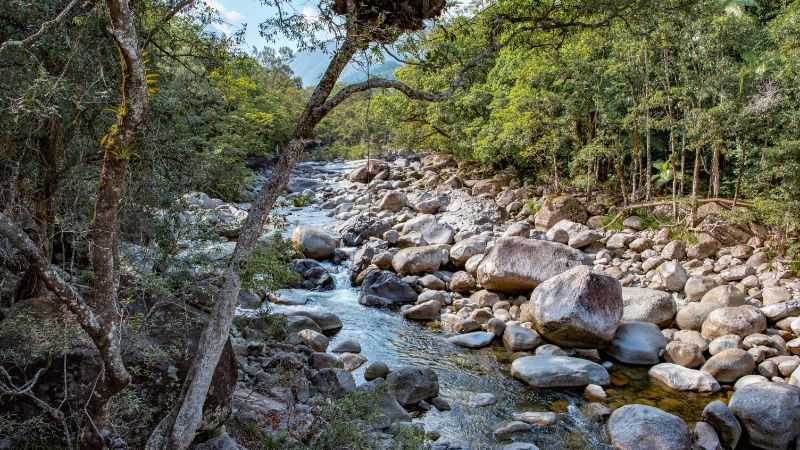 Let's not beat around the (extremely lush) bush: Queensland's Daintree Rainforest is one of the most beautiful places on earth. There's the stunning natural landscape, where emerald-green forest meets white sand meets marble-blue water. There are the exceptionally friendly locals, who you'll meet at the beach, on the ferry and in the local pub. And you've got the bragging rights of exploring the world's oldest tropical lowland rainforest. The Daintree is estimated to be around 180 million years old, tens of millions of years older than the Amazon.
JOIN US ON A 5-DAY DAINTREE ADVENTURE. FULL DETAILS HERE.
Sure, you could travel all over the world. OR you could spend your next holiday exploring the best of Australia. Check out our full range of small group adventures here.
Feature photo by Damien Raggatt.
As an Australian-owned business, we acknowledge the Traditional Owners of Country throughout Australia and their continuing connection to land, waters and community. We pay our respects to them and their cultures, and to their Elders past, present and future.
Feeling inspired?