From inner-city spots to ocean lookouts, observe Brisbane's sunsets from all the best locations.
Catching a glimpse of the sun going down is one of life's simplest pleasures. Whether they instil in you a sense of wonder for the great outdoors or allow you a moment of peace and quiet in an otherwise busy day, sunsets are beautiful to look at, no matter where you are in the world.
One of the best places to see the last of the sun's rays, however, is right here in Brisbane. While they might not be as grand as watching the sunset from a balcony in Cinque Terre or looking out over the vast Tanzanian landscape with the setting sun in the background, Brisbane's sunsets are still right up there with the best of the best. Luckily for you, we've put together a guide on where to catch the greatest sunsets in Brisbane so you can experience them for yourself, whether that's at the end of your Intrepid trip or if it's just at the beginning.
1. Nudgee Beach
Considered to be one of the best places to watch the sky go from yellow and orange to pink and purple, Nudgee Beach is the closest beach to Brisbane's CBD and is known as being a great spot for fishing, dog walking, and bird watching. Surrounded by beautiful mangroves, this vast expanse of wetlands makes for a pretty cool place to hang out during the day but becomes even better when the sun starts to set. Watching the sun's golden reflection on the water while listening to the sounds of nature all around you is guaranteed to be a breathtaking highlight of your trip to Brisbane.
You think you may know all the colours of the rainbow but trust us when we say you haven't even scratched the surface until you witness the sunset at Kangaroo Point in Brisbane's inner-city. Guaranteed to paint the sky, the sunsets here are nothing short of epic. Look on as the sun's setting rays combine with the city's twinkling lights to make a view that's nothing short of unforgettable. To get the full experience, and to make sure you're watching the sunset for as long as possible, why not put together a picnic and enjoy a glass of wine while taking in the nature all around you.
Spectacular doesn't even begin to cut it when describing the beautiful view of the sunset from Manly Harbour. Just a short, 30-minute drive from Brisbane's city centre, this seaside region boasts a whole heap of fun-filled activities from elegant dining to boutique shopping. But the best thing to do at Manly Harbour is to say goodbye to the last of the sun's rays. Guaranteed to bring a little magic to your evening, this spot will not only give you a breathtaking, Insta-worthy picture but also a direct view of Mother Nature's beauty at work. What more could you want from a sunset spot? Answer: absolutely nothing.
4. Wilson Outlook
Described as the perfect oasis, Wilson Outlook is the place to go to catch the sunset over the city. With a view that's packed full of skyscrapers, the Storey Bridge and cruise boats gliding up and down the Brisbane River (Maiwar), this spot makes for a one-of-a-kind sunset experience. Watch on as the fading light is reflected off both the buildings and the water, and marvel at how you can feel so at peace despite being in the heart of Brisbane's bustling and vibrant city. With a glass of your favourite beverage in one hand and a tasty snack in the other, sit on the grassy areas on top of the rocky cliffs and take it all in.
5. Mt Coot-tha Lookout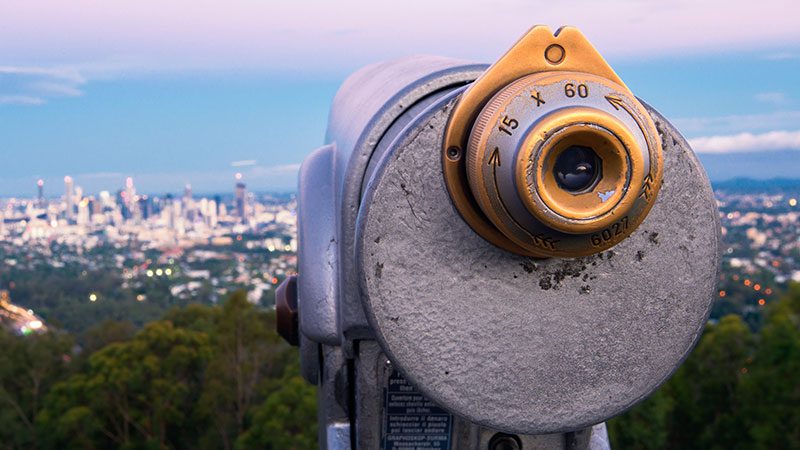 Prepare for the night sky to put an absolute show at Brisbane's Mt Coot-tha Lookout. Known as one of the best places to watch the sunset, this epic, heritage-listed lookout is located about 25 minutes from Brisbane's CBD. The highest point in Brisbane, this lookout allows you to look over the city and its surrounding areas; a view that becomes 10 times greater when the sun starts to set. Watch as the bright oranges, pinks and purples start to fade as twilight draws closer and marvel at the truly magical setting before you. Our recommendation? Pack a picnic, grab your travel buddies, and get ready for a night you won't easily forget.
6. Woody Point Jetty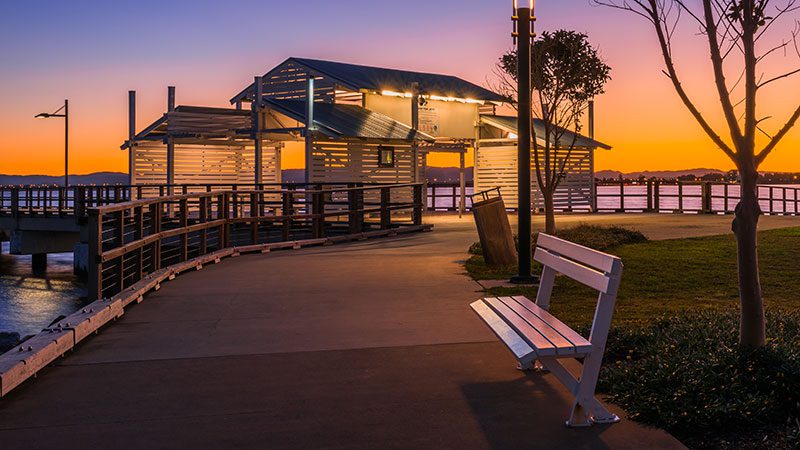 Located just 15 minutes from Brisbane city in Redcliffe, Woody Point Jetty covers 240-metres across Moreton Bay and was built way back in 1888. In the many years since then, the jetty has been restored and fortified, with the last reconstruction taking place in 2008. Not only is being out on the jetty itself worth driving from Brisbane for, but Mother Nature really takes it up a notch when it comes to the setting sun. From your vantage point, watch as the magnificent colours reflect on the water, pick out their different hues and marvel at their stunning, mirroring effect. Perfect for turning on the magic, this spot is a must-stop-at if you want to take in the sky's beauty.
7. Wellington Point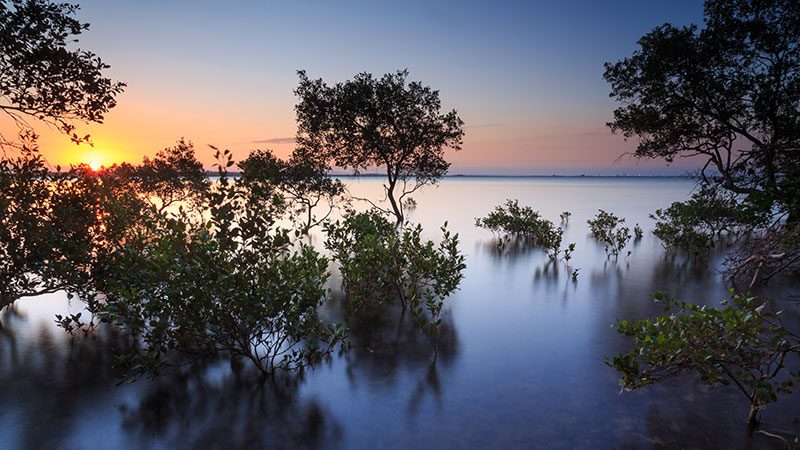 Another jetty, another beautiful spot to say goodnight to the day's rays. Located in Wellington Point (around a 50-minute drive from Brisbane's CBD), this epic location is not only great for fishing but also for enjoying that 'last light glow'. While you will need to have access to a car to travel the 25km, we promise you won't be disappointed. With absolutely breathtaking views out over Moreton Bay and Stradbroke Island, this lookout is guaranteed to have a calming effect on you, from listening to the gentle waves crash up against the jetty posts to watching the light dip into the water amidst a flurry of colour.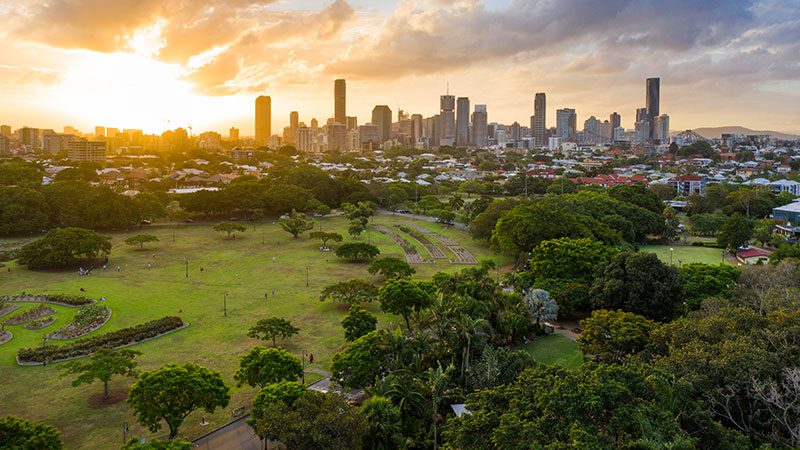 Your reward at the end of a day spent exploring everything Brisbane has to offer is sitting down at New Farm Park to watch some beautiful, vibrant colours light up the darkening sky. Perfect for visits at any time of the day (but especially at sunset), New Farm Park is located along the Brisbane River and offers a whole heap of activities for the young and the young-at-heart. But that's not where the impressiveness stops. If you're lucky enough to visit Brisbane in the months of Spring, New Farm Park comes alive with jacaranda flowers, adding a touch more colour to your epic sunset view.  
COME EXPERIENCE BRISBANE'S SUNSETS FOR YOURSELF ON OUR BRISBANE TOURS
Feeling inspired?