Don't let a little chilly weather put you off visiting the Peak District in winter as there is plenty of enjoy here in the cooler months.
The winter months are perfect for exploring the Peak District's many caves, roaming the halls of castles and other historic buildings, sampling a glass (or two) of local ale at charming country pubs, and strolling along the cobbled streets of villages where you can immerse yourself in local life. Even better, with fewer crowds during the cooler months, you'll have all these fabulous activities pretty much to yourself. Add some warm clothes to your suitcase and a scenic sprinkling of snow on the mountains for great holiday snaps and you're set to go.
The best things to see and do in the Peak District in winter
Have a pint at a cosy pub
Explore mining caves in the Peak District
Enjoy a meal in historic surrounds
Enjoy a meal in historic surrounds
Walk to the top of Mam Tor
Sample a Bakewell tart
Go for a winter hike
1. Have a pint at a cosy pub
There's nothing better than sitting in front of a roaring fire at a historic Peak District pub with a pint of local ale in hand. The Cheshire Cheese Inn opened in the 16th century and has multiple fireplaces to choose from. The Yorkshire Bridge Inn and The Castle pub in Castleton both have fires to warm you up after a bracing winter walk in the surrounding hills. Housed in a historic coaching inn, The Old Hall Inn at Whitehough has a bar specialising in local brews and lots of cosy places to sit. Some grand estates even have their own pub, like The Devonshire Arms which is part of Chatsworth Estate.
2. Explore mining caves in the Peak District
When you visit the Peak District in the United Kingdom, you can explore some of the United Kingdom's most spectacular mining caves. Discover the mining history of the Heights of Abraham where a cable car takes you to a hilltop park which has great views of the Peak District and woodland trails to explore, along with guided tours of the caves. Blue John Cavern is named after the fourteen known varieties of Blue John stone which have been mined in the caves using picks and shovels for centuries. Tours of the cave take around 45 minutes and pass through caverns up to 150 feet (45 metres) high filled with stalactites, stalagmites and mining equipment used to remove Blue John stone from the veins of limestone.
GET ACTIVE: DISCOVER THE PEAK DISTRICT
3. Enjoy a meal in historic surrounds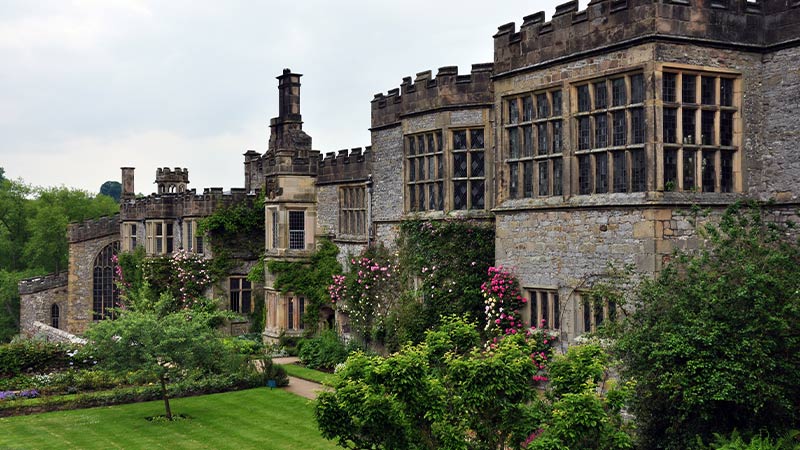 Many of the Peak District's historic buildings have charming cafés and restaurants to warm up in when the weather is cold outside. Hardwick Hall in Chesterfield serves delicious hot soup and has some of the world's best Elizabethan tapestries. Strolling through the halls to admire them is a great cold weather activity. The Flying Childers restaurant, located in 18th century stables at Chatworth House, serves an elegant afternoon tea. At Haddon Hall, the Haddon Restaurant is also located in historic stables and offers wonderful views of the hall and river while you enjoy breakfast or lunch.
4. Walk to the top of Mam Tor
If the weather is good, it's also possible to walk to the top of nearby Mam Tor in winter. Nearby Bamford also has plenty of rolling hills and picturesque moorland for hiking adventures. For something a little different, check out Ladybower Reservoir, one of Britain's largest historic reservoirs. It's a great spot for a winter stroll as the walkway to the reservoir lookout point is paved. If the reservoir is full, you'll get to see what the locals call 'the plughole', a huge 78 foot (24m) wide drain that resembles the plughole in the bathtub back at your hotel.
5. Sample a Bakewell tart or pudding
Located on the River Wye, Bakewell is best known for its sweets. Most people have heard of a Bakewell tart, filled with layers of jam and frangipane, but Bakewell is also home to a matching almond-flavoured dessert which was accidentally invented in the 18th century and continues to be made to a top-secret recipe. Treat yourself one of the town's famous tarts or puddings as you explore the arched bridges, narrow shopping streets and stone cottages which make this town so picturesque. If you've read Jane Austen's Pride and Prejudice, you'll probably recognise Bakewell as 'Lambton' in the famous novel.
6. Go for a winter hike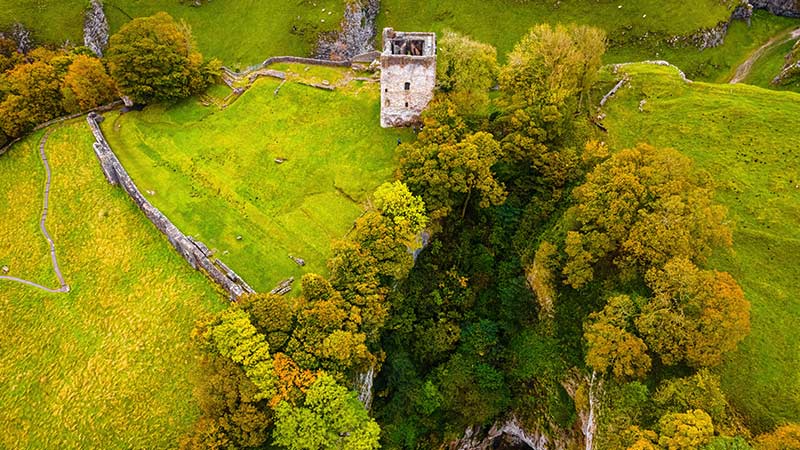 The Peak District is packed with castles and historic houses with excellent walking trails, a great option for a shorter winter walk across generally easy terrain. Check out Longshaw Estate which was once used for shooting by the Duke of Rutland and is now managed by the National Trust, or walk in the footsteps of Henry II at Peveril Castle in Castleton, one of England's earliest Norman fortresses. The formal gardens and parklands at Elvaston Castle Country Park are free to explore and offer plenty of room to go for a stroll. Bolsover Castle is also open during winter and offers spectacular views of the surrounding area.
Feeling inspired?