From palm-fringed lagoons to secluded waterfalls, this lively beach town offers a little something for everyone.
Located on the Whitsunday Coast, Airlie Beach is the gateway to the Great Barrier Reef and gorgeous Whitsunday Islands. It's also an amazing travel destination in its own right, with plenty of activities, bars and restaurants to pass the time.
Here are some of our favourite things to do in Airlie Beach.
1. Go on a sailing adventure
Is there anything better than the sun on your skin and the smell of the sea? The Whitsundays were practically made for sailing. As well as dropping anchor in secluded bays to snorkel, there are plenty of opportunities to step on dry land, Including the stunning Whitehaven Beach. With 98% silica sand and ridiculously blue water, beaches don't get much better than this. No, really, Tripadvisor even named it the world's best beach in 2021.
2. Take a scenic flight over the Whitsundays
If you think the Whitsundays are beautiful at sea level, just wait till you get a bird's eye view. A scenic flight will give you a much greater perspective of just how beautiful this part of the world is. You'll also see the gorgeous Heart Reef which can only be seen from the sky.
3. Beach hop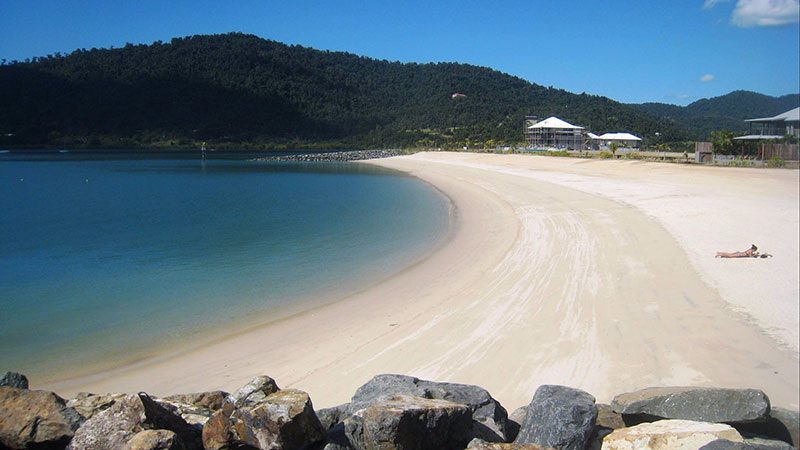 There are countless beaches dotted along the Whitsunday coast. Boathaven and Cannonvale are perfect if you fancy a bite to eat after a day of sunbathing. If you enjoy getting away from it all, head to Dingo Beach, Coral Beach or Hydeaway Bay just outside of Airlie Beach town. They also have amazing coral reefs so don't forget your snorkel and flippers.
4. Discover the Great Barrier Reef
Airlie Beach is one of the main launching pads to explore the Great Barrier Reef. Jump on a snorkelling or diving day tour to explore tropical islands and fascinating marine life. If you're lucky, you might also see sea turtles, manta rays and stingrays elegantly gliding past.
5. Swim in natural pools
Sandwiched in the coastal hinterland between Airlie Beach and Proserpine is Cedar Creek Falls. Set in a natural rock amphitheatre and surrounded by native trees, this lush pool and waterfall is the perfect chilling or picnic spot. If you get bored of lolling around the water (said no one ever), you can walk to the top of the falls where you'll have great views of the pool and surrounding bush.
6. Chill at the lagoon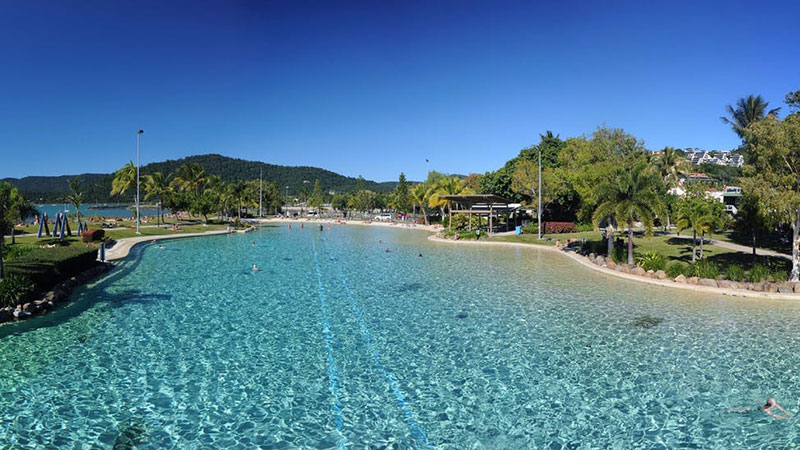 The Airlie Beach Lagoon is a great little spot. This large freshwater pool is located on the shoreline just in front of the main strip. The pool has swimming lanes, shallow sections and a children's pool, as well as picnic benches, barbeques and changing room facilities. The best part? It's free to use. Grab a beach blanket, load up the esky and head down for an afternoon of fun in the sun.
7. Tuck into local produce at Airlie Beach Market
If you're in town at the weekend, the Airlie Beach Market is a must. It's on every Saturday from 7 am to 1.30 pm on the foreshore near the Sailing Club. There are plenty of food trucks and local vendors selling fresh produce to fill up your picnic basket. There's a real buzz down here on a Saturday morning, and it's worth coming down for a coffee and a stroll.
8. Explore nearby national parks
South Molle and Conway National Parks are just a short drive from Airlie Beach. Grab your runners and some sandwiches and set off for a day of exploring lush rainforests, mangroves, hidden lookouts and native wildlife. Keep an eye out for colourful rainbow lorikeets, currawongs and endangered bush stone curlews. 
9. Enjoy a sundowner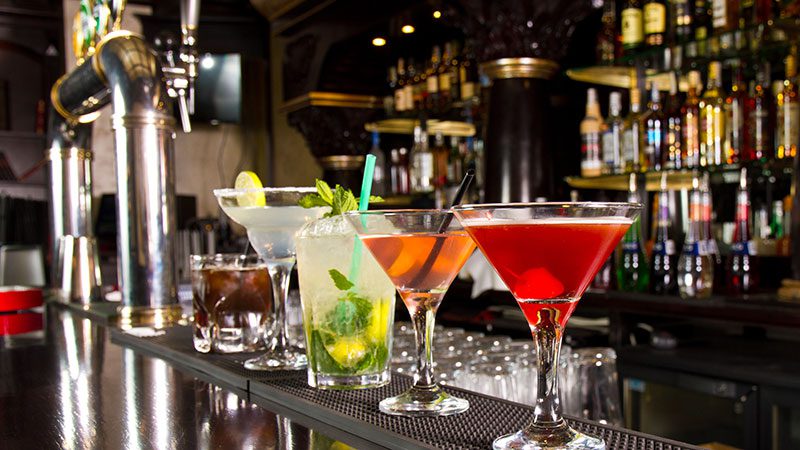 The main strip in Airlie Beach is filled with cafes, restaurants, bars and boutiques. Magnums, Mama Africa, Paddy's and Shed Bar are popular spots to get a bit lively, but there are plenty of bars where you can sip cocktails and watch the sunset over the marina if you prefer a quieter atmosphere.
10. Experience a Welcome to Country with the Ngaro people
The traditional owners of the Whitsundays and the surrounding coastal fringe are the Ngaro People (also known as the "Canoe People"). Meet a local member of the Ngaro family and experience a traditional Welcome to Country ceremony. You'll also learn about Ngaro history and culture which dates back thousands of years. The ancient cave paintings in the Nara Inlet on Hook Island are part of the East Coast's oldest Aboriginal site.
Related reading: Learn more about First Nations experiences in Queensland 
11. Do the Bicentennial Walk
The 5-kilometre Bicentennial Walk takes about 45 minutes to do. It's fully paved and mostly flat. It takes you along a gorgeous stretch of coast from Airlie Beach Lagoon to Cannonvale Beach. There are a few quiet bays where you can retreat if you're craving a bit of solitude, or pop into the vibrant Coral Sea Marina for a bite to eat. There's a great atmosphere here in the evening with people wining, dining and enjoying live music.
Whether you want to switch off and relax or have an adventure-packed holiday, good times await in Airlie Beach.
Check out Intrepid's range of Airlie Beach and East Coast adventures.
Feeling inspired?