There's no better way to celebrate a great holiday than by proposing a toast to the amazing memories made in one of the top bars in Christchurch.
Christchurch may be full of breathtaking natural beauty but spending time in the great outdoors isn't the only way this city can take your breath away. Christchurch has a bustling and pulsating nightlife scene full of hidden and quirky cocktail bars and restaurants that are guaranteed to serve a mean negroni or cosmopolitan.
From hidden alleyways and neon signs to rooftop bars with the best views of inner-city Christchurch, visiting these watering holes are bound to put the olive in your martini and leave you feeling like you've captured this vibrant city's after-dark essence. Raise a glass and read on for a full list of the top bars in Christchurch.
If you want somewhere truly cool and mysterious to drink the night away in, then head on over to The Dirty Land. Priding themselves on their selection of sophisticated cocktails, this broody bar has quickly become the go-to spot for both tourists and local Christchurch-ians alike. But cocktails aren't their only specialty.
With mood lighting, exposed brick, and a pressed tin ceiling, it's easy to while away the hours perusing an extensive wine list and sipping on your favourite imported beers.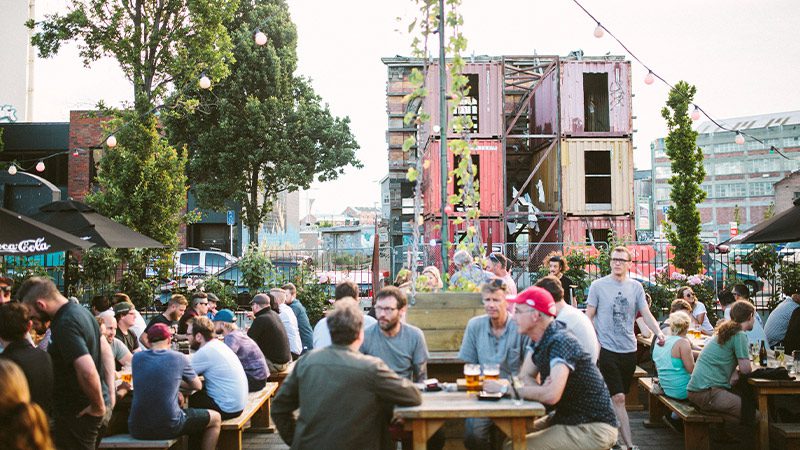 Now we know Smash Palace sounds more like a hard rock band name than it does a trendy bar but trust us when we say it's one of the places to be when the sun goes down. Rebuilt after the 2011 earthquake, Smash Palace offers revelers the perfect burger + bar combo, offering freshly made burgers and a large selection of beers and spirits.
Welcoming both tourists and members of the community, this family-run bar is considered a focal point of the 'new' Christchurch and won't disappoint if you're after a rowdy but warm atmosphere.
3. Gin Gin, Regent Street
Cocktails, food, live music, and good vibes make up Gin Gin; a bar that's so visually pleasing it should be on every décor magazine cover for years to come. Mixing a colour palette of emerald greens, baby pinks, deep burgundies, and dull mustards with velvet textures, hanging plants, and circular features have given this trendy bar an old glamour feel.
A complete gin lover's dream, this bar serves up fun cocktails such as the 'tropic n' tonic' and the 'cheeky beak' in goblets and chalices for a truly magical experience.
If you're looking for one of the top bars in Christchurch then forget all about rooftops and head down to the basement. This super-exclusive local drinking spot can only be accessed via password (check out their website for details) and is home to the best cocktails goin' round.
With all the traditional cocktails you could ever want and some crafty ones you never knew you needed to try, this bar features insta-worthy décor, equipped with 19th-century pieces and a neon sign or two.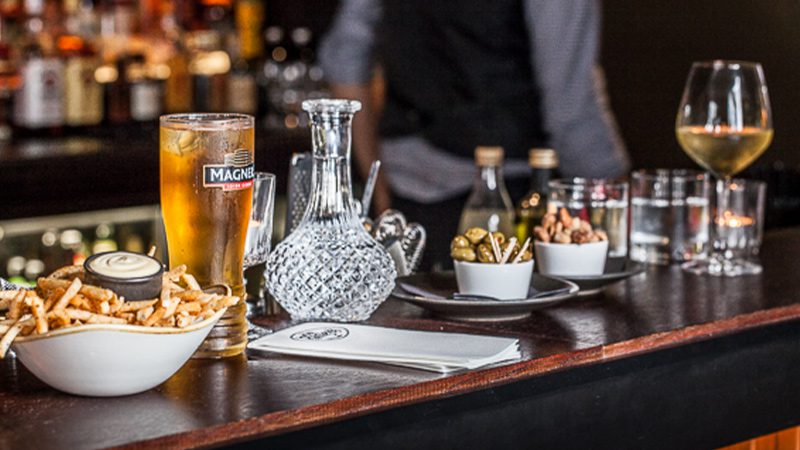 Styled with some Southern-USA charm but with a distinct injection of South Island flair, Boo Radley's an extensive liquor menu from traditional cocktails and a mix of domestic and international craft beer to New Zealand's largest selection of bourbon whiskey.
Located on Victoria Street and up a hidden staircase, this bar's décor features walls adorned with American newspapers, exposed brick, and dimly lit candles for a vibe that's both old-school and trendy.
6. The Pink Lady, corner of Manchester and High Street
When you think of the best rooftop bars in Christchurch you should automatically think of The Pink Lady. A place where unwinding and indulging come into play, The Pink Lady offers a full 360-degree view of Christchurch and is favoured by both tourists and locals alike.
While it is on the smaller side, trust us when we say there's no better way to take in an impressive Christchurch sunset than relaxing with a 'Peach better have my money" cocktail on this insta-worthy rooftop.
7. O.G.B, Cathedral Square
O.G.B was crowned Christchurch's best bar for 4 years in a row and once you step into the speakeasy-style bar and take in its grungy décor, it's not very hard to see why. Housed in the beautiful heritage-listed building in Cathedral Square, O.G.B's boasts a menu of 40 different cocktails from the classic margarita to the more daring 'cabaret club', a tasty concoction of vodka, vanilla, passionfruit, pineapple, and prosecco.
With a charming courtyard to the side and a secret new bar lounge called 'Parlour' behind a bookcase, it's easy to spend a couple of hours soaking up the sophisticated atmosphere that this bar is known for.
8. Rascal, High Street
Turn your night up a notch at Rascal where good times are not only encouraged but insisted upon. With a cocktail menu that's been designed to minimize waste, Rascal forages and grows their own ingredients to pop into their food and drinks from tasty herbs to beautiful flowers.
As if that wasn't impressive enough, this cheeky bar has a relaxed atmosphere that facilitates great conversation and even encourages you to pull up a chair at the bar to hear more about how this drinking spot came to be and what they're about.
Feeling inspired?