This year, we're encouraging travellers to find fresh experiences in lesser-known destinations. Check out our Travel Goals for 2023 for more inspiration. 
Intrepid is working with USAID Developing Sustainable Tourism in Bosnia and Herzegovina Project (USAID Turizam) and the Global Travel and Tourism Resilience Council to drive sustainable tourism in the region. We sent photographer and travel writer Annapurna Mellor to test-drive our new 8-day expedition. 
Mersiha twists and turns the burek dough as we all watch in wonder. She weaves the feta and spinach through the pie with ease; it's a skill she mastered as a child during the Bosnian war, spending her days inside, away from the shelling, cooking with her mum. Outside the window, the balcony opens up to sweeping views of Sarajevo, twinkling in the darkness.
It's our first night in Bosnia and Herzegovina, on the first departure of Intrepid's new expedition to this intriguing corner of Europe. We're opening the trip with an experience that encapsulates why I love to travel with Intrepid: being welcomed into a local's home, sharing burek and dolma (stuffed vegetables) washed down with slivovitz, a local plum brandy, and exchanging stories with my hosts and fellow travellers from across the world.
Bosnia and Herzegovina beyond the headlines
Despite being only a few hours away from the UK, and close to popular travel destinations like Croatia, Bosnia and Herzegovina receives relatively few visitors. I knew little about it before my trip and I'm not alone. Many of the conversations I had pre-departure with family and friends were intercepted with questions like 'is it safe?' and 'wasn't there a war there?'.
From day one, our local leader Muhamed stresses that while yes, there was a war here from 1992 to 1995 (and indeed he has the physical scars and heartbreaking stories to prove it), Bosnia and Herzegovina deserves to be known for so much more.
Muhamed is a proud Sarajevo local. So proud in fact, that a tattoo of the city's skyline adorns his shin. He's been leading Intrepid tours across the Balkan region for years, but this is the first time Bosnia has been given the spotlight – with its own dedicated trip, taking travellers beyond the main sights – and he's thrilled to be showing us his homeland, starting with his home city.
Sarajevo showcases the incredible cultural diversity of this country. The Baščaršija – or old bazaar of Sarajevo – dates back to the 15th century, and the minarets of mosques sit alongside ottoman rooftops and the grand facade of the Austro-Hungarian city hall. On street corners locals eat traditional baklava next to hip coffee spots, and churches, mosques and bars share the same squares.
A cable car takes us high above the city, to the mountains which frame the capital. From up here, we see the vastness of the valley, and Muhamed leads us through the forest until we find the abandoned bob-sleigh track from the 1984 winter Olympics. Bombed during the siege, it has since become an open-air gallery for local graffiti artists.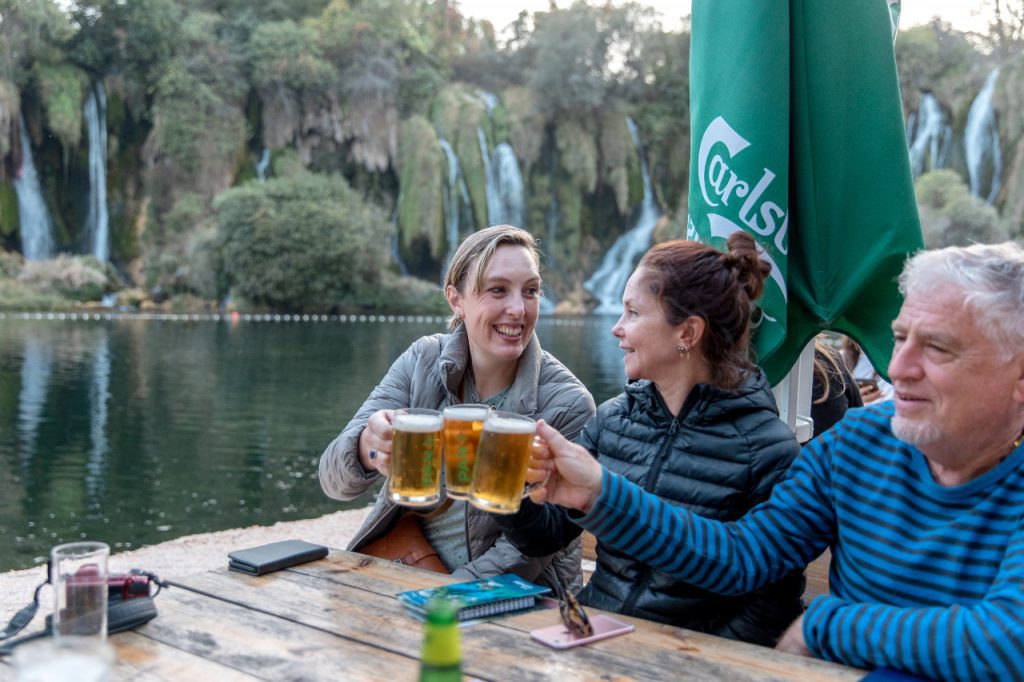 Into the wild
The surprises keep coming as we drive out of the city, through autumn-red forests, into Bosnia's natural beauty. We spend a windswept afternoon in the foothills of Cincar Mountain, where over 400 wild horses roam the landscape, and clink blueberry beers over local cheeses in a mountain hut. In Jajce, a small town surrounded by lakes, rivers and mountains, we get our first taste of the pristine beauty of Bosnia's waterways as we eat lunch by a series of turquoise waterfalls.
It's dusk when we arrive in Mostar, a city of winding cobbled streets most famed for its striking Ottoman bridge. The landscape here is drier to match the Mediterranean climate; fresh pomegranates hang from the trees and a sense of calm permeates. It's so inviting we could easily linger for days.
But to come to Herzegovina and only see Mostar would be a great shame. Tthe whole region is beautiful and – like much of Bosnia and Herzegovina – feels criminally underrated. Exploring with local guides and travelling in a small minibus means we are able to get off the beaten track and understand the intricacies of this region in a deeper way than I could have done as an independent traveller.
A highlight is our visit to Blagaj Tekija, a Sufi dervish monastery that sits beneath a cliff by the side of the emerald-green Buna river. In the early morning, we enjoy the peaceful silence of this place, before listening to the memories of our guide Ruba, who grew up in this village and spent her childhood visiting the monastery with her father, a practising Sufi.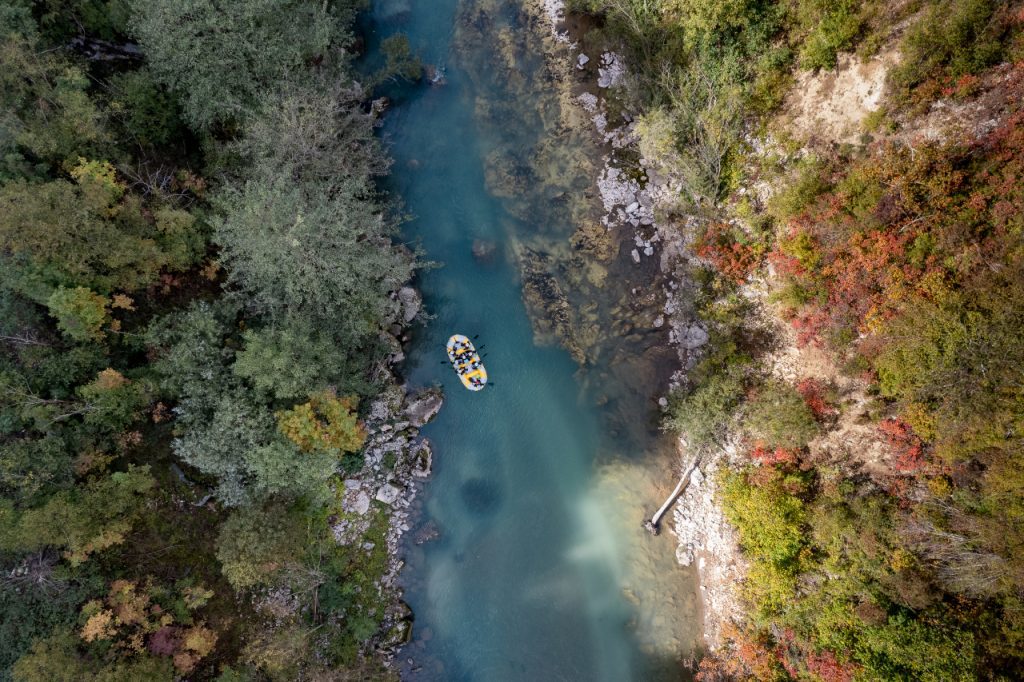 Ending on a high
Our final stop before returning to Sarajevo is Konjic. And as soon as we reach the Prenj mountains I can tell this is going to be special. Konjic is the adventure capital of Bosnia and Herzegovina. Here you can hike, climb, raft, or simply relax by its glittering lakes. Our group heads high into the mountains for an exhilarating rafting trip down the Neretva River. Bosnia and Herzegovina's nature has consistently blown me away, but the landscapes here are my favourite. High, rocky mountains rise up from layers of green and golden forest and the Neretva is a clean, crystal blue.
On our final night in Sarajevo, Muhamed recommends walking up to the Yellow Fortress. From here, it's impossible not to notice the cemetery of white graves, almost all dating from the war. Throughout the trip, war history has been tangible. 40-year old Muhamed lived his formative years under siege, and every local we met had a different experience to share.
But this trip has shown me how much Bosnia and Herzegovina has to offer beyond the history of conflict. This is a country of incredible, untouched nature, diverse religions and cultures, delicious food, and warm people who are proud to welcome you to their home. I feel lucky to have been able to experience this special country at a time when tourism is just developing.
As the sunset casts a red glow across Sarajevo's medley of minarets and mountains, the evening call to prayer begins. It echoes from all corners of the valley. After a week of unforgettable experiences, this moment might just be the one that stays with me the longest.
Annapurna travelled as a guest of Intrepid on a press preview of our Bosnia and Herzegovina Expedition, launching May 2023. Follow her on Instagram @annapurnauna.
Feeling inspired?