As someone who's openly queer, travelling to a conservative country like Jordan was a big decision for Intrepid traveller and lawyer Lauren Peterson. Here's what she learned on Intrepid's Jordan Women's Expedition. (First lesson: we all have a lot more in common than we might think).
We were sitting around the table after dinner in this woman's house in a remote part of Jordan, and the discussion turned to jobs.
Our group was an interesting mix of women. We had a lawyer (me), an engineer, a diplomat from Australia, a woman from London who won her spot in a competition, and two OBGYNs (obstetrician-gynecologists) – old friends from medical school in America who take a trip together about once a year.
When the OBGYNs explained what they do for work, our host got very excited and started talking urgently to her sister-in-law. We asked our guide what was going on. She explained that in Jordan, most of the medical professionals, including OBGYNs, are men, and most of the good ones are in Amman, far away from our host's home. It's often difficult and uncomfortable for these women to get medical advice, especially for women's issues.
It turned out our host was going through menopause. So a consultation sprang up over the pita and hummus, with our OBGYNs recommending some treatment options. I don't know if they were able to get treatment – birth control in Jordan is kind of controversial, even for medical purposes – but it was an amazing experience. We'd only met our host family an hour ago, and here the matriarch was telling us her intimate health issues. It was basically like, "Oh, thank god, there are women doctors here."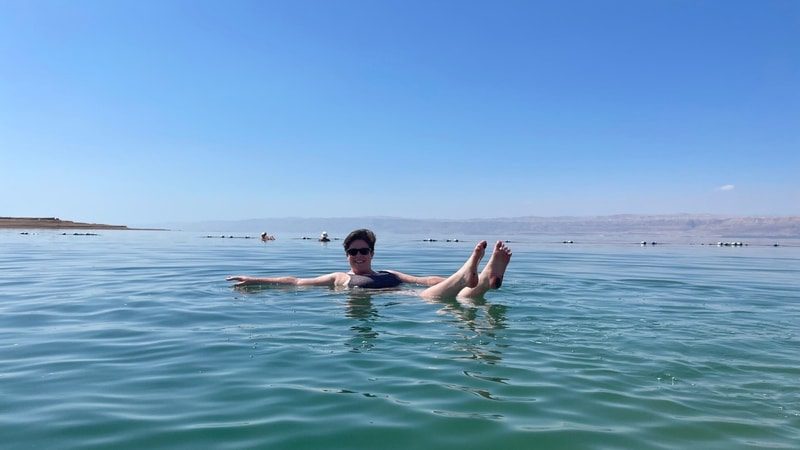 I joined Intrepid's Women's Expedition through Jordan as part of my 'Bar Trip' in 2021. Like most law graduates in the United States, I finished my degree in May, studied my ass off for two months, took the Bar in July, then booked a trip and got the hell out of dodge. In fact, this time, I booked two Intrepid trips. A two-week tour in Egypt, then a quick flight over to Jordan.
As you might have guessed, I'm kind of addicted to getting my passport stamped. Growing up, my family and I lived in Zurich for a couple of years, which was incredible. I've been obsessed with Egypt since the sixth grade, ever since I got my hands on an Egyptology book with pop-up pyramids.
I didn't know much about Jordan, but I've been to Israel and Palestine on previous trips, and I remember people would point across the Dead Sea and say, "Oh, that's Jordan over there." But what could have been a 10-minute drive from our resort in Israel to the Jordanian border turned into a two-year delay, as I waited for the world to exit lockdown.
It wouldn't surprise me if Jordanians just looked at me and thought, "Oh, a woman with short hair. She must be American."

Lauren Peterson
Jordan is quite a conservative country, and as someone who's out and openly queer, any place where you're considered kind of a second-class citizen can be tough. Not that being gay is illegal in Jordan. There's actually a thriving queer scene in Amman – when we visited a Jordanian matchmaker on the tour, she laughed and said, "Pfft, everyone in Amman is gay".
But it's still hard for people to express and act on their sexuality in public. There's still that conservative influence coming from parents, who expect traditional heterosexual marriages for their children, regardless of their sexuality. It wouldn't surprise me if Jordanians just looked at me and thought, "Oh, a woman with short hair. She must be American."
Since this was a Women's Expedition, our tour guide was also a woman (I was lucky that both my Intrepid leaders, in Egypt and Jordan, were women). It's such an intimate way to travel, being in a small group like that. Our guide would go into her personal life, her divorce, her different matches on dating apps, the trouble with toxic relationships, which exist in Jordan just like everywhere else.
It's one of the reasons I'd recommend doing Egypt and Jordan in a group, rather than solo, especially for female travellers. Only because, when you get a good guide, they're so knowledgeable about their country, and so excited to tell you all about it. You end up getting much more out of the trip.
For example, we'd have meals with local women, and because we were all women, they'd feel comfortable taking off their headscarves, which obviously is such an honour. We even got to visit this textile factory that's completely female-owned and run. These women are the breadwinners in their households. They literally have a pillowcase contract with IKEA! (I wanted to buy one at the factory, but they weren't for sale; I think it must be an exclusive contract and the women were like, "Yeah, we're not messing that up.")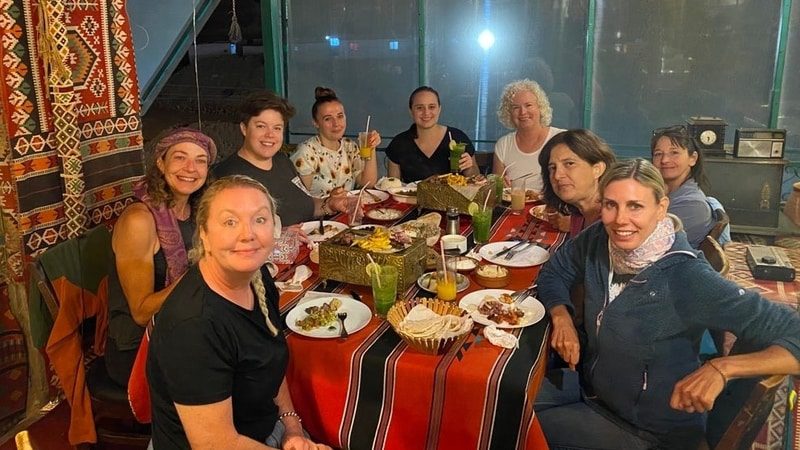 I'd always been someone who saw 'Made Well' labels on commercial products and kind of scoffed. I didn't know (and, frankly, was incredibly skeptical about) how much buying these products actually helped. But seeing these women at the factory where these goods are made, seeing it from the other side, seeing them earn a living wage, get flexible working conditions and run a successful business, it suddenly made sense.
When you travel, you go around the world, and the thing that sticks out isn't the differences, it's how similar everyone is: how similar our problems are, our hopes and dreams, our anxieties and worries. They're all the same. At the end of the day, it was nice to solidify female solidarity and understand that even small experiences can have a big impact. Take our two OBGYNs. When they graduated medical school, their class was more men than women; now it's decisively the other way around. And here they were, way out in the Jordanian desert, making a positive impact on a woman's life. That's the real power of travel.
Want to explore Jordan for yourself? Check out our Jordan Women's Expedition.
Feeling inspired?