For a small country, New Zealand has really made a name for itself on the world stage.
We all know about the mighty All Blacks, Peter Jackson and excellent Sauvignon Blanc. But if there's one thing that keeps New Zealand on the tip of people's tongues and the top of their must-visit lists, it's the country's natural wonders. There's simply nowhere else on the planet that offers the diversity of landscapes, remarkable geological features or number of scenes to stop you in your tracks. From the tip to the toe of the land of the long white cloud, these are the places that will leave you in awe.

Milford Sound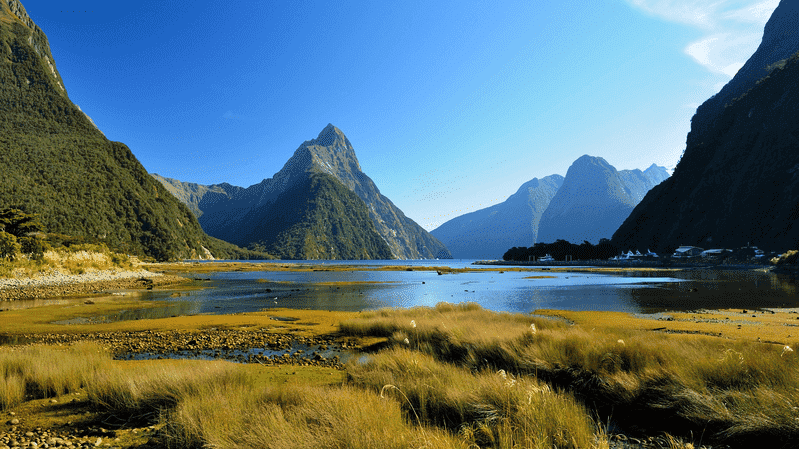 In a land overflowing with jaw-dropping, awe-inspiring, soul-stirring natural beauty, Milford Sound still manages to surprise you. Buried away in Fiordland National Park, the sound amazes visitors with its moody waters, sharp peaks and forest-covered cliffs. We can thank the glaciers that carved out this landscape during the ice age, leaving us with what's widely considered to be New Zealand's most spectacular natural attraction. And the best bit? You can spend the evening cruising on Milford Sound, falling asleep to the sound of waterfalls.

Pancake rocks
What does it take to create the perfect stack of pancakes? Eggs, flour, milk and butter? How about pieces of plant and marine life, seismic activity, erosion and 35 million years? Travel to the West Coast of the South Island and you'll find Punakaiki, home to 100 people and the mesmerising Pancake Rocks. These weathered limestone formations resemble layers of thin pancakes, and put on quite a show for those who visit during high tide. When the wind hits just right, the sea below is forced into caverns before erupting through vertical blowholes – what else stacks up to that?!

Waiheke Island
Auckland's big city energy is offset by the relaxed atmosphere of nearby Waiheke Island. Just a short ferry ride away from the mainland lies a tranquil paradise of sandy beaches and world-class wineries – what a combo! Little white sailboats bob on sapphire blue waters as Auckland's skyscrapers enviously look on, while olive groves and vineyards colour the island a pleasing shade of green. Whether you fancy hiking to scope out the best photo ops or stretching out on the beach with a good book, this little slice of heaven will make it hard to believe you were in New Zealand's busiest city an hour ago!

Waitomo Glow Worm Caves
Look beneath the surface and discover an underground world lit up by a dazzling canopy of bioluminescent creatures. The Waitomo Caves are an otherworldly labyrinth of stalactites, stalagmites, waterfalls and limestone formations, but the real stars of the show are the thousands of glow worms illuminating the caverns. And forget about singing in the shower – the acoustics in the caves are so good that concerts are often given here, so perhaps take the chance to live out your opera singer fantasy to an audience of glow worms.

Rotorua
Rotorua is a literal hotbed for geothermal activity. Erupting geysers, simmering mud pools and geological oddities punctuate the landscape, and if you had any doubt you were in Rotorua, the town's distinctive sulphur smell will quickly remind you. If you want to experience Rotorua's geothermal wonders at their very best, Te Puia is the place for you. Here you'll find Pohutu, the largest active geyser in the Southern Hemisphere. Exploding around 20 times a day, you won't have to wait around for long to watch this epic show – prepare to be blown away!

Lake Wanaka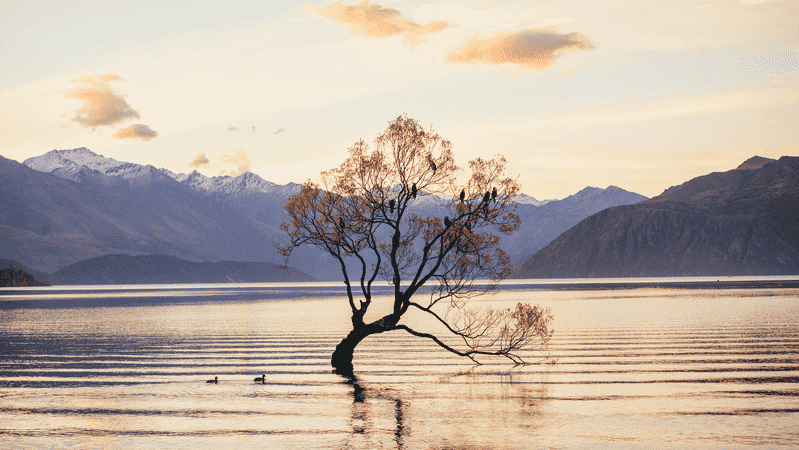 Lake Wanaka has long wowed visitors with its calm waters and dramatic peaks, but it's got something special that makes it stand out from the rest. An Instagram-famous willow tree sits at the southern end of the lake, emerging from its reflective waters. That Wanaka Tree, as it's known, has become one of the world's most photographed trees, and rightfully so! The image of the sloping willow against a backdrop of the lake and its surrounding mountains is one worth capturing.

Tongariro National Park
Volcanoes? Yep. Lakes? Got 'em. Native forest? Check. The wonderland of Tongariro National Park has all the natural features that make New Zealand so special rolled into one. A day here will reward you with enough breathtaking sights to last a lifetime, from snow-dusted peaks to ethereal green pools. This World Heritage Site is spiritually significant to the Maori people, with its three mountains, Tongariro, Ngauruhoe and Ruapehu, symbolising the important spiritual connection between the community and environment.

Lake Taupo
Big, blue and absolutely beautiful – Lake Taupo is certainly a treat for the eyes. Not only is the lake nice to look at, it also offers all manner of exciting activities. Swimming, kayaking, standup paddleboarding and water skiing are all popular ways to enjoy the water, while sailing and cruise excursions give you a chance to sit back and take in the magnificent scenery. The cliffs around the lake feature an impressive 14-metre-tall carving by Maori artist Matahi Brightwell – a must-see while in the area.

Franz Josef Glacier
A stunning stretch of caves, tunnels, seracs and crevasses descending from the Southern Alps, the Franz Josef Glacier is undoubtedly one of New Zealand's most impressive sights. A walk will take you within viewing distance of this icy beauty, but if you want to actually come into contact with the glacier, you have to catch a helicopter in. Exploring the ever-changing landscapes of the glacier while surrounded by spectacular mountain scenery is an experience you won't soon forget.

Blue Pools
It's something we hear all the time – "the bluest water you'll ever see!". But when it comes to New Zealand's Blue Pools, this really might be the bluest water you'll ever see – promise! Tucked away deep within Mt Aspiring National Park, the pools are an offshoot of the Makarora River and are wreathed by shady forests of beech and podocarp. Cross one of two bridges strung over the pools and you'll see just how clear the glacial water is. Take a short but rewarding walk through the area to admire the pools from every angle – you're going to want to have your camera ready for this one.
Feeling inspired?