Mount Kinabalu is special. The whole upper part of the climb, from Laban Rata onwards, climbers are walking over mostly barren granite rock that has been shaped over thousands of years by wind, water and glaciers to create sweeping panoramas framed by craggy spires and an impossibly blue sky (on a good day). But it's not just a marvel for landscape junkies, you can't climb Kinabalu without feeling there is something magical about the mountain – its jagged pinnacles dominating the surrounding landscape.
The legend of Kinabalu
Like all good mountains, there is a legend attached. Local Dusun and Kadazaan tribes believe that spirits dwell on the summit, feeding on the moss. The mountain was named 'Aki Nabalu', later was shortened to Kinabalu: Aki Nabalu means ' revered place of the dead', and it certainly feels unforgiving when you are walking up the summit trail, heart pounding in the dark, with a string of headlamps like a ghostly procession following behind you.
Six months on from 2015's devastating earthquake, the operator of the via ferrata (Mountain Torq) had completely rebuilt the trail. Myself and other local tourism operators were invited to try out the new route.
Via ferrata means 'Iron Road' in Italian. It originated in the Alps where it meant a steel cable secured to the rock face with steel bolts; climbers could attach themselves to it with carabiners to prevent a fall. They date back to the First World War, where they were used in the Italian Dolomites to transport troops. Kinabalua's via ferrata is the highest via ferrata in the world at 3776M, and the only via ferrata in South East Asia.
The journey begins
We set out at 8am from Kinabalu Park after meeting our mountain guide, Edwin. We caught a Koftas minibus up the steep and winding road, up to Timpohon gate, which marks the entrance to the trail. It was from this point that the guides launched their search and rescue mission in the aftermath of the 2015 earthquake. A group of 90 or so worked quickly to get to trapped climbers and to fit ropes to help them down as much of the trail had been rendered impassable due to fallen boulders and debris.
The trail dips and then rises steadily, surrounded by Montane vegetation. Kinabalu Park is a Unesco world heritage site due to its incredible variety of species of plants and animals. It's one of the most important biological sites on earth. Climbers pass through several distinct habitats, so it's good to keep your eyes open for anything from giant leeches to carnivorous pitcher plants. The trail itself is marked in kilometers and there are plenty toilets and shelters for climbers to take a rest stop. Whilst it's good to take your time to appreciate the beautiful surroundings, one of the requirements of the via ferrata is to arrive at the Pendant Hut by 3pm for a compulsory safety briefing. We passed through sections of the path that have been rebuilt since the earthquake, and occasionally ahead the vegetation opens up to reveal the granite spikes that mark the summit trail.
The Pendant Hut
As you ascend you can see the distinct mountain huts of Laban Rata and the Pendant Hut. As we arrived at the Mountain Torqs sleeping hut we were warmly welcomed by the mountain torq team and instructed to leave our walking shoes in the porch area and slip into a pair of house crocs. The Pendant Hut is smaller than Laban Rata and has three dorm rooms with bunk beds, sleeping bags, pillows and sleep sheets provided. The toilets and cold water showers are down a set of steps. Outside the hut is the highest post box in Malaysia (3289M), where you can send a post card home.
We joined the other climbers in the dining cum lounge area with a window looking out onto a sea of fluffy clouds below. There were sachets of 3-in-1 coffee for climbers to help themselves– it's always baffled me how a country so close to Indonesia, one of the world's best coffee growing regions, can make such a bad brew. That said it was warm and sweet and hit the spot after our trek.
A Kinabalu sunrise
The next morning we woke at 2am and have a mug of coffee and some toast before heading out with our mountain guide into the darkness. It was cold on the trail, and everyone was covered up in wooly hats, jackets and gloves. There wasn't much chatter between climbers – at that altitude there's less oxygen and breathing is harder. Most people will just concentrate on putting one foot in front of the other. Gradually climbers began to spread out along the trail. We arrived just before sunrise, at 6am, and got the obligatory photo by the Low peak summit sign. The peak is called Low's peak because it was first ascended by Hugh Low, a British Colonial administrator and naturalist in 1895.
The sunrise was a fiery crimson blaze overlaid with grey and white clouds. As the it gets lighter I started to appreciate the magnificence of the moonscape we passed through in the dark, rocks that have been carved out over millennia. This is known as the alpine meadow section: because of the cold temperatures and altitude, only shrubs and mosses can grow here.
The via ferrata
We retraced our steps down the Sayat Sayat and met Harijis, our via ferrata Instructor. We waited inside the via ferrata hut for other climbers to join us on the way down. Only six people at a time are allowed on the via ferrata, accompanied by a qualified via ferrata instructor.
We left the path and walked off towards the cliff face where there was a sign marking the start of the via ferrata. There are two different via ferrata routes on the mountain; we were doing the 'walk the torq'. This is the easier of the two routes, designed for beginners. Further up the cliff we could see some of the other climbers, tiny ants clinging to the rock face. They were doing the Low's Peak circuit, a more challenging climb that takes about three times as long.
As an additional safety measure, we were roped together. As you go through the via ferrata you have to loop this rope through a metal device called a 'pig's tail'. This meant we were attached to the rock with two carabiners, as well as the rope which. It makes falling almost impossible.
The first part of the via ferrata was a gentle descent, a time for us to get accustomed to using the equipment. Every few meters there was a bolt that had been attached to the rock, which the static wire runs through. At each bolt we had to unclip our carabiners (one at a time) before reclipping them on the wire. We started off slow but soon fell into a routine as we descended. Below us we could see Laban Rata and the Pendant Hut, and further away in the distance the town of Ranau and a carpet of white fluffy clouds. Above was a sheer cliff and a deep blue sky.
The hardest and most adrenaline pumping moment was the hanging ladder. This was a basically a rope ladder attached to a vertical cliff that we needed to descend. At the top you have to commit yourself by rotating 180 degrees, and it's a nerve racking but exiting descent. At the end of the hanging ladder we waited in the shade of a tree for the rest of our six-person team to descend. Next there was a rope bridge over a gully – a single steel cable for our feet and a single cable, which our carabiners were attached to.
There are plenty of opportunities to take in your surroundings on the via ferrata, as you're only as fast as your slowest person. The views are inspiring. Attached to the side of a cliff above the clouds you get to see a side of mount Kinabalu very few others get to experience. After the rope bridge we started ascending back to our start point in a loop. It's not a vertical climb but does involve some scrambling.
The way home
We made it back to the starting point hungry, thirsty, tired, sunburnt…but very happy. The whole circuit took about 3 hours. We unclipped our ropes and, still wearing our helmets and harnesses, marched back down towards the Pendant hut for our second breakfast. We were welcomed back like conquering heroes by the staff and there was a selection of toast, sausages, eggs, beans and coffee which we wolfed down like rabid animals. We packed up our bags and said goodbye to the team. Although we'd only known them a day, it felt like saying goodbye to old friends.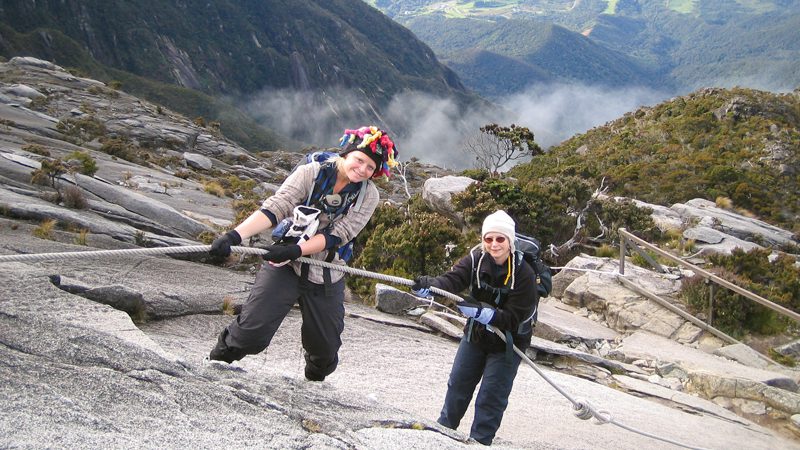 We met up with Edwin who had been patiently waiting for us to return, and started the long and arduous descent. After a few hours my legs felt like wooden blocks and my gait had changed to a kind of trundle. This is a phenomena known locally as the 'Kinabalu shuffle', and the guides can tell who has climbed, even several days later, by their waddling stride.
The last part of the descent was a climb up some steps to the Timpohon Gate, and at this point I was cursing the sadist that decided that a climb up some steps is a good way to end your mount Kinabalu experience. We were exhausted, dirty, smelly and sunburnt but utterly euphoric.
There is a viewing platform above Timophon Gate were several local families were enjoying the cool air, and as we approached they broke out into a round of applause.
Top tips for climbing Kinabalu and the via ferrata
Porters: Save yourself unnecessary pain. Hire a porter. They're inexpensive and you'll be stimulating the local economy.
Ear plugs: All accommodation in Kinabalu is on a dorm share basis, and if you're a light sleeper, earplugs can be a godsend.
Gloves: The rope section of the via ferrata can be tough on your hands, so pack a pair of strong waterproof gloves.
Protect your knees: If you have weak knees, get a good knee brace before you travel. You can also hire a walking stick from your guide, which is really useful on the way down.
It rains a lot. Make sure you have a rain jacket and bring some waterproof bags to wrap your gear.
Take trail snacks: Keep your energy up with high-energy snacks like nuts, biscuits, chocolate or dried fruit.
Pack layers: It's cold on the summit of Kinabalu, so bring a wooly hat and several thin layers that trap air and can be removed as you warm up.
Wear shorts on the first day: The altitude is still fairly low, and the lowland forests are muggy and humid. You will sweat a lot.
Ready for the via ferrata challenge? Intrepid runs expertly guided ascents of Kinabalu on our Borneo – Hike, Bike and Kayak adventure.
Words by Chris Hardy, Intrepid Travel's Operations Manager for Malaysia and Indonesia. 
Feeling inspired?