Think 'Indonesian holiday', and most minds will skip straight to Bali – to the surf breaks of Uluwatu and the superclubs of Kuta, the beach resorts of Seminyak and the breakfast bowls of Canggu. But that's just one island – one of thousands. Yep, Indonesia is a diverse archipelago of over 17,000 islands, and to limit yourself to Bali is to miss out on the rich culture and stunning scenery – both above and below the waterline – of its many other treasures. True adventure is waiting for you off the beaten bath in Indonesia. You've just got to know where to find it.
Discover 4 must-have experiences in Indonesia
Sail and snorkel in the Gili Islands
For snorkelling and diving, the Gili Islands (26 of them, to be exact), are where it's at. Packed with bars and restaurants, Gili Trawanga is the most happening, though people still get around by horse-drawn carriage (cars are banned). Gili Meno and Gili Air are even more relaxed, and then you've Gili Sudak and Tangkong, which take 'laidback' to a whole new level. White beaches and coral reefs teeming with fish and turtles – green, loggerhead and hawksbill – abound. So what's the best way to see it all? Aboard your own private yacht, of course!
Get some wind in your sails on our Gili Islands Sailing Adventure >
Explore local villages on Lombok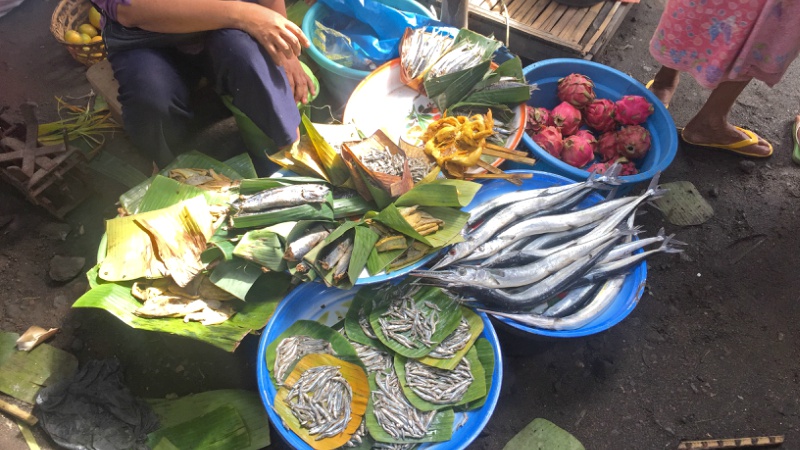 While Bali hogs the limelight, the scenery and culture of nearby Lombok is just as incredible (bonus – fewer tourists). The lush area surrounding Tetebatu is peppered with waterfalls, artisan workshops and traditional Sasak villages. For a taste of real local life, take a guided walk through rice fields and clove plantations, observe how farmers still tend their land with water buffalo ploughs, and visit a local warung (family-owned shop) for a cup of local joe. Oh, and looming above you the whole time? The active volcano of Mt Rinjani.
Wander through rural villages with a local leader on our Discover Lombok trip >
Come face-to-face with dragons on Komodo Island
It may not breathe fire, but the Komodo dragon – found only on the islands of Komodo, Flores, Rinca, Gili Motang and Padar – can eat 80% of its body weight in a single feeding. Yep, these beasts live up to their name. The best way to see the world's largest lizard is to catch a ferry from the harbour town of Labuan Bajo on Flores over to Komodo National Park, and explore the island with a local guide. Bring your camera.
Explore the islands of Komodo and Flores on a dedicated small group adventure. 
Visit the world's largest Buddhist temple on Java
Set into the mountains of Central Java, Candi Borobudur is one of the most spectacular Buddhist sites on Earth, and one of South East Asia's must-sees. Built in the 8th and 9th centuries, the World Heritage-listed temple complex has survived through centuries of war and natural disasters. Led by a local guide, circle the mandala-shaped structure towards Nirvana, following in the footsteps of ancient pilgrims.
See Borobudur for yourself on our Jakarta to Ubud tour through Java.
Get active in the Balinese countryside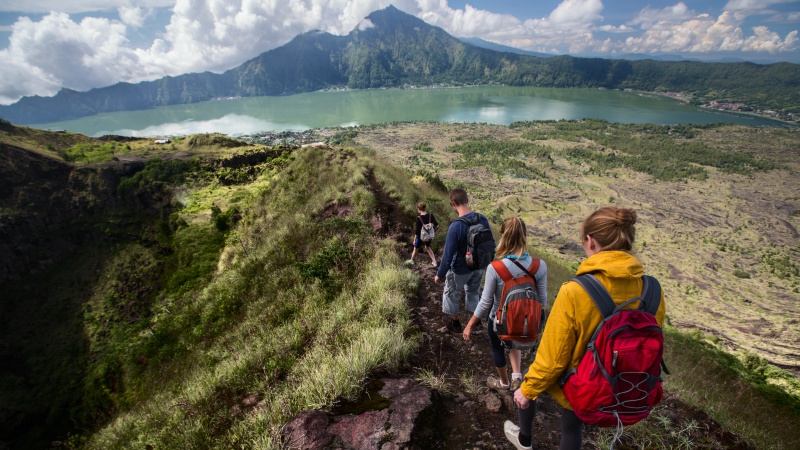 Of course, there's so much more to Bali than Bintangs and sunburn, especially if you're the active, adventurous type. Away from the crowded resort towns you'll find lakes, hot springs, remote beaches and mountain ranges peppered with tiny villages. You can climb volcanic Mt Batur at sunrise, white water raft in peaceful Ubud, snorkel over a US army shipwreck in Amed, and cycle through the lush Balinese countryside with a small group of other travellers. Life's hard when you're on holiday.
Get your blood pumping on an active adventure in Bali > 
Want to experience a different side of Indonesia? Check out our diverse range of trips here.

Feeling inspired?