Perth sits on the ancient country of the Whadjuk Noongar people, who have been the Traditional Owners of this pocket of Western Australia for over 45,000 years. It's also home to some amazing First Nations experiences for travellers, from Aboriginal Astronomy to bush tucker tasting sessions.
Boorloo (Perth) is one of the most isolated major cities in the world, sitting on the far south-western edge of the continent. For over 45,000 years, the Whadjuk Noongar people have called it home. A lot of travellers are drawn to Perth for its beaches, particularly Cottesloe, its gardens, and its proximity to regional WA hotspots like Margaret River and The Pinnacles (proximity really matters when your state covers more than 2.6 million square kilometres).
But more and more visitors are discovering Perth's unique First Nations experiences, too. There are some great Indigenous-owned and -guided businesses offering incredible day-trips and walking tours in Perth. In partnership with not-for-profit marketplace, Welcome to Country, we've rounded up some of our favourites.
Learn Aboriginal Astronomy at the Gravity Discovery Centre
Australia's Indigenous people are often credited with being the world's first astronomers, and thanks to Gravity Discovery Centre, just north of Perth, you can get a look at the night sky like you've never seen it before. Indigenous Elder, Dr. Noel Nannup, will teach you how First Nations people mapped the cosmos, and how stars were used to navigate, predict weather, and influence Song Lines, art and culture. Enjoy a guided laser tour beneath a clear night sky, and take a peek through the famous 25" Brodie Telescope. It's a truly humbling experience. More information.
Taste traditional bush tucker at Mandoon Estate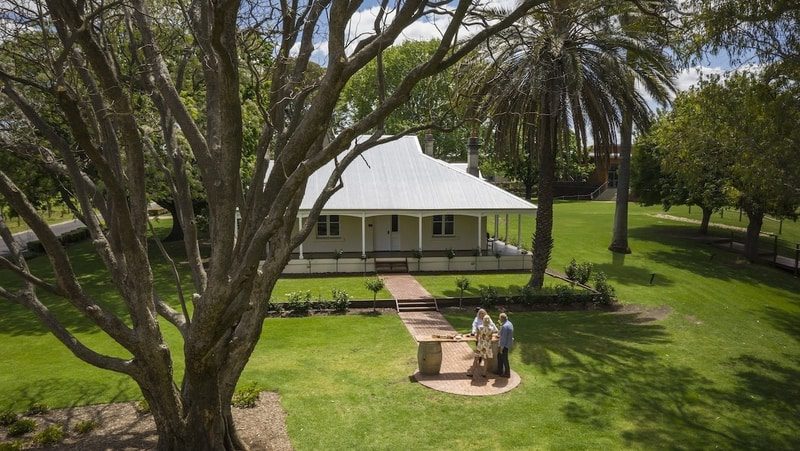 This is a cellar door visit with a difference. Mandoon Estate winery in the Swan Valley offers a unique bush tucker experience with local Noongar Elder, Dale Tilbrook. This bush tucker experience isn't just about traditional food; it's a chance to sit with Dale and hear the stories of this region, to learn about Indigenous farming practices and get an insight into Noongar culture. It also includes a glass of sparkling at the Mandoon cellar door, with a little crash course from their in-house sommelier. More information.
Wander King's Park with Nyungar Tours
King's Park is one of Perth's most beautiful gardens, with epic views overlooking the Swan River, and it's always been a popular spot with visitors. But not many travellers get to experience King's Park in the company of Whadjuk Yorga and expert guide Kerry-Ann Winmar. Kerry-Ann runs Nyungar Tours, which includes a couple of walking tours in Perth, and she's full of stories about Whadjuk Country, about Yorgas (women) in Aboriginal culture, and about the medicinal plants still found in the gardens today. You'll get a whole new perspective on Derbal Yerrigan (the Swan River) and its Traditional Owners. More information.
Join an Aboriginal art workshop with Djurandi Dreaming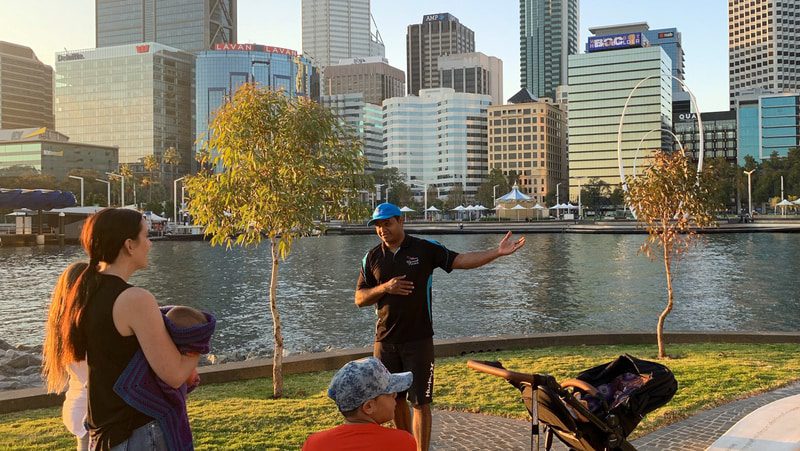 Djurandi Dreaming is an Indigenous tour company, run by Wadjuk man Justin Martin, who also happens to be a renowned Noongar artist. They run several amazing cultural experiences in Perth, but one you don't want to miss is the Aboriginal Art Workshop. This can be run indoors, or out in nature, if the weather's good. Justin will teach you traditional symbols, stories and line work used in Noongar culture, and help you create your own artwork to take home. All the paint and art supplies are provided, and you'll get an introduction into local Indigenous history, too. Pro tip: don't wear your fancy clothes to this one. More information.
Explore the Swan Valley with Dale Tillbrook
If you're looking for a good overview of the Swan Valley, just 30 minutes outside Perth, this is the place to start. Wardandi Bibbulmun woman Dale Tillbrook is one of the region's most experienced tour guides (she runs a bunch of different experiences here, including some delicious bush tucker tasting sessions) and her Local History and Culture tour is an incredible deep dive into local First Nations history. It takes place at the Maalinup Aboriginal Gallery, where you can check out the local art scene, taste some wild bush tucker, and meet the friendly emus, too (they're suckers for a selfie). No-one knows this area like Dale. More information.
This is really just the tip of the iceberg. Our partners, Welcome to Country, have a huge list of Indigenous travel experiences in Perth. You can check them out here.
Feeling inspired?