Travelling with someone you love in a new place is one of life's greatest pleasures. Not only are you able to create memories with them, but you get to experience life outside of your comfort zone and day-to-day routine, together.
This is why when I had the opportunity to travel with my husband to Morocco, I couldn't have been more excited. Still, it slowly dawned on me – would a group tour in Morocco be plus-size friendly? When you travel as a plus-size couple, you do have to think about space and comfort, from transport issues such as the size of your plane or bus seat to what type of table given at a restaurant. Over the many trips we have taken together, we have learned how to adapt to travel as a plus-size couple, and ultimately I knew that we'd be okay. Still, I thought I'd share my tips on how you can advocate for yourself on a group trip whether you are a plus size couple or not.
I'm lucky that I have a built-in support system whenever I travel with my husband, who always helps give me the confidence to advocate for myself and my needs. If you aren't as confident to advocate directly, I would suggest talking to your trip leader. Luckily Intrepid employs people who are kind and accommodating, so talking with them about any concerns you have while on your journey is that much easier.

Beyond talking to your leader, here are a few more tips on how to advocate for yourself and tips on what signs to look out for to check if your trip will be plus-size-friendly!
Get comfortable asking questions
The best way to advocate for yourself is to ask questions about what to expect. This isn't just a plus-size issue – it's also relevant for older travellers or those with mobility issues. You wouldn't think twice about asking for help for your friend who has a bad knee. Some general questions to ask before travel are:
Are there any activities that require special equipment or have a weight limit?
What are the transportation options and likelihood of having to share a row or seat with someone?
What alternatives or options are there if I know I will need more time for certain physical activities?
How big are the showers or baths provided in the accommodation?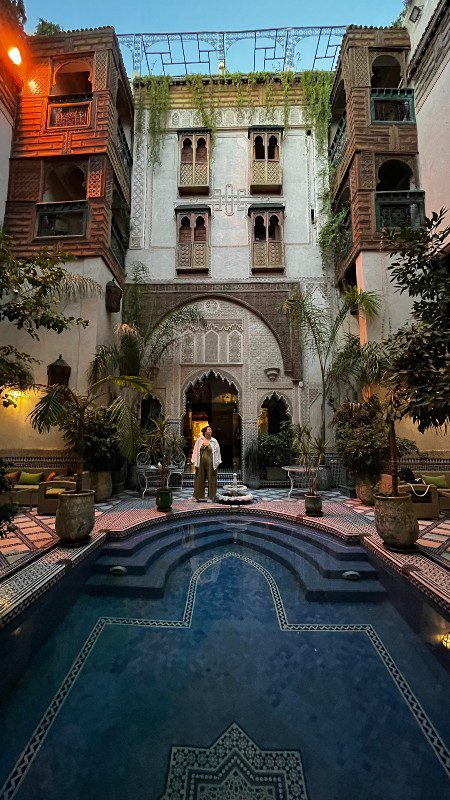 Choose the right accommodation for you
One of the main reasons we picked the premium trip in Morocco was that we knew that at a basic level the rooms would be slightly bigger and more comfortable for us. Sometimes when we stay at more budget-friendly hotels, we pay the price with small bathrooms (nothing humbles you more when you can barely wash yourself in a cramped shower stall).
Luckily for us, every riad and hotel we stayed at over the 12 days in Morocco was beautiful and every bed was secure and comfortable for us as a plus-size couple. The only potential warning I would share is that not all the riads have an elevator meaning rooms can often only be reached by taking the stairs. Just know that it is totally okay to request a lower-level room when possible and take your time walking up and down the stairs because, honestly, no one cares but you. On a personal level, the most plus-size-friendly accommodation we stayed at was the grand Riad Salam in Fez. The service was amazing, rooms were spacious, and there was even an elevator to take you to your room or the rooftop. Plus, it was gorgeous!
Push yourself – you won't regret it
There were two activities that were part of our Premium Explorer Experience that were high on my bucket list, but also had me nervous. They were: riding a camel in the Sahara Desert and walking through Ourika valley. I was stressed but luckily our trip leader Syeed helped quell any fears by ensuring everyone knew what to expect and any potential issues. In our group, we had a range of mobility issues and were of varying sizes – so the day before we travelled, Syeed made sure to talk about the strength of the camels and the fact that these animals were very used to trekking across the desert with cargo. He was discreetly able to talk about weight limits without actually having to say anything and it made me feel confident that I would be able to ride the camel safely and not get turned away due to my weight. It was a first for me as a plus-size traveller, not having to ask specific questions because he answered them all.
The result? Two moments that I will remember forever, and I got to experience them with my love. Getting on a camel is never a graceful experience for anyone of any size or age, but everyone in our group did it and enjoyed the trek in the Sahara Desert. By the next morning, on the camel trek back, it felt a bit more natural, and I let it sink in that I was riding a camel across the Saraha desert. How amazing is that? The second experience occurred towards the end of the trip during our stay in Ourika Valley. I was nervous that I would hold up the group while walking up the mountain and need to take 'too many' breaks. Which leads me to my final thought…
Lean on new friends for support
One of the benefits of group travel is that you have people around you who are interested in the same experiences as you. Spending time with them every day, breaking bread (and making bread) bonds you, so when it came to the walk in Ourika, I was comfortable enough to tell the group that I would probably be slower – and not a single person cared. In fact, the hike ended up being more manageable for me than I thought, so the fear I had wasn't even needed.
As a group we all had our own issues – our guides ensured that we were all cared for and we all looked out for each other. Ultimately, don't hold yourself back by not communicating what you need to have the best travel experience possible. It is better to figure out a solution versus wondering what could have been. If I hadn't been honest about my anxiety about the walk, I would never have experienced the stunning views, or been invited into our local guide's home to meet his family, eat homemade butter on fresh bread and learn more about his life.
So do yourself a favour, and don't be afraid to advocate for yourself, your loved one, or the people around you. I promise you, it is worth it.
Amanda travelled as a guest of Intrepid on our Premium Morocco Explorer trip. Follow her adventures on Instagram at @arms.wideopen.
Feeling inspired?