If you think you've seen all the natural beauty this breathtaking state has to offer, and you haven't ticked off all the national parks on this list then you've barely even scratched the surface.
New Mexico is one of the best states in North America to travel to if you fancy relishing in the great outdoors. From landscapes full of deep, rocky canyons to deserts dotted with flowering cactus trees, there's something to marvel at everywhere you look.
Whether you're biking through the Kasha Katuwe National Monument on our Cycle New Mexico: Santa Fe & Taos trip or you want to explore more of the 'Land of Enchantment's stunning vistas after your trip is over, these nine national parks are well worth a visit.
Don't just take our word for it though. Lace up your boots, pop on some sunscreen, fill up your water bottle and get ready for another epic adventure.
While this national park is remarkable for its expansive canyons and dry vista full of desert plants, it's what's below the surface that earns the Carlsbad Caverns National Park a spot on this list. Located underneath the ground of the Chihuahuan Desert lies over 100 secluded and extraordinary caves bursting with geological formations, ancient fossils, rare microbes, and around 400,000 Brazilian free-tail bats.
Formed millions of years ago (four to be exact), these caves are the product of a sulfuric acid reaction to limestone and while this might have been a natural 'accident', we get the feeling Mother Nature knew exactly what she was doing. Whether you want to adventure through the caves at your own pace or join a guided tour, the Carlsbad Caverns are a New Mexico national park you simply can't miss.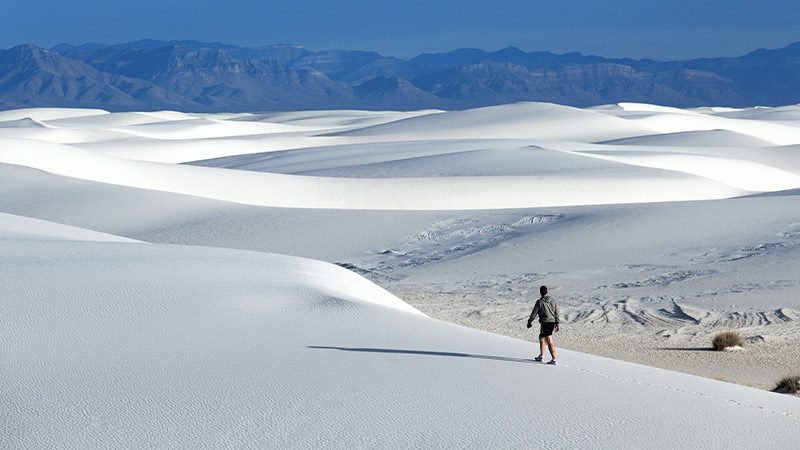 We'll admit that this national park is different to the rest on this list but just because its landscape isn't filled with rugged cliffs or uniquely shaped rock formations doesn't mean it deserves any less appreciation. The White Sands National Park is made up of glistening white (who would've guessed?) sand for as far as the eye can see and guarantees to be a place like nowhere else you've been before.
Quickly becoming one of the United States' rarest and most beloved natural wonders, this national park features dunes upon dunes of gypsum sand, appearing wave-like as they gently shift and change with the wind. Boasting an impressive 275 square miles in total, you can easily spend an afternoon traversing the sparkling sand and delighting in the serenity of being in the middle of nowhere.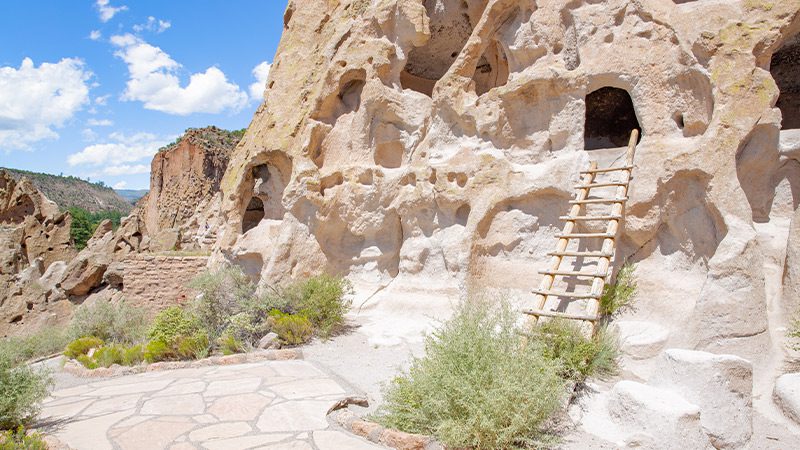 Jaw-dropping is an understatement when it comes to describing the unusually shaped ancient runes of the Bandelier National Monument. Spread out over 33,000 acres, these runes are made up of petroglyphs, cave dwellings, and pictographs that all tell the story of a fascinating culture that's still prospering today. Allowing a unique and historical insight into what life was like for the ancestral Pueblo people, this national monument is eye-opening in the best way and encourages a connection between land, people, and culture.
JOURNEY THROUGH THIS NATIONAL PARK ON OUR CYCLE NEW MEXICO TOUR
If you thought all of the New Mexico national parks thus far were impressive then the Kasha Katuwe National Monument is going to blow your nature-loving mind. Otherworldly to wander through, this national monument has something different to discover, learn about, and marvel at, around every ancient corner.
From its several hiking trails each offering a panoramic view of the park to its cone-shaped rock formations formed over six million years ago, you can't travel to New Mexico without paying the Kasha Katuwe National Monument a visit. One piece of advice? Make sure your camera is fully charged.
EXPLORE THIS NATIONAL PARK ON OUR NEW MEXICO DISCOVERY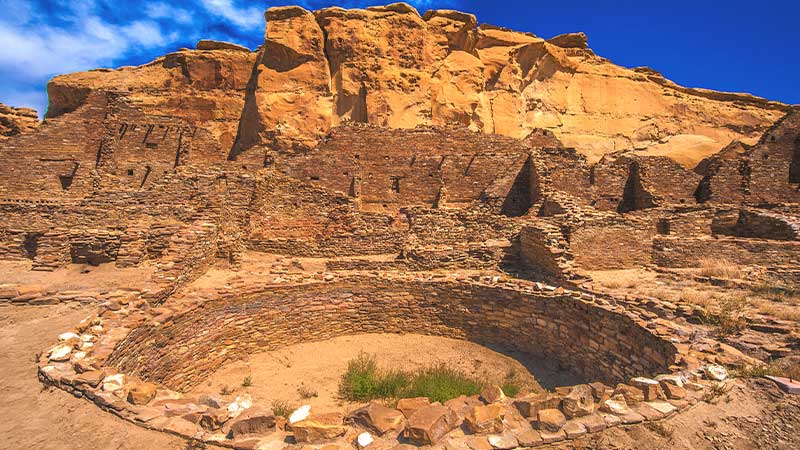 Step out of this world and into the past at the Chaco Culture National Historical Park. Brimming with history and ancestral magic, this national park features the largest collection of ancient runes in the southwest. But this sacred landscape offers more than that. The Chaco Culture National Historical Park tells a story of the Pueblos; of how they worked, created, lived, and passed down their knowledge to those that came after them.
Explore the fascinating grounds where Indigenous Indians walked over thousands of years ago and marvel at the engineering and organizational abilities they had to build structures that have lasted the test of time. Whether you wish to join a guided tour, hike and bike your way around the runes or catch a night sky program (Chaco Culture National Historical Park was designated an International Dark Sky Park in 2013), this extraordinary place needs to be seen to be believed.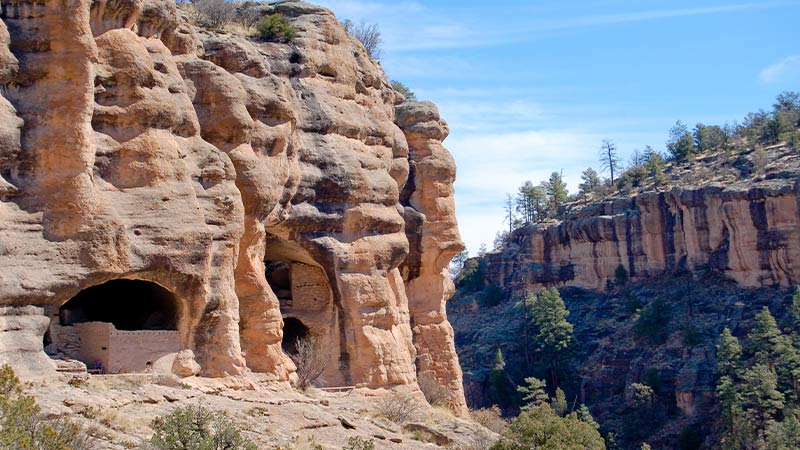 Allowing us another glimpse into the past is the Gila Cliff Dwellings National Monument, a landscape littered with the remnants of the ancient Mogollon culture. While the caves found alongside the Gila River were home to various nomadic groups over the years, it wasn't until the late 1200s that the Native American peoples settled down in the caves and got to work, creating a new life for themselves.
Over the course of twenty years, the Mogollon's built structures and rooms in the caves, hunted for food, crafted pottery, and raised their children. These peoples are long gone now but the tales of their existence remain, secreted in the caves and hidden in the landscape. All you have to do is discover them.
Just when you thought these New Mexico national parks couldn't get any better, another one comes along filled with even more historical depictions of an ancient culture that you totally, absolutely, 100% have to see. Better described as the landscape of sacred symbols, the Petroglyph National Monument protects over 24,000 images and designs carved onto volcanic rock over 500 years ago by Native American and Spanish pioneers.
Not only do these designs hold cultural and spiritual significance to the descendants of those early settlers today, but they also encourage a deeper understanding of a time different from the one we live in. If you're up for the challenge of a 2.2-mile hike, set out on the Rinconada Canyon trail to see up to 300 petroglyphs, or try out the easier Boca Negra Canyon for a nice view of 100 hundred different carvings.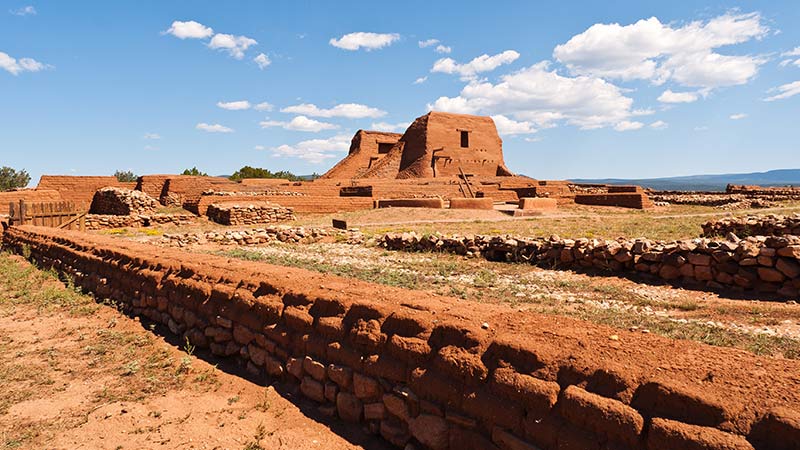 Pecos National Historical Park might be the last on this list but it's definitely not the least. A slightly different terrain to that of the other New Mexico national parks, Pecos National Historical Park sits in the midst of lush woodlands full of piñon, ponderosa, and juniper trees at the base of the Sangre de Cristo Mountains. Playing host to a collection of Pueblos artifacts and other historical remains from 19th-century ranches to civil war battlefields, this spiritual place has your adventure-seeking name written all over it.
ADVENTURE THROUGH THESE NEW MEXICO NATIONAL PARKS ON OUR NEW MEXICO TOURS
Feeling inspired?