Having grown up a stone's throw from the Rocky Mountains, I am no stranger to hiking amongst some of the most spectacular peaks in the world. I thought I had a good handle on hiking through some serious mountains until, in May of 2017, I trekked to Everest Base Camp on Intrepid Travel's 15-day Everest Base Camp trip.
Nestled deep in the Himalayas, the largest mountain range in the world, Everest straddles the border between Tibet and Nepal, and is a sight to behold. After craning my neck upwards for the better part of two weeks, I felt a connection to mountains I had never experienced before. I slipped into the groove of hiking beside these giants and feel I can now offer a few tips and tricks to those with their sights set on seeing one of the most majestic mountains Earth has to offer.
After all, bucket-list trips in the travel world vary from person to person but one I'm willing to bet almost everyone strives to check off is trekking to Everest Base Camp (EBC). Here's what it was like and what you need to know:
Gotta get the gear 
Heattech, Nano-Air, Triclimate – you might be overwhelmed by these outdoor tech buzzwords when shopping for a few items before a weekend camping trip, but for the hike to EBC you need to take your gear seriously. Lighten your pack by sporting Dri-FIT or any other type of microfiber blend. Unlike cotton, microfiber garments are lightweight and engineered to wick moisture away from the body and move it from the skin to the outer side of the garment where it can evaporate.
If you have your own lightweight sleeping bag, bring it along. This will help in the weight department as the bags you get in Kathmandu tend to be a bit bulkier and heavier. When traveling with Intrepid, the company will hire superhuman porters and supply a duffel bag in which you can pack up to 10kg (the legal weight limit a porter can carry). Because the max weight one person can take on the airplane to Lukla is 15kg, that leaves you with 5kg to carry in your day pack.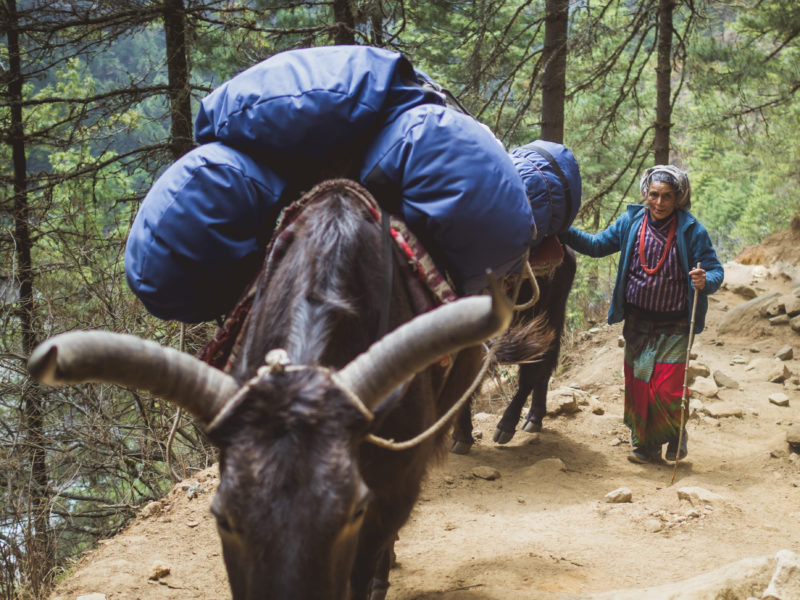 Throughout the day you will inevitably be layering up and down depending on the temperature or rain conditions. The mornings are almost always cooler, demanding a few more layers, but as soon as the sun comes out you will be stripping down to sometimes even just shorts and a t-shirt. Control temperature more effectively by bringing gear with efficient heating and cooling properties such as Merino wool and down. There is almost always the potential for rain so make sure you have at least a waterproof jacket, pants, and a rain cover for your pack.
Decrease the risk of injury by buying and breaking in hiking boots at least one month before your trek. I cannot stress enough how important this is! Having sore feet with blisters is the last thing you want while trying to relax at the Tea House in Gorakshep.
READ MORE: TREKKING EVEREST WITH A GROUP TOUR SCEPTIC
There is also the perception that you need to buy everything you need in Kathmandu, which can be a bit stressful if you arrive the night before your departure to Lukla (the starting location for the trek to EBC). This, however, is not true. Along the hike to Namche Bazaar, and in the small town itself, there are plenty of opportunities to pick up pretty much anything you might need. Gloves, rain pants, beanies, hiking boots, and even sleeping bags are available here.
Buy Snickers bars in Kathmandu
In other words: food isn't cheap as you trek closer to Everest. Dhal Bhat – the ubiquitous meal that has kept sherpas and the like fueled for generations is made up of rice, lentil soup, and vegetables – might cost you 200 rupees in Kathmandu, whereas at the top you might pay up to 800 rupees.
Snickers bars, Mars bars, nuts, and other essential trail snacks are a must for a little energy bump, but as with everything else, the price will sometimes triple near Base Camp. And if you enjoy chocolate bars as much as I do, or are a chocolate connoisseur, check the dates on the packaging – they can sometimes sell outdated chocolate which isn't as good.
CHECK OUT INTREPID'S RANGE OF EVEREST BASE CAMP TREKS
Peak season
There are two ideal times to visit Everest and the surrounding Himalaya; April – May, due to the warmer temperatures and visibility, and September – November, which is right after monsoon but right before winter. Although I trekked to EBC at the tail end of May, those I met and talked to who had hiked during the peak periods said it was incredibly busy; like sleeping on the floor of the tea house busy.
The alternative to sleeping in a busy tea house is to camp in tents. This removes the hassle of pre-booking your accommodation and in some ways I was envious of those taking the rustic route, but just remember it's going to be a lot more expensive. Everything was organised for me on the tour, so I was able to focus on the trek itself and the awe-inspiring views.
Also bear in mind that weight is everything up there and unless you're willing to trek everything up yourself, you're going to need more porter power to get those extra kgs up the hill.
SUBSCRIBE TO INTREPID'S NEWSLETTER FOR TRAVEL TIPS, COMPETITIONS, GIVEAWAYS & MORE
Altitude sickness is no joke
For those who have trekked above 4000 meters, and sometimes even below that altitude, know that Acute Mountain Sickness (AMS), otherwise known as altitude sickness, is not something to mess around with. Whether you are a CrossFit die-hard, or a pack-a-day smoker, the symptoms of AMS don't discriminate.
My Intrepid Travel itinerary allowed for two full rest days on the way up, one in Namche Bazaar, and one in Dingboche. This helps the body acclimatize to the altitude and is extremely effective, but not guaranteed to free you of symptoms.
As with most travel destinations, locals know best. Intrepid (rightly) pride themselves on hiring only local leaders and guides. This pays off as there is nobody more equipped to handle any issues that may arise halfway to Base Camp as someone who has trekked to and from EBC dozens of times. It is said that the Sherpa people, an ethnic group of Nepalese from the north east mountainous region of Nepal, have a genetic predisposition to avoiding altitude sickness by naturally carrying more oxygen through their blood.
READ MORE: ANNAPURNA VS EVEREST – YOUR DEFINITIVE TREKKING GUIDE
Almost all the local guides know pretty much all there is to know about AMS so if you are concerned about anything, just ask your guide or a local. In addition, a quick check in with your local travel doctor will give you all the information you will need to further lower your chances of becoming ill on the mountains.
—
For many, the trek to EBC can be intimidating, but it shouldn't be. With the help of local guides, the enthusiasm of all of the amazing people to chat with in the teahouse over hot chocolate after a long day of walking, and the inspiration from the sheer beauty that lies around every corner, anyone can trek to Everest Base Camp.
Ready to take on the trek of a lifetime? Check out Intrepid's range of Everest Base Camp adventures.
—
(All images c/o Kieran Wallace.)
Feeling inspired?