Both counties boast some of the UK's best beaches, have some fantastic landscapes and serve up a cracking cream tea. But the question is, where should you go for your next adventure?
If you're struggling to choose where to go for your next UK adventure, we don't blame you. Devon and Cornwall are the West Country's crown jewels. From foraging for fossils on Devon's Jurassic Coast to soaking up the salty sea air on Cornwall's dramatic cliff paths. Or exploring the wild and rugged moorlands in Dartmoor National Park to uncovering ghost stories in Cornwall's eerie Bodmin Moor. Both destinations are full of natural beauty, steeped in history and offer loads of outdoor activities to boot. Fear not. We've put together a guide to make the decision a bit easier.
Beaches
Devon is the only place in England that has two separate coastlines. The north coast is wild and windswept with some brilliant walks, cycling trails and epic surf breaks. Surfing in Devon is also less busy than Cornwall. The south is home to the iconic Jurassic Coast – 95 miles of rugged cliffs, soul-stirring rock formations and beautiful beaches. You've probably seen the gorgeous Lulworth Cove and Durdle Door on postcards! The Jurassic Coast is cloaked in fascinating history dating back thousands of years with fossils and geological history galore. Where else can you surf, sunbathe and forage for fossils on the same day?
WALK DEVON'S STUNNING JURASSIC COAST
Cornwall is famous for its beaches and it comes as no surprise that it's the most popular beach holiday destination in the UK. From tropical-like coves such as Porthcurno and Lantic Bay, to the vast and wild Widemouth Bay and Trebarwith Sands, to buzzing seaside towns like Newquay and St Ives – if you want beaches, Cornwall doesn't disappoint. It also has some of the best surf in the country thanks to big Atlantic swell and consistent waves that tumble into the coast. Surfers flock to Cornwall from all over the UK and beyond to catch a wave. If you're planning a summer trip, it's worth checking out the annual Boardmasters Festival – the UK's biggest pro surf competition/music festival.
EXPLORE THE BEAUTY OF CORNWALL ON A WALKING TOUR
The verdict:
This is a tough one, but the winner has to be Cornwall… but only just! With over 250 miles of coastline and over 300 beaches to explore, Cornwall does beaches like nowhere else in the UK. Devon is a close runner-up with 120 beaches and of course, the unmissable Jurassic Coast.
The great outdoors
As well as great beaches, Devon has fantastic countryside, woodlands, moorlands and hills. From hiking, rambling and cycling to wild swimming in lakes and natural swimming pools, there's plenty of opportunities to get your adventure fix. . First and foremost, you've got the spectacular Dartmoor National Park with its vast moorlands, tors (huge free-standing rock formations), ancient stone circles, unique riverscapes and great hiking trails such as High Willhays (the highest point in Southern England). Legend has it Dartmoor's Hound Tor inspired Sherlock Holmes' most famous case, The Hound of the Baskervilles. It's also one of England's most impressive stargazing spots, and on a clear night, the sky illuminates with constellations and the odd shooting star. 
EXPLORE DARTMOOR NATIONAL PARK ON A HIKE, BIKE & KAYAK ADVENTURE
Cornwall's Areas of Outstanding Natural Beauty take up a whopping 27% of the county. It's more craggy than it is green with an impressive 422 miles of dramatic coastline, soaring cliffs and romantic coves hidden among the rocks. But it's not all about the coast. Cornwall's moorlands are littered with ancient stone circles, Neolithic burial chambers, castles and remnants of the county's mining history. And the beautiful but eerie Bodmin Moor is steeped in tales of criminals, folklore and paranormal activity. You might even recognise Bodmin Moor from Daphne du Maurier's 1936 novel, Jamaica Inn, which was inspired by the inn's dark history and stories of smugglers. You wouldn't know it on a sunny day, but when the mist rolls into the moorlands there's definitely a spooky feeling in the air.
The verdict:
Both Devon and Cornwall's boast fantastic scenery that is cloaked in history. If you prefer forests, hills and moorlands over the coast, Devon is probably a better shout. If you're more of a beach bum than a country bumpkin, Cornwall might be better. And if you're 50/50, Devon offers the best of both worlds.
Pretty towns and villages
When it comes to quaint British beach towns, everyone knows Cornwall is full of them. For a start, almost all Cornish towns are built on the coast and ooze that seaside charm. You've got the iconic St. Ives and its cobblestone streets lined with bars, cafes, quirky galleries and unmissable beaches. Then there's the beautiful fishing village of Mousehole with its idyllic harbour, stone cottages and winding streets dotted with artist workshops, boutique shops and eateries. There's also the delightful Gorren Haven, the old-world charm of Charleston and the lovely village of Sennen… the list goes on.
Devon's seaside towns aren't as famous as Cornwall, but there's still plenty of lesser-known gems to explore. You've got the delightful historic fishing village of Clovelly with winding cobbled streets carved into a steep sea cliff. There's also the oh-so Instaworthy Appledore with its narrow streets lined with colourful cottages, the romantic harbour town of Salcombe, the picturesque Dartmouth and the thriving Torquay. Devon also has some stunning countryside villages like Cockington and Lustleigh with their bubbling rivers and thatched-roof cottages.
The verdict:
This one's a close call. Devon's seaside towns are seriously pretty, but Cornwall takes the charm up an extra notch. Plus, there's more of 'em in Cornwall! If you're looking for a more rural adventure where you can walk in the countryside and eat pub grub in historical village pubs, Devon is a fantastic place to do that.
Food and drink
As coastal destinations, you can imagine that both Devon and Cornwall serve up some of the best seafood in the country. Delicious, locally caught fish and shellfish dishes are on the menu in most restaurants, as well heaps of beach-side takeaway joints selling food ol' fish and chips.
Cornwall's claim to fame is the beloved Cornish pastie – the savoury pastry of choice for many Britons. This buttery shortcrust pastry pocket is filled with hearty beef chunks, onion, potato, swede and gravy. Delicious. The humble Cornish pasty was originally made for miners, fishers and farmers back in the day as a portable yet filling lunch to keep them going until the end of the day.
Devon is famous for its Ambrosia Devon Custard and scrumpy cider. Made with Westy Country Milk in Devon, Ambrosia's custard and creamed rice are like a hug for your belly and are family favourites at the dinner table across the UK. If you're looking to enjoy a tipple, why not enjoy a pint of cider, or what locals call 'scrumpy'. Scrumpy is traditionally made with unselected apples (AKA windfall apples or fruit that didn't make the cut for regular cider making) which are then fermented naturally. This traditional method produces a rougher-tasting and more alcoholic beverage, so you might want to go easy on the pints!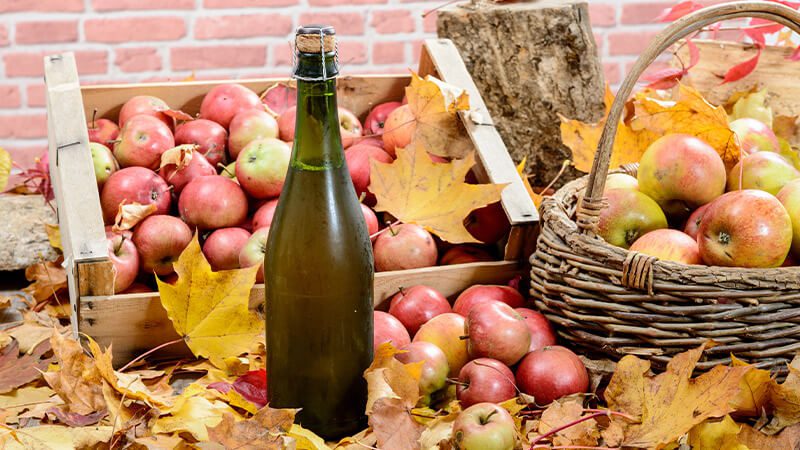 The verdict:
Seafood, pasties, cider and custard are in abundance all over the West Country, and your tastebuds will be satisfied wherever you go. However, if you're looking to eat the best Cornish patsy of your life, you won't find a better one than you will in Cornwall. And if you're a cider lover, Devon produces some of the tastiest cider in the UK and could be a better option.
Cream tea
Last but not least, we have the battle of the cream teas. Speak to locals from either county and you'll get a figurative mouthful of why jam or cream goes first. FYI: Devonshire cream tea is a scone topped with cream and then jam, Cornish tea is jam first and then cream. Trust us, this is a serious debate here in the West Country.
The verdict:
Devonshire style, you can slather on the jam and enjoy the tangy sweetness as soon as the scone hits your lips. With Cornish cream tea, you can pile on the cream to your heart's content. We're going to have to let you make up your own mind on this one. Just make sure you're acquainted with the right cream-tea etiquette when visiting either county… just to be on the safe side.
Devon and Cornwall are both cracking UK travel destinations. Both counties ooze natural beauty and there's heaps to see and do. You might prefer Cornwall if you're a beach lover or keen surfer, though Devon doesn't disappoint here either. Devon might be a better call if you're looking to break up the coast with some Devonshire countryside charm and vast moorlands. It's impossible to give a clear winner, but you're bound to have a brilliant time wherever you go.
Feeling inspired?