One of the benefits of Australia being such a large country is that there's no 'best time to visit' – there'll always be a destination to travel to regardless of the time of year, thanks to its varying climates.
So, while you might spend summer laying out on Bondi Beach in Sydney or wandering the café-filled streets of Melbourne, you can always head to Hobart's mountain ranges or venture along Western Australia's coast during winter.  To make it easier for you, here's our calendar of suggestions.
January
Best for: eating fresh seafood and hiking the Overland Track in Tasmania
On the east coast of Tasmania (that little island beneath mainland Australia), you'll find a sleepy beachside town called Bicheno. It's known for its penguin rookeries (where you can watch the little guys return each night from their fishing expeditions) and their tasty, fresh seafood. Why not try some of Tassie's famous oysters as you overlook the water?
While there, you may as well hike one of Australia's most famous treks: the Overland Track in Cradle Mountain. Known to be challenging but oh-so-worth-it, this 6-day hiking adventure will challenge you physically and promise breathtaking scenery you'll want to take plenty of photos of. As January is the heart of Australian summer, it's the perfect time to visit this southern point of Australia.
TRY THE OVERLAND TRACK FOR YOURSELF 
February
Best for: road trippin' to see the Twelve Apostles and exploring the Grampians in Victoria
A road trip down the coastal Great Ocean Road is a classic Aussie holiday, and sunny February is one the best times to head to this southern state and see the Twelve Apostles. While only nine of these remarkable rock formations are left, it's still worth the drive to take some snaps and explore the nearby Loch Ard Gorge – the scenery is simply unbeatable.
Another Victorian must-visit in February is the Grampians (think majestic waterfalls, jagged sandstone ridges, spectacular mountain vistas and magnificent rock art sites). This summer month's warm, sunny weather is the perfect time to explore the national park's many trails and natural sights and spot some classic Aussie wildlife along the way.
EXPLORE THE GREAT OCEAN ROAD AND THE GRAMPIANS ON OUR SMALL GROUP ADVENTURE
March
Best for: watching the sunrise over Uluru in the Northern Territory
Yes, it's a cliché, but it's also a once-in-a-lifetime experience that every person should have – watching the sunrise over Uluru. In this desert area of Australia, it's always warm and rarely rains, but this time of year is a cooler month to visit the Red Centre. Have the cameras ready, as you won't want to miss getting the perfect photo of this spectacular sight.
ROCK OUT ON OUR ULURU AND KING'S CANYON ADVENTURE
April
Best for: exploring luscious rainforests and swimming in a secluded waterhole in Queensland
Queensland may be known for its white, sandy beaches, but up north, there is also an abundance of tropical inland rainforest. If you're after a unique experience, a visit to the historic town of Tully will give you the opportunity to meet some of the local Aboriginal and Torres Strait Islander community, who may share the location of a secluded rainforest waterhole with you – and as it's the start of the dry season, it's the perfect time for a dip.
JUMP INTO OUR SYDNEY TO CAIRNS NORTHBOUND TRIP
May
Best for: snorkelling at Ningaloo Reef in Western Australia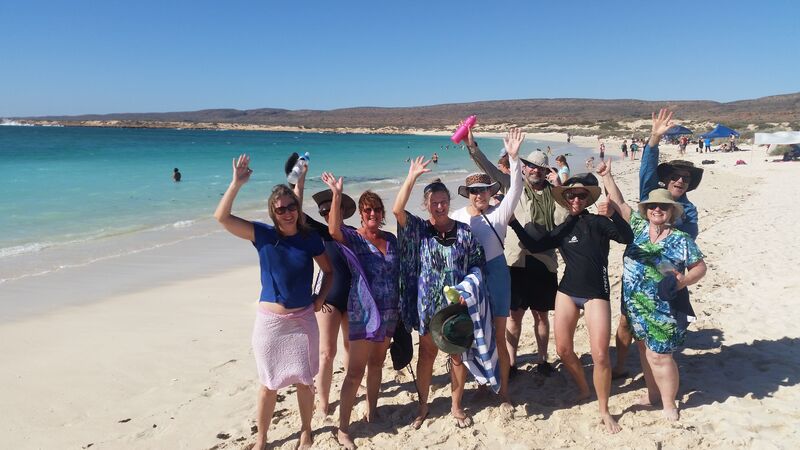 Travellers often overlook Ningaloo Reef, as most snorkellers head straight to the Great Barrier Reef. But Ningaloo Reef is World Heritage listed, home to over 250 species of rainbow coral and more than 500 species of shimmery, scaly fish. The weather is still warm in May so it's the perfect time to spot Whale Sharks. Do I need to say more?
GET WET ON OUR PERTH TO BROOME OVERLAND TRIP
June
Best for: exploring the underground world of Coober Pedy in South Australia
The town of Coober Pedy is built almost entirely underground for two reasons. One, it's known as the world's opal capital, so the opal mines make up a huge part of the town. Two, because it's hot – very hot – which is why going there in the first month of winter is ideal. At least you won't get heatstroke when "noodling" (fossicking) for opals in June.
GET DOWN IN COOPER PEDY ON OUR SOUTH AUSTRALIA OUTBACK ADVENTURE
July
Best for: hiking around Kings Canyon in the Northern Territory
While Uluru might be the Red Centre's biggest (and most iconic) drawcard, Kings Canyon is equally as impressive, just not as well known. Get your feet going and your camera snapping away on a walk around the rim with soaring cliffs and ethereal rock formations unfurling before your eyes. Make your way through the natural sandstone domes known as the Lost City before coming to the Garden of Eden, a tranquil clearing full of lush wilderness that contrasts the arid colours of the desert.
After all, the formations around King's Canyon are best explored on foot, and in July, you will be treated to warm, sunny days and cool nights – with hardly any rain at all. What are you waiting for?
PACK YOUR HIKING BOOTS FOR OUR RED CENTRE & ULURU EXPLORER TRIP
August
Best for: taking a Guluyambi cruise in Arnhem Land, Northern Territory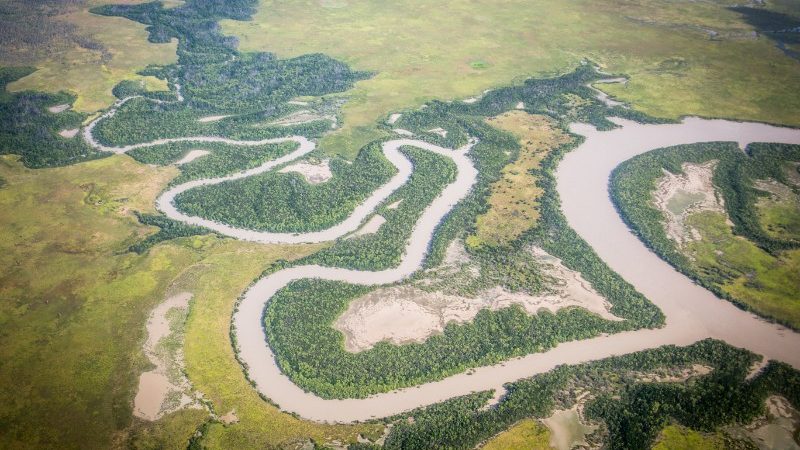 It's the middle of the dry season up north in Oz, so it's the perfect time to visit Arnhem Land (which is right up the top). A Guluyambi cruise on the Alligator River is a unique experience to this part of the world – you'll get to admire the incredible flora and fauna while a local guide fills you in on Aboriginal mythology and the ways of the river and bush.
VISIT ARNHEM LAND ON OUR WALK KAKADU NATIONAL PARK TOUR 
September
Best for: learning about the pearling industry in Broome, Western Australia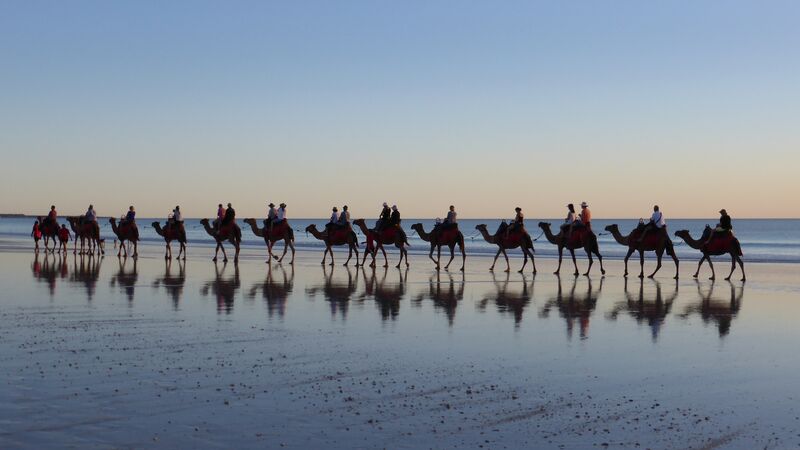 Broome might be best known for the sunset camel rides on Cable Beach, but it's also renowned for its pearls. A guided city tour will teach you everything you need to know about the sea pearl industry, including how they're farmed. It's the last chance to get to Broome before the humid, wet season kicks in, so enjoy the dry weather while you can.
TREAT YOURSELF ON OUR PERTH TO BROOME OVERLAND ADVENTURE
October
Best for: admiring Aboriginal rock art with a local guide in Kakadu, Northern Territory
The Nourlangie (Burrunggui) Aboriginal rock art site might not be the first thing people envisage when they think of Kakadu, but it's a brilliant cultural icon that shouldn't be missed. Spend time exploring with a local guide (before the wet season hits), who will give you insights into how the local Bininj people used to live, as well as the historic paintings on the rocks.
JOIN OUR KAKADU, KATHERIN AND LITCHFIELD ADVENTURE
November
Best for: camping in the Flinders Ranges in South Australia
Switch off your phone and relax in one of Australia's great wildernesses – the Flinders Ranges. A camping trip in these giant rocky mountains and surrounding bushland is the perfect way to reconnect with nature. If you're up for an authentic Aussie experience, sleep under the stars in a swag (that's a bedroll) as the weather warms up in November.
Or treat yourself to a comfortable adventure through the land of delicious wine and ancient peaks (the Flinders Ranges' less well-known but no less accurate second name).  Walk through the eye-opening Ikara (Wilpena Pound) with a First Nations guide, sip on world-class wines and traverse the rugged landscapes of Arkaroola – this is South Australia like never before.
EMBRACE NATURE ON OUR FLINDERS RANGES EXPLORER TOUR
December
Best for: enjoying a gourmet lunch in the Hunter Valley, New South Wales
The sun has well and truly returned to the south, making it a great time to visit one of Australia's oldest and most iconic wine regions – the Hunter Valley. Located in central New South Wales, the region is known for its Chardonnay, Semillon, Shiraz, Cab Sav and Merlot. But never fear; the cheese and chocolate industry is also thriving, so non-drinkers will have plenty to smile about too.
RELAX WITH A LOCAL WINE ON OUR SYDNEY TO BRISBANE ADVENTURE
We have the perfect Aussie adventure – no matter when you want to travel, what you want to see or where you want to go. Check out our vast range of Australia trips.
Feeling inspired?